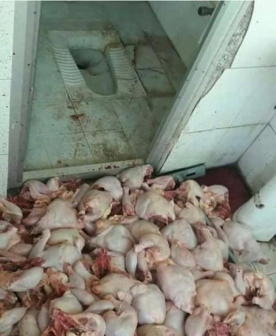 A shocking picture doing rounds in the social media has forced City Hall into action.
The picture showing chicken being slaughtered next to a toilet left many talking after it was alleged that the said eatery was located in city's Tom Mboya street.
Many customers who relish the so-called 'Kuku porno' in city hotels asked the City hall to act first and save their appetites.
City Hall commenced an operation on eateries around the city centre in an attempt to nub the culprits. County Health Services Chief Officer Dr. Samuel Ochola said they were not dismissing the claims.
"We are not taking chances. Our public health officers have combed Tom Mboya street. This inspection will be carried out through the entire city as well as in the estates. Nairobi is getting more visitors from outside, and we must ensure they eat hygienic food," Ochola said.
There are claims that some city residents have been consuming uninspected meat as well as Marabou storks reportedly slaughtered at the Dandora dumpsite before being discreetly distributed to restaurants across Nairobi.
Google in June 29 released a report of the most trending online searches that showed that Kenyans, especially in urban areas, were enduring stomach issues and diarrhoea.
Google indicated the search on 'how to treat bloating' ranked position six on "How to" searches followed by how to relieve stomach ache fast.
Related Topics