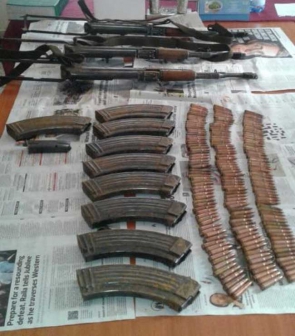 A rogue cop is on the run after escaping a police dragnet mounted to nab him in Ruiru town.
The suspect, a former Recce squad member, is said to have been planning an attack on his former work station, which is home to the dreaded Recce commandos.
Police recovered three AK47 rifles and 178 bullets from a thicket in the operation targeting the former police commando who is said to have undergone radicalization. The operation spread to Githurai 45 area where the suspect allegedly lives.
The weapons were recovered in a riverbank near Thome where he had reportedly hidden them. Also recovered in the 2am operation was a pistol magazine. Police said a witness tipped them after he saw the suspect burying the weapons in the ground.
National Police Service spokesman George Kinoti (pictured) said they are still looking for the main suspect he identified as Eric Ngethe Kanyingi.
"He evaded a police dragnet, but we are looking for him," said Kinoti. Police involved in the operation said the suspect was well trained in hostage and rescue missions. Recce is a special forces' squad that is highly trained in specific rescue missions.
Kanyingi had served in the unit until 2014 when he deserted for unknown reasons. His colleagues claim he was an Al-Shabaab sympathizer, and had been spotted visiting a mosque in Majengo slums in Nairobi. A team of detectives from Ruiru raided a house said to be owned by the former police officer in Githurai 45 estate, but did not find him. They however arrested a man believed to be his accomplice.
Police reportedly recovered suspicious literature as proof that Kanyingi may have been an Al-Shabaab sympathiser. This comes in the wake of reports that the police service has been infiltrated by Al-Shabaab elements.
Recently, a police constable based in Embu was charged with terrorism related activities in relation to the Kapenguria police station attack in July in which seven of his colleagues were killed.
Abdi Jelle Ali, aka Abdimunaf Jelle, allegedly posted information on Facebook meant to solicit and give support to commission of terror. Police have formed 'a court of inquiry' to investigate cases of officers turning the gun on colleagues.
The team of investigators have until end of this month to present their findings to Inspector General of Police Joseph Boinnet.
Related Topics