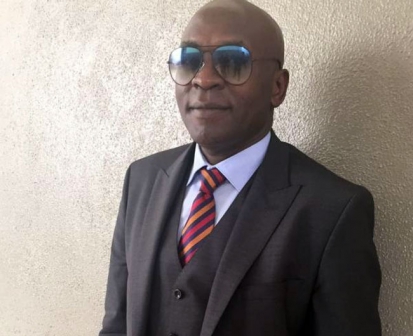 He has been slammed by critics for representing the cops suspected to have murdered a fellow lawyer and two others. He spoke to DAVID ODONGO about his numerous expulsions in school, his divorce, controversial clients and love for Sh500,000 suits
You represent a lot of criminals. Are there cases you can't touch?
I represent people I believe are innocent. But even if they are not, everyone deserves legal representation. The only cases I can't touch are sexual assault and rape cases. I abhor violence, whether physical or sexual against women.
You pop up the moment a controversial case or client is reported. Are you an ambulance chaser?
I have reached a point in my career where cases come to me. I don't remember the last time I went looking for a case. All my cases come through referrals. I take complex criminal cases and win them, so naturally, my name is at the top of people's minds whenever there is a tough case.
What sort of student were you in school?
In school, no teacher would punish me unless I was in the wrong and the teacher had evidence to back it up. I used to argue my cases in school, and could never allow punishment which I didn't deserve. I was expelled from Jamhuri High School in Form One, and in Form Two, I was expelled from High Secondary School.
I went to Friends School Kamusinga where I was suspended several times and finally cleared my A-Level at Koilel Secondary School. I was expelled from Jamhuri because I threw a firecracker at a teacher. It was boyhood excitement and the cracker by bad luck landed on a teacher. At Highway, I was expelled because a teacher found us gambling and decided to punish me, but I felt the punishment was too severe, so I refused and they opted to expel me. I have always had a strong sense of fairness.
Is that why you became a lawyer?
In Form Two, I read Rage of the Angels by Sidney Sheldon. The main character is a Mafia lawyer. I immediately fell in love with criminal law. I knew instantly that my purpose in life was to be a criminal lawyer.
If you were accused of murder today, which lawyer would you call?
Wandugi Kirathe without doubt. I have tried cases with him and he is a smart lawyer, a sharp legal mind. He knows and understands the law. Another lawyer I would call is Jared Magolo. He is brilliant.
Which judge have you ever appeared before who is both strict and fair?
That's has to be Justice Jessie Wanjiku Lesiit. You can't go to her courtroom unprepared. She is tough, but very fair. Even if you have substance, you will have to justify whatever you say in her court. Many lawyers dread her chambers. She understands the law and so you can't get off with half-baked theories in her courtroom.
What don't Kenyans know about you?
I applied for the position of Inspector General of the Police, but withdrew when I realised the panel was interested in career policemen. I would have made a perfect Inspector General. I know the challenges police officers go through. Coupled with my background in law, I would have revolutionised the police force, although (the current IG, Joseph) Boinnet is doing a good job. Something else, I was taught at the Law School of Kenya by Ahmednasir Abdullahi, Ambrose Rachier and Smokin Wanjala!
Tell us about your family...
I separated from my wife due to irreconcilable differences, but we still talk and share custody of the children. I have two children, a daughter who is 14, and a boy who is 12. They both want to be lawyers
How much do your suits cost? I can't buy suits for Sh30,000 because that is what many people buy. My suits are personally fitted by celebrated stylists and the cheapest is about Sh170,000. The figure goes up to Sh500,000. I picked my sense of fashion from my father who was a commissioner of customs at Kenya Revenue Authority. He used to be impeccably dressed.
What's your net worth?
I am a middle-class citizen who can afford the fine things in life. I can afford a house in Karen, but I live in a gated community instead. It's just me and my children over the weekend, so why have a big house?
Apart from expensive suits, how else do you spend your millions?
I give to charity, but that's between me and the beneficiaries, not for newspapers. I love cars too and have in my stable a Mercedes E320, a Mercedes E330, an S-Class 320 Mercedes and an SLK 200 convertible Mercedes. I had a Land Cruiser VX and a Prado, but I sold the Toyotas.
Is it true that you are a fitness freak?
I have several cars, but many days, you will find me walking to court. I am a gym addict and walking or exercising in the gym helps me relax as well as work out complex legal matters.
What are some of the big case you have won?
I won the Waititu case. I won the Sh6.4 billion cocaine case. I won the Akasha bond case. I won the Professor Arthur Obel murder case. They are so many. I have been practicing since 1995, I can't remember all of them.
During the Akasha case, you were pictured crying in court when you won the case...
The Akasha bond case was the hardest case I have ever been involved in. When they were finally released on Sh60 million bond, as others were celebrating, their mother came to me, and hugged me, then kissed me on my forehead. She kissed me on both cheeks and hugged me. I was so touched, I started crying.
Now that you are single and rich, how do you handle attention from women?
Those are things that used to bother me back in the day. Right now, my priorities are my children and my practice. The rest is nonsense. I would rather spend my time with friends in Nairobi West or other entertainment spots. I am a member of several exclusive clubs, but I never go there. I prefer neighbourhood clubs where I can hang out with kawaida people. Life isn't all about keeping up appearances. I want to hang out where nobody cares which type of car I drive.
Related Topics