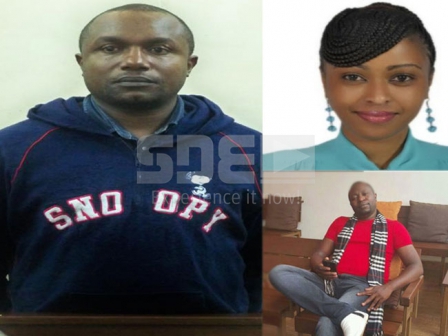 Businessman Leonard Kanari Gitui who allegedly shot and killed another man in a suspected love triangle has been charged with manslaughter.
He was accused of committing the offence on the night of May 26 at Icon Flats in Garden Estate, Kasarani, Nairobi.
Eddah Kamau the woman caught up in the love triangle has told police that she was in a relationship with Muganda since 2008 and they had a daughter named after the deceased. She also said that she "has known Gitui since 2013, but as close friend and business partner; he was dealing in imported concrete and wooden poles."
On the fateful night, Gitui and Eddah met at a mall on Thika Road where they shared drinks.
She then allegedly asked Gitui to drop her home, not far from the mall. Gitui allegedly carried her shopping to the house but Eddah warned him not to overstay because the area was unsafe.
It is alleged that Gitui was in her house for about 15 minutes before leaving.
Muganda who was reportedly hiding in a poorly lit area confronted Gitui before gunshots were fired.
Gitui sped off towards the highway until May 31 when he surrendered to police.
Tenants who heard the commotion found Muganda lying unconscious at Eddah's door. She called a taxi and rushed Muganda to hospital, but he was pronounced dead on arrival.
While police did not find any bloodstains outside Eddahs house, an X-Ray report revealed a bullet lodged in the deceased's head.
Related Topics