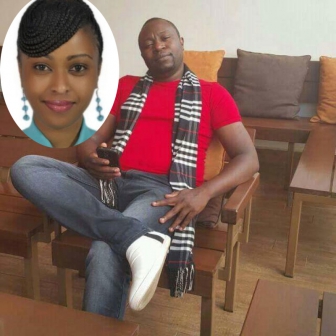 The shooting and killing of high-flying corporate executive, Christopher Muganda Adagi in a toxic love triangle, has shocked family, friends and the public.
Like a scene straight from a horror movie, Muganda, a married man, was allegedly gunned down at his baby mama's neighbourhood by Leonard Kanari Kitui over an affair with a banker called Eddah Kamau.
Kanari presented himself at Kasarani Police Station, recorded a statement and surrendered his gun to the police after three days in hiding.
On May 26, Muganda, 34, and his friends were having drinks at a club in Westlands to celebrate his new job. Muganda, a debt management director in charge of seven African countries, was set to take up a senior position at a leading bank in Kenya.
"It was a done deal and he was to rejoin his former employer," a friend told The Nairobian.
At the new work station, he would share the same offices with his wife and mother of their two children, Irene Barasa and his baby mama, Eddah Kamau, who is a customer relationships officer at the bank.
After a few drinks, the party shifted to a club along Ojijo Road. Eventually, all were seated except Muganda who was still looking for a parking space for his latest showroom bought Mercedes Benz C200. About 30 minutes later, his friends called but he did not pick up.
According to sources, Muganda allegedly drove towards Thika Super Highway to meet Eddah - a woman with whom he has a child. It was not until around midnight when his friends were called with the horrifying news that Muganda had succumbed to a gunshot wound in the stomach.
According to police, the suspect, Leonard Kanari Kitui, a real estate developer, shot Muganda at 2.15am.
According to sources, Eddah's affair with Muganda started in mid-2005, while she was still in campus and grew stronger with the arrival of a child.
"They loved each other, but they couldn't just be together. It was a tumultuous, toxic relationship. All his friends knew about their child. They knew he often saw the child and paid for upkeep," a close friend said.
"They had been together for as long as we can remember, more than 10 years. They loved but could not stand each other," said another friend.
Related Topics