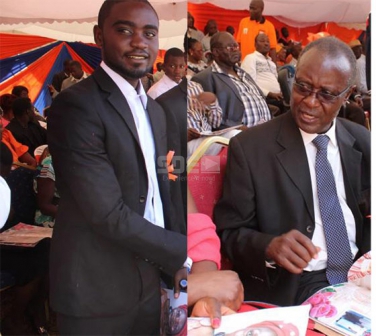 A rebellious young man is reported to have stabbed his father, a doctor, several times before attempting to turn the knife on his sister at a middle-class estate in Nairobi.
Michael Amolo is lying in vegetative state at Mater Hospital following multiple stab wounds in the head and neck inflicted by his 25-year-old favourite son with whom they share names. The young man is simply referred to as DJ (Dad Junior) by family members.
The elder Michael, who had visited his children in Nairobi, is a paediatrician at Aga Khan University Hospital in Kisumu and husband to the late Homa Bay County acting ODM branch chairperson, Monica Amolo. The politician was among four people who lost their lives in a road accident near Ogeng centre in Ndhiwa Constituency on February 9, 2015 during the by-election campaigns for the Homa Bay senatorial seat. Others who died in crash included the politician's bodyguard, driver and a female occupant. They were travelling to Homa Bay from Ndhiwa when their vehicle rammed into a lorry.
A relative said Michael wanted the best out of DJ, ensuring that the boy went to the best schools. Despite disappointing and failing his father on most occasions, the 57-year-old had not given up on his son, a student at Kenya School of Flying at Wilson Airport.
On April 23, the physician visited his children in the family's South C home in Bandari. He arrived in the evening and found his two daughters. DJ was not around. After patiently waiting for his son until late into the night, Michael gave up and went to sleep.
The following day, a Sunday, the doctor woke up and joined his daughters for breakfast before requesting one of them to call DJ who was still asleep in his room.
According to police, Michael wanted to know why DJ had skipped his exams. He gently pressed the son for answers, which were reportedly not forthcoming. He is said to have demanded to know from DJ if he was ready to sit his exams, but the young man reportedly showed no interest.
"A dejected father stood up throwing his hands in the air while exclaiming, 'I don't know what I will do to this boy,' as he walked towards the backyard of the house where the dog was barking," said a relative.
DJ meanwhile walked into the kitchen, picked a knife, followed his father along the corridor where he grabbed the old man from behind, floored him and then stabbed him repeatedly. It is estimated that DJ knifed his father 18 times.
Police say Michael, who had not responded to medication by the time of going to press, had multiple wounds. Relatives said that since being admitted to the ICU, the doctor has shown no signs of recovery. All his organs are said to be unresponsive.
It is understood that the paediatrician had been trying to persuade his son to change in vain.
"He was taken to the best primary school in Nairobi, the best secondary school in Gilgil and at one point, DJ was a student at Daystar University where he lasted barely a month before quitting," claimed a relative.
On the fateful day, DJ's siblings were not aware that he had locked the main gate and hidden the key. When one of the sisters tried to rescue the dad, a menacing DJ allegedly turned on her. She is said to have fled upstairs to her room with DJ in hot pursuit.
Police said the elder sister locked herself in her room and raised the alarm by making calls from her mobile phone. Security guards and neighbours could not however gain entrance into the house as the gate was locked from the inside.
After frantic persuasion, DJ, who was standing at the door to his sister's room with the blood-stained knife in hand, threw the key over the gate, enabling Good Samaritans to gain access to the house and rush the critically injured doctor who was now unconscious, to hospital.
The suspect was disarmed and handed over to officers from Lang'ata Police Station who presented him in court where he was booked for attempted murder among other charges. The charges might change, depending on Michael's condition.
According to a relative, his father had been considering taking DJ to their rural Thuon Gweno village in Ndhiwa if he declined to complete his studies and acquire a flying a licence because "he likes idling around."
DJ will again be arraigned in court on May 5. Lang'ata OCPD Elijah Mwangi said police were yet to conclude their investigations.
Related Topics