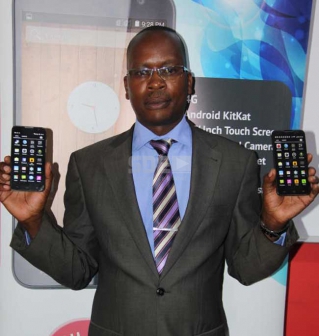 Let's face it,the Kenyan market is currently flooded with smartphones, which mostly originate from the East.
This trend will probably be a thing of the past given that a Kenyan company has come up with a new smartphone which they say employs the latest technology and comes at more affordable rates.
Synergy Innovations are the brains behind Silk Patriot, a five and half inch touch screen Android phone with the latest 4G internet capability.
Michael Asola, the company's chief operations officer explains: "Silk Patriot uses a qualcom chipset as opposed to the inferior mediatech processor."
He reveals that 80 per cent of all phones in Kenya use mediatech processors, which is responsible for overheating and other problems phone users experience.
The reason these cheap phones, which he says are expensive in the long run, are flooding our market is becasue of the high demand.
"There is a huge demand for smart phone which most Kenyans cannot afford," he explains adding that, "The Chinese simply give you what your pocket can afford. They also make high quality products."
Kenyan consumers Asola says, "buy price, without checking quality. When they feel a product is affordable, they go for it."
With Silk – which is an acronym for Synergy Innovations Kenya Limited, Asola says Kenya will now be at par with major innovators, just like Koreans have their Samsung.
Though the phone is designed in Kenya, it is currently being assembled in China.
"As we speak we have acquired property along the Thika Superhighway, next to Safaricom's M-Pesa Academy, where we are planning to set up our assembly plant," explains Asola.
At the moment Asola and his team are targeting corporates, to move the phone, which retails at Sh25,000. They also have their outlets in strategic high end malls in Nairobi, like Garden City along the Thika Superhighway.
"We are already in talks with Safaricom here in Kenya, MTN and Airtel in Uganda, Tigo in Tanzania, so that Silk can be sold through their outlets," he explains.
"So far, the response is satisfactory," says Asola, who holds a Masters degree in Electrical and Computer Engineering from Western University in Canada. Before setting up Synergy Innovations, he worked with Personal Communications Devices in New York, Cellon Communications Technology in China and Antel Communications in New York.
Related Topics