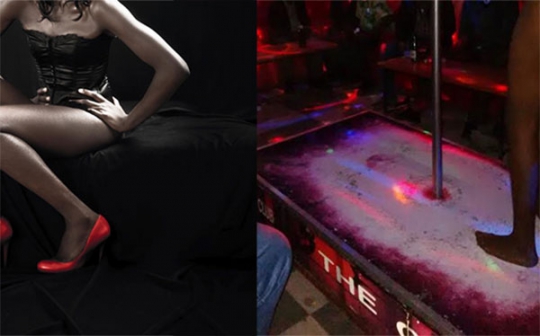 A shocking trend is emerging in the city and its environs whereby some pubs hire young girls and boys for live sex shows.
The habit is becoming popular among lower-middle-class estates in Eastlands - mainly Embakasi area - and Kibera slums.
The Nairobian investigation team followed this story and unearthed shocking details.
Off Outering Road, behind a petrol station and opposite a huge mall, is a 'sin bin' where drunk patrons watch girls engage in sex as they sip their drinks.
Outside the pub, which is permanently locked from inside with four guards on watch, the muddy road is parked with cars.
No riff-raffs are allowed at the door manned by four security guards who frisk revellers for cameras, guns or phones before knocking on the door four times. Two guards open it from the inside.
Inside, a steep stairway leads into the club. It's a huge rectangular room with a bar on one side and washrooms on the other. A pungent smell, a mix booze and sweat, hits your nostrils.
The stage, rectangular in shape, is slightly raised, in the middle of the room. The joint can comfortably seat 70 people. Only disco lights illuminate the entire place.
The stage is set for live sex. It's 2am! A naked male stripper wearing nothing but rubber saunters on stage, a busty woman in tow. A series of charged acrobatics follow before real action, Sodom style, as patrons cheer the goings on for 10 minutes.
Exhausted, the pair exits the stage.
Jackline Achieng', a voluptuous dark stripper, says the management doesn't force them to engage in sex. "It's all about money. I get Sh3,000 per night if I have it on stage. I get Sh800 if I only strip and dance."
Another stripper, Faith Aminata, a lanky girl, struts around in her birthday suit to her 'fans' (read patrons) as she guzzles down booze. She is popular as she does smoke cigarettes with her goodies, a trend popular in Patpong area of Bangkok, Thailand.
Unlike other strip clubs, revellers are allowed to touch the girls. A lap dance will cost a beer and Sh200 or Sh300.
"This is what everyone needs. It gives you the courage to do anything," says Faith, happily puffing away.
She explains that men do not always use protection. "After sleeping with someone numerous times, you tend to trust him and thus not use protection."
Another shocking detail in such clubs is that strippers are not screened or tested for sexually transmitted infections or HIV.
We sought to know from the management of the club why they allow such activities in the pub. The woman manager told us it was legal and that there is no fear of police raid.
"Every activity in this club is legal," she said, showing us copies of the licences paid to different county departments.
"All the licences are up to date and there is nothing illegal going on here, don't be afraid, just have fun," she said.
There is no entrance fee and the club makes money from beer sales. The prices range from Sh250 to Sh500 per bottle.
We contacted Embakasi police boss to find out whether he was privy to the live sex shows, but he refused to talk, referring us to talk to the PPO or the Inspector General.
Meanwhile, another couple enters the stage in the live sex joint on Outering Road. The stud on stage has no protection but goes straight for the jugular anyway, as she holds on to a strip dance pole.
The waitresses, oblivious of the goings-on, take orders from patrons. In one dark corner, a suited man on a high stool has a woman doing stuff the Catechist would strongly disapprove of.
No one seems to be bothered.
Related Topics