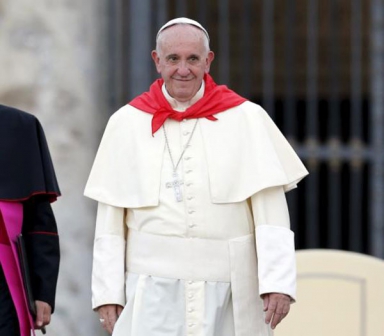 'The People's Pope' has returned the sheen of Christianity to the Papacy, and radically so.
Pope Francis (Jorge Mario Bergoglio) is a man of simple words and habits. He dispensed with the traditional papal scarlet cap and custom made designer red loafers and takes his breakfast in the Vatican cafeteria. If Pope Francis constantly checked time in his eight hour flight to Kenya, he did so by consulting the cheap plastic watch that he wears.
He will deal with his jet lag in Muthangari, Nairobi, where he will be staying by kicking off his black and clumsy orthopedic shoes.
The former bouncer has dispensed with gold rings and crosses for silver ones. Unlike his predecessors, he is an ordinary Pontiff who wants to lead a church of the poor by the poor. He is also a radical due to his stand on celibacy, homosexuality, divorce, abortion, birth control and child molestation that rocked the clergy.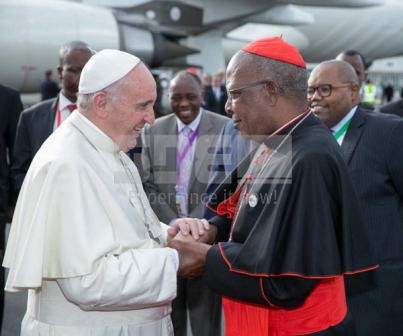 The 266th pontiff of the Roman Catholic Church has broken barriers as the first Latin American, the first Jesuit, the first in more than 1,000 years not to have been born in Europe, and the first to take the moniker Francis, in honour of St Francis of Assisi, champion of the poor. A revolutionary, a dare devil!
On celibacy: You will soon marry, my dear priest Pope Francis said the issue of allowing priests to marry, is in his dairy. In a private discussion with his long-time friend from Buenos Aires, Oscar Crespo, Pope Francis reportedly revealed that he wished to overturn the "centuries-old ban" on celibacy.
"He said the law of celibacy was not part of the doctrine of the church. It was started more than 1,000 years ago by a Pope and he considers it archaic, an antiquity which needs to be reconsidered," and added that celibacy is "a gift for the church, but since it is not a dogma, the door is always open."
Family planning: Catholics, don't breed like rabbits Although the Catholic Church is strict on usage of contraceptives, on January 20, 2015, during a visit to the Philippines, the Pope Francis asked Catholics 'not to breed like rabbits.'
He noted that during a parish visit some months ago, he "rebuked" a woman who was pregnant again after having seven children, all delivered by Caesarean section. "But do you want to leave seven orphans?" Francis told her. "That is to tempt God!"
The Pope called this an example of "irresponsibility" and said that though the woman might argue that she had trusted in God, she'd be wrong. "But God gives you methods to be responsible," he said.
On Catholic divorcees: Embrace them, please The church also does not accept divorce and divorcees are considered to be committing adultery as Catholics. The church rules doesn't allow divorce because wedding vows are unbreakable till 'death do us part'
When one divorces, they break the law hence can be banished from the church. Divorcees aren't allowed to take the Holy Communion during mass or attend confession. A divorcee can be ex-communicated.
Pope Francis, in the aforementioned private conversation with Crespo also said he wished to lift the banishment of divorcees from the Catholic Church.
Pope Francis on August 5 asked the church to embrace Catholics divorcees saying such couples "are not excommunicated, and they absolutely must not be treated that way!"
"They always belong to the Church," he said, adding, "The church is called the always open house of the Father. ... No closed doors! No closed doors!"
On priests abusing children: God weeps for them He is also the first Pope to acknowledge the thorniest issue for the Catholic Church, child sex abuse. Considering that the cost of settling child abuse cases has already helped bankrupt 12 dioceses and two religious orders....so far, since he became pope, Francis has ordered the church to pay $138 million (Sh1.4 billion) to settle lawsuits and also spent millions to do background checks on priests before ordination, volunteers and lay workers.
In September 26, in Philadelphia Pope Francis during World Meeting of Families publicly apologised for how the Church handles sex abuse. "God weeps, for the sexual abuse of children cannot be maintained in secret, and I commit to a careful oversight to ensure that youth are protected and that all responsible will be held accountable." Calling sexual abuse in the church a "sacrilegious cult," he formed the Pontifical Commission for the Protection of Minors headed by Seán Patrick O'Malley, the archbishop of Boston.
On homosexuals: I can't judge The spiritual head of 1.2 billion Catholics worldwide, Pope Francis in July 2013, shocked the world during a press conference at the Vatican when asked a question about the church's stand on gays, he replied: "If someone is gay and he searches for the Lord and has goodwill, who am I to judge?"
The Pope's reply signaled a shift from his predecessor and might symbolise a different approach to thorny issues by the Church.
On Christmas: It is a charade Known for his modest lifestyle, in a speech late last week, Pope Francis came as close to cancelling Christmas festivities by calling the holiday a "charade" when "the whole world is at war."
"We are close to Christmas," he said. "There will be lights, there will be parties, bright trees, even Nativity scenes – all decked out – while the world continues to wage war.
"What shall remain in the wake of this war, in the midst of which we are living now?" the pontiff asked. "Ruins, thousands of children without education, so many innocent victims, and lots of money in the pockets of arms dealers."
On Garrisa Attack: Terrorists should come to their senses Pope Francis on April 3, 2015 appealed to Somali Islamist militants who killed 148 people at Garissa University College to stop their brutality and "come to their senses".
He told Kenyan bishops visiting the Vatican that he prayed for those killed by acts of terror, ethnic and tribal hostilities in Kenya and elsewhere in Africa. "I think most especially of the men and women killed at Garissa University College on Good Friday," said the pontiff
"May those who commit such brutality come to their senses and seek mercy." The gunmen killed Christians while sparing Muslims during the attack. The Pope also condemned the February beheading of 21 Egyptian Christians in Libya.
Related Topics