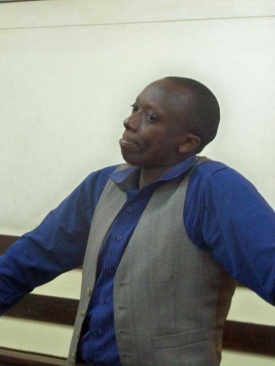 A 37-year-old pastor has been charged in court for allegedly defiling a minor.
According to police documents, the mother and her 15-year- old-daughter needed prayers to cope with the burdens of life.
The girl's mother reportedly invited pastor Jackson Mwangi Ndegwa of Jesus of the Lord Church to her home in September during the teachers' strike when her daughter was home. The youthful pastor was reportedly introduced to her by a friend.
A report filed at the police indicates that during the prayers which were conducted at the mother's house in Bahati, Nairobi, pastor Ndegwa is said to have declared that the woman and her daughter were possessed by evil spirits that called for longer prayers.
The mother told police that Pastor Ndegwa "had extraordinary powers because while praying for us, he touched me around the breasts and I became confused."
It was reported that after more than an hour, pastor Ndegwa allegedly turned to the woman's daughter and enquired whether she had a boyfriend or was in an intimate relationship, claiming he had 'seen' a man in her life who has been having sex with her.
Pastor Ndegwa then reportedly suggested that the prayers be done out of the city. Apparently, he could only pray for mother and daughter one at a time. "I let him pray for my daughter at a hill he suggested in Limuru and gave him Sh1,500 for transport," claimed the mother.
Before leaving at around 6:30pm, the pastor reportedly requested the woman and her daughter to visit a nearby clinic in Hamza for HIV screening, claiming that he had seen dark spirits.
It was reported that on arriving in Limuru, the pastor told the girl that it was dangerous to proceed to the hill at night and booked a room instead for overnight prayers.
At around 10pm, the victim claimed that the 'man of God' asked her to remove all her clothes so that he could apply anointing oil on her to drive away evil spirits.
The minor told police that, "He applied oil all over my body and finally in my private parts before telling me to have sex with him to drive out evil spirits".
Pastor Ndegwa, according to the girl, had sex with her twice without using protection before returning her home the following day with instructions that she must bathe twice and change clothes.
On learning about what happened, the angry mother allegedly sought audience with pastor Ndegwa over the matter and he suggested that they meet later that month to settle the issue amicably. However, according to the woman, he started playing hide and seek with her. She then reportedly sought the help of police who lured him to a trap on October 15.
The pastor who appeared in court on October 19 faces another charge of committing indecent act with a minor by touching her private parts and fondling her breasts without her consent.
In court, pastor Ndegwa stunned the court when he said, "It is not true that I defiled the girl since I have been in an intimate relationship with the mother." He was stopped from giving evidence until the hearing of the case on December 11.
The accused pleaded for forgiveness claiming his wife was pregnant. He was released on a Sh200,000 cash bail.
Related Topics