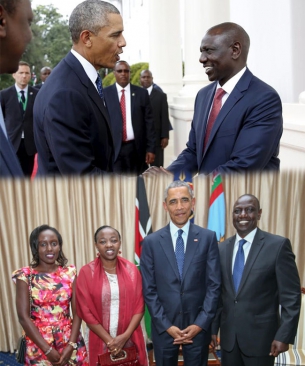 Politicians allied to Deputy President William Ruto are raising issues with the 'choreographed manoeuvres' by powerful State House operatives to shield the URP leader from President Barack Obama during his recent historic three-day visit to Kenya.
Pointing at the fact that only one photograph of Ruto and the US leader was released, they claim some powerful individuals were against the DP and Cord leader Raila Odinga taking photos with President Obama.
The humiliation was intended to have Kenyans lose confidence in Ruto, they say.
This grumbling could deepen the mistrust and suspicion between TNA and URP, with a section of Rift Valley MPs saying they are rethinking a plan to dissolve both parties into JAP, President Uhuru's campaign vehicle for State House in 2017.
"From the beginning, we knew what was going on. We were well aware that a group of people wanted to prevent the DP from meeting Obama. It was an attempt to humiliate the DP," said Marakwet East MP, Kangogo Bowen, when contacted by The Nairobian.
Another URP MP who is a close ally of the DP said they were aware of a plot to lock Ruto out of the 2022 JAP presidential ticket.
The MP said: "We are prepared. We know our friends from Central will not be supporting Ruto in 2022. This is in black and white from the actions and utterances by our colleagues from the mountain (Mt Kenya)."
The MP who sought anonymity for fear of being accused of creating a rift in the party, alleged that a 'Murang'a politician' was being groomed to take over once Uhuru clears his term. The entry point, he alleged, was sponsoring the politician to run for Nairobi governor's seat in 2017. However, Sabina Chege, the Murang'a Women Rep disputed the claims, saying she was not aware of such a scheme.
"There is no candidate in Murang'a who can fit the shoes of President Uhuru. What I am sure is we are supporting Ruto (DP) in 2022," she said.
Her sentiments were echoed by Kikuyu MP Kimani Ichungwa, who termed the allegations as rumours.
"Those are rumours. I can't respond to rumours," he said on phone.
Ruto has made several trips to Central Kenya to whip up Kikuyu support for his 2022 race. But in an interview with The Standard, former Imenti MP Gitobu Imanyara warned the DP not to be assured of 'Mt Kenya' support despite his donations for churches and development projects in the region.
"Ruto should remember what happened to retired president Moi in the 1995 Kipipiri by-election. They will eat goodies when offered, but with not guarantee to keep the promise," he warned.
Instead, Imanyara advised the DP to progressively build a support base and tactfully galvanise the Kalenjin vote in case he is betrayed.
Related Topics