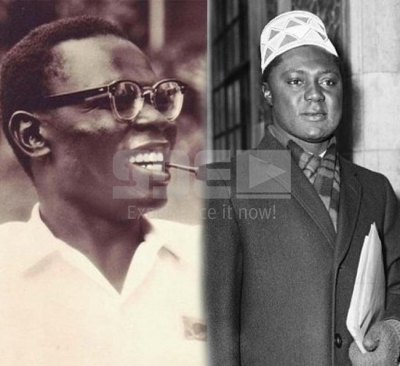 President Uhuru Kenyatta will meet President Barack Obama. Interestingly, their fathers' lives were entangled in power play in the 1960s. Back then, both Uhuru and Obama were infants, and so was Kenya as an independent country where the life of Barack Obama Sr (pictured), a bright economist was complicated for three reasons.
One, he criticised the economic policies of President Kenyatta . Two, he openly ranted how he would have made a better governor of Central Bank of Kenya. Three, and most important but least discussed, Obama Sr witnessed the assassination of Tom Mboya in July 1969.
That he even gave police the name of Mboya's assassin further muddled his image in the eyes of those keen on covering up the murder of the most ambitious politician of his day. In the bio, The Other Barack: The Bold and Reckless Life of President Obama's Father, published in 2011, Sally Jacobs, informs us that Obama Sr met Mboya at Channi's Pharmacy on July 5, 1969. Mboya had just returned from a summit in Ethiopia. Obama Sr joked how Mboya had parked the car wrongly and thus risked getting a ticket from the City Council.
Mboya laughed and walked into the pharmacy, only to begunned down by Nahashon Isaac Njenga Njoroge, whowas later hanged at Kamiti Prison on 'orders from above'that saw to it that no priest performed the last rites onhim. Obama Sr told a friend how he gave Njenga's nameand description to the police. During Njeng'as hasty trial, Obama Sr was the final prosecution witness, notes Jacobs.
Njenga, who had received military training in Europe was often used as a bodyguard by politicians and when questioned on the murder, he replied: "Why don't you go after the big man?"
Obama Sr obtained a First Class Honours at the University of Hawaii and was awarded a scholarship to pursue a PhD at Harvard. He was later deported for fooling around with white women.
Literature professor, Henry Indangasi, of the University of Nairobi recently wrote in the Saturday Nation that while brilliant, the Jomo Kenyatta government would not forgive him for his role in the Mboya murder investigation.
"As a result, he was rendered jobless for six years," wrote Indangasi. "One of Kenya's most gifted sons could not get a job in his own country because of his ethnicity," he added.
Related Topics