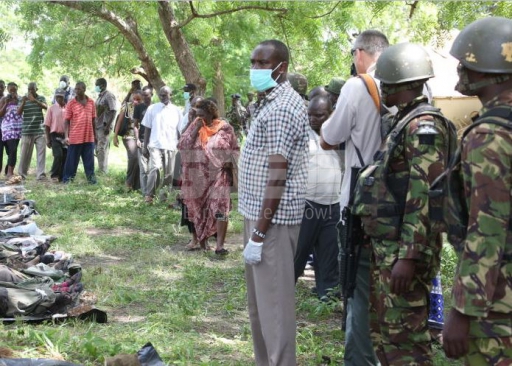 Kenya Defence Forces spokesman Colonel David Obonyo has refuted claims that more than two soldiers died while defending the country against an Al-Shabaab dawn attack in the Baure military camp in Lamu.
Hours after the attack, online buzz had it that nine bodies of KDF soldiers were taken away from the scene on June 14, moments after a fierce fire fight with heavily armed Al-Shabaab rebels. Other reports which The Nairobian could not independently verify also suggested that 11 KDF soldiers, including four sentries, died on the spot while another succumbed to injuries while receiving treatment.
But police and the military maintain that only two Kenyan soldiers lost their lives in the battle against 50 fighters armed with RPG launchers and PKM rifles led by slain British jihadist Thomas Evans, aka Abdul Hakim.
"The attack was repulsed. During the fire fight, 11 Al-Shabaab terrorists, including two fighters of Caucasian origin, were neutralised. Several others fled with injuries towards the forest and hot pursuit is currently under way," said military spokesman Col Obonyo, soon after the gun battle.
According to the Department of Defence (DoD), the gallant soldiers killed 11 extremists as their accomplices escaped into Boni Forest where a security ring was thrown. When reached Col Obonyo reiterated that two soldiers died while eight were admitted to hospital.
"Only two soldiers died. There is nothing we are hiding. Even your reporter (David Ochami) went to the mortuary to confirm the number. Why would we fly the dead to Nairobi? What I know is that it was the injured who were airlifted to Forces Memorial Hospital where the Head of State has just visited them," said the colonel who also dispelled rumours that the camp had only 32 soldiers at the time of the Al-Shabaab raid.
Two of the Al-Shabaab escapees are believed to be white men like slain Evans, who is believed to have converted to Islam when he was 19 years old and changed his name to Abdul Hakim. He hailed from Wooburn Green in Buckinghamshire.
The attack which tested the strength of the military has left jitters among police officers in the area who feel they are vulnerable because they are not as heavily armed as the KDF. According to a source, the only police chopper that can provide aerial backup is kept several kilometres away in Mombasa and intelligence from the National Intelligence Service (NIS) is normally too general and not precise, therefore not actionable.
"They always say Al-Shabaab is planning to attack schools, churches or marketplaces without being specific on the exact time, date and location, yet officers are few and cannot be deployed in all the schools and churches. In my view, NIS is not assisting us at all, because whenever an attack occurs, they are quick to say they provided intelligence," said a disgruntled officer.
Sources say the military allowed civilian police and the public access after clearing and reconstructing part of the battle scene.
Kenya Defence Forces, ranked fifth in Africa, swept into wartorn Somalia on October 16, 2011 on the orders of President Mwai Kibaki following a series of brazen attacks and kidnappings on Kenyan soil by the Al-Shabaab.
The world reacted with scepticism with some, like Ugandan leader Yoweri Museveni, saying the Kenyan army was a barracks outfit without the stomach and experience to wage war against hardened guerrilla insurgents.
But the boys proved the sceptics wrong, displaying amazing weaponry and routing Al-Shabaab in battle after battle with unsung heroes within their ranks paying the ultimate price.
Related Topics