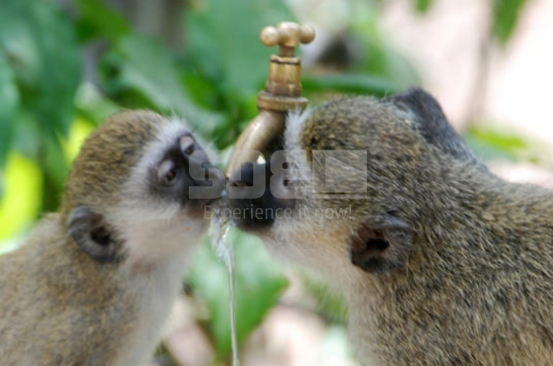 Cute, playful and adorable is probably how many people would describe monkeys.
But Esther (not her real name) from Nyeri, would not agree. On March 6, a troop of monkeys reportedly assaulted her at her farm.
She claims the monkeys undressed her and fondled their private parts in her presence.
Speaking to The Nairobian, Esther said more than 10 monkeys invaded her farm. They set upon her when she tried to shoo them off the farm.
"I was tending to my farm as usual when all of a sudden; I heard a commotion from behind and saw a troop of monkeys coming towards me. The male ones were holding their private parts as if to intimidate me," she said.
"I tried to scare them off but they would not budge. Two of them pounced on me and started undressing me," she claimed.
Esther's screams attracted neighbours who came to her rescue.
According to the area assistant chief, David Maina, the stray monkeys from Aberdare National Park have reportedly been sexually harassing women before raiding farms and homes for food.
"We have reported the matter to the Kenya Wildlife Service (KWS) but no action has been taken. Further, we have pleaded with the county commissioner to come to our aid. The monkeys have now become a nuisance. They steal food, and scare residents," he told The Nairobian.
Another resident who has suffered the monkeys' wrath is Elizabeth Nyakahote.
She says the primates attacked her farm and destroyed all her crops.
"The monkey population is a big threat to our food security. It is sad that we get little or no yield despite working so hard in our farms," she said.
A spot check by The Nairobian revealed that school-going children, afraid of encountering the animals, no longer leave their homes especially in the early morning hours.
Men from the village have now resorted to staying at home in order to guard their families and farms.
Related Topics