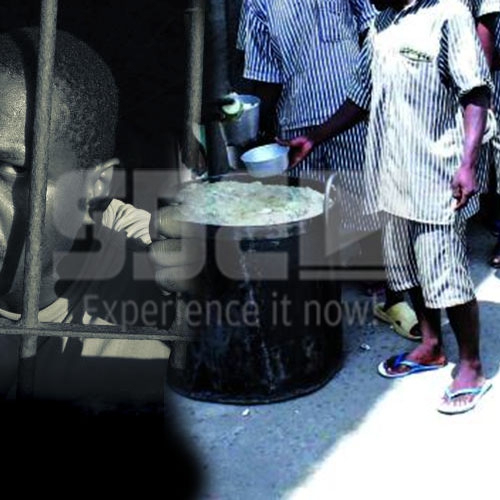 You can tell more about a country from the inmates in its jails, than those in its universities - Prof Irwin Edman in Philosopher's Holiday.
Half of the male inmates have sexual partners in Kenyan prisons, a former jailbird reveals.
John Ngare was sentenced to death by Embu Magistrate's Court for robbery with violence in 2012, but got released two years later after the Court of Appeal set him free.
Ngare, now saved, had been a crook since he was seven, and was thrown behind bars seven times.
The Form Two dropout has seen plenty, including witnessing firsthand, how prisoners bid for new inmates with the highest bidder turning the 'newbie' into a wife.
"There is a prisoner in charge of allocating sleeping quarters to new inmates. So, when you come in as first-timer in prison and still in the holding area, the prisoners in charge, we call them 'Overall,' will be bribed with amounts ranging from Sh300 to Sh500. Whoever pays the highest amount will have the new prisoner assigned to his cell. The preference is usually young, 'yellow-yellow,' plump men who are in prison for the first time. "When you get to the cell, which is usually full, your 'husband' will let you share his mattress, food and cigarettes. But come night, you will have to pay back."
Ngare says homosexuality is widespread in prison and the moneyed can have up to six or seven 'wives'
"In prison, money is everything. If you have money, you can buy the best food. As others feed on beans and ugali, and you can be feasting on chicken and chapatis. Many new inmates not used to prison food will initially not take it. They will readily take up the offer for more palatable meals offered by influential prisoners, only to end up as 'wives' for more favours," says Ngare.
He estimates that in all the prisons he has been in, almost half the population are in homosexual relationships.
"When I was in Kamiti, I saw men who were selling themselves to fellow prisoners. They had different price ranges. Some offered themselves for as little as two sticks of cigarettes, while the pricey ones would charge about Sh500 for their services," Ngare revealed.
Russian writer Fyodor Dostoyevsky, he of the Crime and Punishment novel fame, noted that "the degree of civilisation in a society can be judged by entering its prisons."
The Nairobian came face to face with the fate of male inmates when it sought to speak to a reformed jailbird at one of the country's maximum security prisons in mid 2014. However, just minutes into the interview, a middle-aged man stormed out from one of the prison blocks and straight to where we were conducting the interview.
He was wailing and shouting: "Tafadhali nisaidieni, hawa watu wamenikula...!"
He continued: "I just want to be heard and helped, these people will kill me," he pleaded as one of the prison warders whisked him away, claiming he's a mad man.
According to the reformed prisoner-turned-pastor, it's the corrupt prison warders who "nurture the despicable vices."
He adds that, "They have let rich inmates to turn fellow men into women and often turn a deaf ear to our cries. That inmate is not mad; whatever he is saying is the truth. These are rape cells and certain blocks are well known and marked to harbour immorality."
The reality is that 'penal sex' or 'reformatory' sex is one of the vices that jailbirds pick or adapt while in incarceration. A spot check in Kenya's main jails reveals how most have become dens of homosexual. Sexual violence is rife in these institutions.
"Since I joined the service in the 1980s, I found homosexuals in the prison service and the number keeps surging. Our hands are tied on this issue. I do not have a plan and I am not aware of any from the commissioner," an officer in charge of a Nairobi prison told us. A number of judicial and prison officers declined to speak to us fearing victimisation.
Our reformed jailbird adds that new inmates become the target of sexual molestation based on their age, looks and sexual orientation.
"If you are out there committing crime then you better be tough and harden up before your arrest, because the weaker you look, the more vulnerable you will be and we cannot save you," said a warder at Naivasha Maximum Prison.
A former Mathare United footballer serving a death sentence described homosexuality as a baptism by fire that almost every first-time inmate has to endure.
"You will be in serious trouble in Kenyan prisons if you have 'feminine' characteristics. Woe unto you if you walk around looking like a woman. You will be turned into a sex object and sometimes even forced to have sex with more than four men in one night. They even have a way of twisting your manhood render you useless as a man. It is like castration."
A long-serving probation officer blamed the vice on corruption within the prisons service, noting that the key perpetrators are 'rich inmates' who have the ability to influence key decisions within prison blocks.
"The condemned have no hope of ever being with a woman, so they have made up their minds on sexuality. They operate just like husbands and wives where the hubby is expected to provide for the wife. It is considered a win-win situation in which the 'wife' must offer sexual favours," said our source.
One of the inmates said that he gave up on being straight after back-to-back transfers to two facilities failed to save him from the rapists.
"The sad truth is that once you have crossed over, there is no coming back. With time, you get used to it and start enjoying the protection and favours. After all, there are very slim chances that you might actually see the outside of the prison walls. Transfers are only a temporary reprieve. Sooner or later, things become as they were before you were moved," said a confessed homosexual.
Related Topics