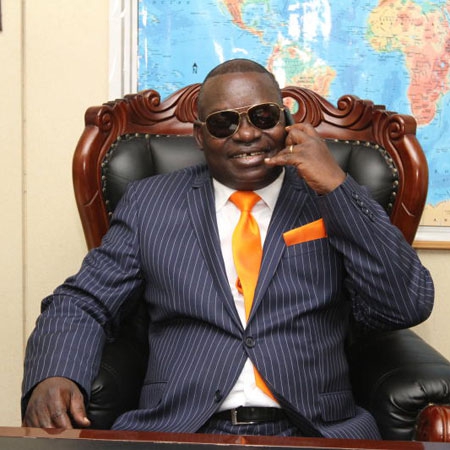 Paul Kobia, the flashy businessman with a love for dark glasses, has denied allegations that he killed Fidel Odinga, the former Prime Minister's son.
There were allegations that he 'confessed' to killing Fidel, leading to his hospitalisation for psychological evaluation. Fidel was found in his Karen home on January 4.
The claims shocked many people, including family and friends who were still mourning the death of Fidel.
"I was never arrested. On that day, I was taken to Chiromo Medical Center where I was admitted," Kobia told The Nairobian in a recent interview.
"I have a medical condition known as Schizophrenia (a mental disorder that makes it hard to tell the difference between what is real and not real; have normal emotional responses; or act normally in social situations). I am now on the road to recovery," says the man UN officials believed held a Congolese passport under the name Papa Ilunga Ngoei.
Kobia said that, "What people don't know is that after Raila's bodyguards beat me up, Fidel called me. We met at Cedars (a Lebanese restaurant in Nairobi) where he apologised and we buried the hatchet. He was a respectable young man. Why would anyone want to associate me with his death? I didn't and would never dream of doing such a thing."
On his relationship with CORD leader Raila Odinga, the businessman says that although they are political foes, he has nothing personal against the CORD leader.
Stories have been doing rounds that the businessman is so highly connected in government that he runs around with a convoy of vehicles fitted with sirens, even after Internal Security Cabinet Secretary Joseph Nkaissery ordered that only police cars, ambulances and fire engines be allowed to have sirens and strobe lights.
Kobia however defends himself that although he is well aware of who is authorised to have sirens, "I'm doing a lot of ground work for the Jubilee alliance, I have to consider security first, hence the convoy of cars."
Big Boys Unit
Although he has no official government designation, the man who is also known as 'Prezda' brags of proximity to President Uhuru Kenyatta and access to state machinery.
"I do love the President. I recently met him and told him about the work we are doing and he invited me to State House," he said. "However, I fell ill, so I haven't gone to see him but I will soon," he added.
He claims to be the Executive Director of the Uhuru Big Boys Unit (UBBU), which is supposed to make the president popular in the grassroots.
The self-declared "king of mashinani" proclaimed that soon Kenyans will know which post he will be vying for, in 2017, under the Jubilee Alliance Party (JAP).
Contrary to popular perception that he earned his wealth through dubious means, Kobia claims that he is a genuine entrepreneur trading in gemstones.
"I am currently dealing in minerals, including diamond and gold across Africa. As a matter of fact, I would like the President to act as a catalyst in speeding up the peace process in the Central African Republic," he adds. "I have a lot of friends who have interest in petroleum and timber so we can bring the money back home," quips Kobia.
The man who claims the name 'Papa Ilunga Ngoei' was bestowed on him by the late DR Congo President, Laurent Kabila, says he wants to be the Nairobi Senator in 2017 and Head of State five years later.
"For now, I will be vying for the senatorial seat in 2017," Kobia brags. "My son will be going for the gubernatorial seat seeing that Hon Sonko is one of my best friends, we will have to negotiate for a position. Sonko can be governor, my son will be his running mate and I will be the senator. Together, we can take Nairobi to great heights," states Kobia.
Though he's not ready to reveal his financial worth, he says he is content with what he has since he can afford all the luxuries under the sun and is apparently planning to import two Lamborghinis.
"Yes, I love toys so I decided to spoil myself with double the joy. One is black and the other metallic green," Kobia revealed noting that "each will cost $200,000 (Sh18 million) and will have my name on the plates. I also have a fleet that includes a Range Rover Sport and a Chrysler."
Kobia got into the limelight in March 2011 when his name was mentioned in connection with the disappearance of 2.5 tonnes of gold from DR Congo worth Sh8 billion.
That gold was never found even after President Joseph Kabila came looking for it during Kibaki's administration.
Controversies have continued to dog him - from allegedly shooting John Wanjohi, whom he claimed was a robber, despite contrary opinion from other quarters that they were business partners. He is also on record for "banning" politicians Hassan Omar, Bonny Khalwale and Johnstone Muthama from certain areas in Nairobi, bearing the name 'Kenyatta.'
Related Topics