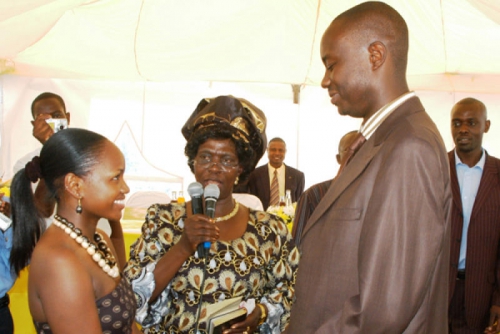 Fidel Odinga marriage to Veronica Wanjiru (Shiru) was an almost Shakespearean love story. His father and grandfather were the de-facto leaders of the Luo, who, since independence, have fought bitter political duels with the Kikuyu.
The nuptials electrified the nation with Fidel towering protectively over the gorgeous Wanjiru during Ngurario the Agikuyu traditional marriage ceremony, where the Odinga clan was led by Dr Oburu Odinga. Would this marriage narrow the gulf between the two feuding communities?
Sadly, their love fizzled out. Oburu later rubbed Shiru the wrong way, when he dismissively described her as a 'seedless woman' at Fidel's funeral.
Now, for the first time, in an exclusive interview with The Nairobian, Veronica speaks about Oburu Odinga's taunt.
"My comment on the entire issue is, 'I choose not to comment.' Not because I have nothing to say, but because I would rather keep quiet. I am a private person and wouldn't to run my mouth," said Veronica.
Fidel married Veronica Wanjiru Ng'ang'a under customary law on March 17, 2007. Their marriage, however collapsed and the two divorced due to 'irreconcilable differences'. She says that although it was an amicable divorce, it affected her but eventually came to terms with it.
"I don't want to change the course of my life. I just want to live my life," she says.
Talking about Fidel's demise, Veronica says she was shocked and realised that life is too short, and must be lived to the fullest. She describes some of the happy moments in her marriage to Fidel.
"I had even learned how to speak Dholuo. I don't want to speak a lot about Fidel because I respect his wife, since he had remarried," says Veronica, revealing that the divorce also affected her life.
After the divorce, rumour mills went wild on social media, with many saying theirs was a marriage borne out of political convenience, and not real love.
"People can talk. If I was to write, I would fill a book with a lot of nasty things people said about me and Fidel. I can publish a book about that. People just talk," says Veronica.
After the divorce, Fidel married the stunning Lwam Bekele.
Related Topics