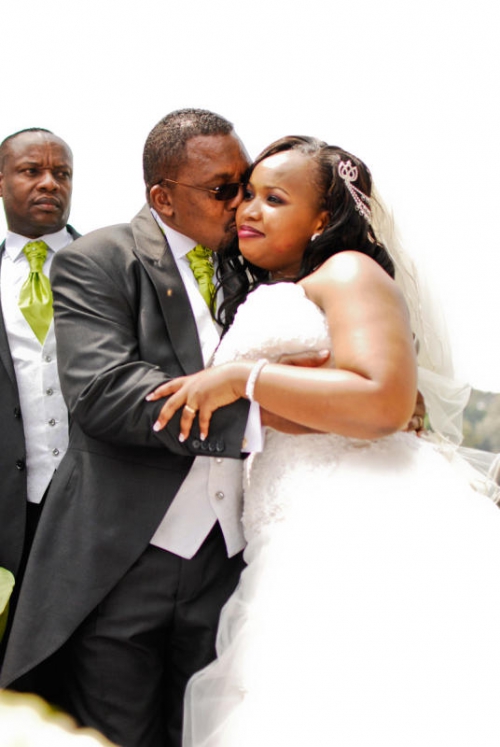 James Maina Ng'ang'a who heads Neno Evangelism Centre is not your regular kind of pastor. He is a rock star kind of evangelist with a wide following and reputed for performing 'miracles.' You must know or have heard of him, for he is a televangelist.
But things are not well in his marital paradise. His estranged wife has decided to wash the family's dirty linen in court, dismissing the man of cloth as an abusive and adulterous drunk.
In a child support case filed on September 2 last year at the Milimani Children's Court in Nairobi, Loise Murugi Maina accuses the flamboyant pastor of assaulting her physically and not providing for their child.
Murugi, who is seeking Sh535,000 monthly in child upkeep for their one-year-old daughter, claims she has no job to support herself and their daughter. She describes Ng'ang'a as a man of means renowned for his lavish lifestyle and who would not have any problem coming up with the amount she is seeking.
Nga'ng'a on the other hand accuses Murugi of deserting their matrimonial home without notice and denying him access to his daughter whom he fears will not be brought up "with proper moral values."
Paradise to hell
The two were married on June 30, 2012. Murugi describes how life changed from paradise to hell:
"In church, I took the position of an apostle's wife, helping him with the service and managing church affairs. It is at this time that I started to experience a change in his attitude towards me."
She claims that she was surprised when she found out who the real Ng'ang'a was.
"He was a drunkard and very abusive towards me, to the extent of insulting my parents. I also later learnt that he was adulterous, sleeping with staff and even bringing married women to our matrimonial bed," Murugi claims in the court documents.
She took issue with the pastor's alleged behaviour of texting and calling other women while in the house, which she claims caused her emotional pain. In addition, she alleges that whenever she confronted Ng'ang'a with her concerns, he would become very hostile and occasionally threaten her. She claims that the pastor would later try to calm her by apologising and blaming his behaviour and attitude on alcohol and the devil.
"We would then pray together and I trusted that things would change," Murugi adds.
According to Murugi, the marriage nosedived when they were traveling to China for her sister's graduation last year. Ng'ang'a allegedly started insulting her on the plane, and later on abandoned her and her mother at the airport.
Locked out of house
She alleges that Ng'ang'a later sent her a message bragging he had done shopping worth Sh3 million and that he did not care about the graduation. Five days after the graduation, Ng'ang'a reportedly called her to apologise for the ill treatment towards.
Murugi claims that one day, she found him drinking and they disagreed, resulting in a brawl. She said that after the incident, she received a text message threatening her not to go back home.
"True to his word, he had changed the door locks to deny me access into the house. I was forced to go back with our child to my mother's house," said Murugi.
Murugi adds that when they later met over the incident, Ng'ang'a reportedly got drunk and beat her. She claims that she left the house on August 3 last year and drove off with her then six months old daughter's clothes in the family car. She then adds that she surrendered the car to police officers who had been sent by Ng'ang'a to collect it.
But in a counter suit, Pastor Ng'ang'a claims Murugi deserted their matrimonial home and took off with their daughter, whom he claims has not seen since. In his suit, Ng'ang'a asks the court to grant him custody of the baby, saying it is in the interest of the child because she has been denied fatherly love, care, control and supervision.
Stressed children
"I have exhausted all avenues to try and resolve this matter. I pray that I be allowed to take care of the child without any interference from Murugi," reads the evangelist's affidavit.
But Murugi in her papers is of the view that Ng'ang'a is not competent to be granted custody.
"He is an abusive man, a drunkard and a man who lacks good moral grounding as he has no respect for any one, not even my own mother. He mistreats his children and even brings women to his house. This has resulted in his children being stressed and adopting a 'don't-care' attitude that I would not wish for my child," writes Murugi in her suit.
Ng'ang'a married Murugi after his first wife, with whom he had four children, passed on. The two tied the knot in a colourful ceremony at the Windsor Golf Club in 2012. The wedding was attended by among others, the then Vice President Kalonzo Musyoka.
Related Topics