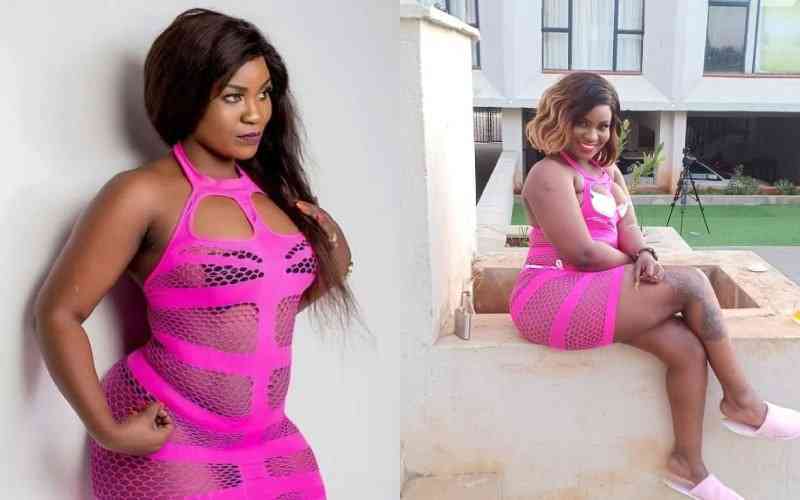 Former Nairobi diaries star Diana Clara famously known to her fans as Mishi Dorah has opened up on the troubles she faced for allegedly failing to pay a Sh150,000 bill at the popular Golden Ice Bistro.
Sharing her experience in a recent interview with comedian Dr. Ofweneke, the actress admitted that her life has been anything but easy since the incident.
Recalling the events that led to her arrest, Mishi explained that she had a club hosting event at Golden Bistro and had an agreement that they provide her with free alcohol but because of excitement, Mishi explains she went overboard with the orders.
"What happened was apart from acting I host gigs too. That day I was hosting a gig at Golden Ice. Usually, when you have a gig they are supposed to pay you and give you free alcohol. I had a deal with Golden Ice but they told me they can't pay me...The deal we had was that they provide us with alcohol because I had guests. We had so much fun and it was more than I expected. It was actually more than I bargained for. We had agreed they give me two bottles of Hennessey and two bottles or Belaire," she narrated.
Dora is said to have ordered two chicken breasts valued at Sh3000, a cocktail (Sh2000), two Coke bottles (Sh500), mineral water (Sh400), 3 cans of Redbull energy drink (Sh 1650), six bottles of Belaire Lux (Sh75,000),and seven bottles of Hennessy VS (Sh 70, 000).
"Days later I get a message on my DM from them and I start appreciating Golden Ice for how they treated us only for them to ask me if I can clear my bill. I was confused. I thought it was a prank. I told my producer and she told me her card doesn't work in Kenya. I was later arrested in Westlands at a friend's house who had prepared dinner for me and my guest cast members to enjoy. "
The vocal social media influencer went on to reveal that she spent 38 days behind bars and during that time her children were taken to the orphanage and her house locked.
"Prison is hell, there is no other hell like prison. I am not okay because when I got out right now I don't have my kids. If you are in prison and your kids have no one to stay with, they are taken to the orphanage. The house I stay in if you don't pay in time they move you out."
Despite the challenges she has faced Mishi assures that she will bounce back and get her life on track.
"I am going to bounce back. I know myself, I am not woman that gives up easily. It does not matter what people say I know what I am going through right now. The bill has not been paid even [sic], my priority is to get my kids and house back," she concluded.
Related Topics