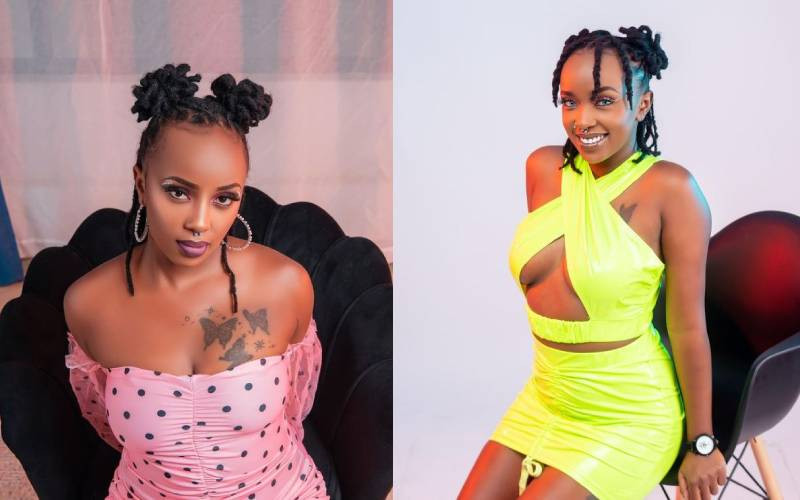 A social media user named Ciem Guru a few weeks ago took the internet by storm after revealing a tattoo he had gotten of social media influencer Keranta's name in an attempt to win her heart.
In a previous interview, Ciem said he wanted Keranta's name tattooed across his chest, close to his heart, to remind him of his love for her.
"I wanted it to balance on my chest well, just above my heart. I really insisted on the position because of my love for her. Next to it is a butterfly. She too has a tattoos of butterflies on her chest and she told me it's because she loves to fly," he said.
View this post on Instagram
Although Keranta did not acknowledge his efforts, love-struck Ciem did not lose hope and decided to try his luck once more and claimed he bought a car for Keranta. In addition, Ciem put a bumper sticker with Keranta's name and butterfly, the same way he did on his chest.
"I made sure the butterfly stuck nicely for my love Keranta.
View this post on Instagram
"Once you date a Kisii man, you can't go back," he posted on his stories.
Luckily, Keranta responded to his post and asked for the logbook.
"Lol pass me the logbook," she wrote.
"Pin me your location, no Ubers anymore," he responded.
With the car came a marriage proposal from Ciem, promising to treat Keranta well if she agreed to settle down with him.
"Dear Keranta, you are beautiful, you know how Kisii men will treat you well. I want to marry you because you are the first person I want to look at when I wake up in the morning and the only one I want to kiss goodnight. The first time I saw those hands I couldn't imagine not being able to hold them," he wrote.
The YouTuber has yet to communicate her stand regarding Ciem's advances.
View this post on Instagram
Not too long ago, Keranta was on the spot after her alleged ex-boyfriend, YouTuber Cocktail, accused her of cheating on him and dumping him for comedian Flaqo.
"Flaqo and Keranta played me last year. Flaqo is the reason I am not with Keranta.
"But they are dating. I loved Keranta. He's my home boy, I wonder why he went after her yet he knew we were together. Betrayal 3D," he lamented.
Neither Keranta nor Flaqo has commented on the matter. The two have, however, continued to make content together, with Keranta being featured in Flaqo's skits, describing herself as the first Kenyan to be part of Flaqo's unique craft.
"First Kenyan to be featured on @flaqo411 's EXCEPTIONAL Show," wrote Keranta.
Related Topics