Content creator Steve Alvin Muthoni, alias Aq9ine has disclosed that he recently purchased a new flashy motorcycle thanks to his content stunts that have been going viral. In an interview, the TikToker claimed he spent approximately Sh130,000 to customize his ride. According to him, the inspiration behind his Sh130K plus motorcycle is to one day own a Subaru.
"First of all, as you can see, it's blue, and we know most Subarus are blue in colour. I also added a Chelsea logo because I love it, and I have an exhaust to give the Subaru feeling," he said in part.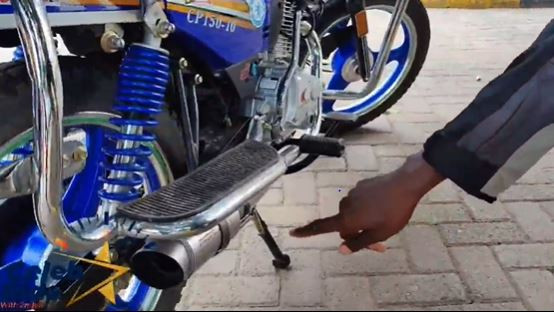 Admitting that his content was the source of his money, Aq9ine further stated that he is not afraid of negative and positive criticism. However, he firmly believes that his stunts are what will open doors for him, and with that, he is not about to quit anytime soon despite the harsh online critics.
"Mtaongea ujinga pale kwa comments lakini at the end of the day, mimi sitaacha kufanya content yangu. Huwezi jua maneno ya Mungu," he added.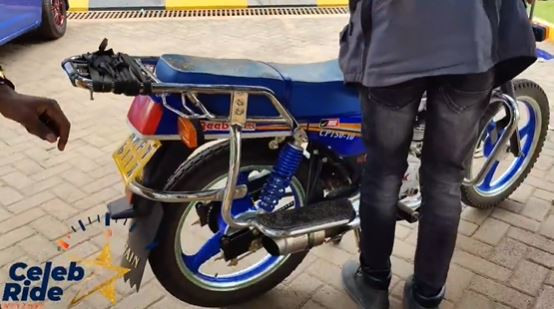 A week ago, the fast-rising internet sensation claimed that his whole body was itchy and his face was numb after chewing a spider.
"Guys, make your last prayers before niende. Muniombee bana mimi naenda. Naskia kaa sina uso, nafurafura kila place. Nimekula spider and this is happening to whole face hadi mikono," he said while scratching his skin.
His claim raised many netizens' concerns, but he publicly denied that he ate a spider, saying that a spider had bitten him.
"I told you not to believe everything you see on social media. I did not eat a spider. How can you eat a spider? Spider has unique body parts how can you eat such a thing? I said I had eaten a spider out of anxiety. I was bitten by a spider here," he clarified, adding that, "You can't imagine how I was feeling by that time. Have you ever felt like scratching your two body parts at once? Every part of my body was swollen like my face, I didn't eat a spider. I came to realize later that I had said I ate a spider while getting treatment. When I revisited the video, I realized I had said I ate a spider," he said."
Related Topics