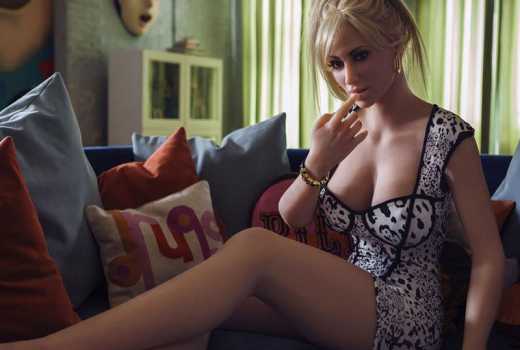 Sex doll Samantha offers adult entertainment and buyers can hand-pick features such as face, hair and breast size.
With some Kenyan men mulling the idea of brothels for sex dolls, we look at why ladies are seething with rage over it
Thanks to sex toys, women have for a long time had the option of enjoying sexual pleasure without the aid of men. But thanks to some mzungu innovator, we now have sex dolls. Kenyan bachelors have welcomed the news with excitement, with some being humorous about the idea, leaving a section of woman fuming with rage.
The high-tech sex doll, dubbed Samantha, is reported to have a realistic silicone skin and the ability to flirt and even simulate orgasms. Apparently, buyers can hand-pick features such as face, hair and breast size.
What's more, the doll is programmed to remember the owner's birthday and favourite films, music and, get this, his favourite position. Sigh!
Some can be made to feel warm like real flesh and simulate an orgasm moan during sex. This, of course, has heartbroken some women, seeing as the robots seem hell-bent on replacing them.
Without noticing the irony of her statement, with tales of dildos and vibrators all around, a certain Cate whined, claims that the invention dehumanises women.
Hear her: "What does the makers of that sex doll think of us (women)? This is so dehumanising, how do you replace a woman with a robot, complete with human features? This is madharau (contempt) of the highest order."
Phyllis, yet another furious local girl, jumped in, explaining how the dolls have baby faces and could encourage child abuse, more sexual assault and rape among women.
"The robots have the faces of small girls and don't look like they can say 'No'. Isn't such nonsense going to encourage men to start hitting on small girls?" She wondered, dismissing the doll as a fad that will pass with time.
Amina scoffed, saying: "These sex dolls are just like the slay queens you whine about daily. Fake hair, fake eyelashes, fake boobs, fake bum, doesn't cook, clean. Suit yourselves!"
The robot manufacturer has claimed the latest 'women' provide an experience comparable with real human sex, urging men to brace themselves for good times in the coming days.
"Haha! Good thing with Samantha is that she is always in the mood. No grumpiness as is with most women. No fake headaches too," chuckled a certain Okello on social media, terming the invention: "Manna from heaven".
Samantha is the latest creation from Dr Sergi Santos, based in Barcelona. 'She' comes complete with eight different modes, including family, entertainment, analysis, sleep and three sexy settings -romantic, calm and nasty.
The hyper-realistic robot, which is made from polymer composite, has been filmed in a promotional video showing Samantha in a variety of sexual positions and being "aroused" and, of course, responding, much to the excitement of men.
The female robots are now on sale via the robotics company Synth Amatus. For Sh364,852 (£2,500) customers can get their hands on their very own sex robot that, it is claimed, "likes to be touched" and can sense arousal.
Nairobi business community to start sex doll brothel for 'team mafisi'?
While unveiling Samantha, who was posing provocatively and seductively on a bed, the excited manufacturer said he hopes to sell the sex robots worldwide in adult shops. He has teamed up with a sex doll and robotics factory in China to produce a minimum of 50 a week.
Obviously, this bit was going to illicit reactions, with some local men, now calling on entrepreneurial members of the Nairobi Business Community to grab the opportunity and ship in as many Samanthas as possible.
"Some of us are hustlers bwana. We want to sample Samantha, but can't afford her. Why can't members of Nairobi Business Community ship them in and start a brothel, where we can be having fun for a small fee?" joked Philip, a social media user.
But if you thought Samantha is a bimbo of sorts, sorry. This girl is smart. She can focus on the negative or the positive things that you've done. That's very human. That's a form of intelligence and personality.
She has a 'brain memory'- stored on an SD card in a computer located in her head. Her body is covered with pressure points, or "interfaces of touch", which are responsive to physical interaction and in turn sends feedback to the 'brain'.
As such, Samantha can tell when the man is getting excited, but as with human interaction the sex robot also needs to be aroused before she can "enjoy herself'.
The manufacturer claims she is so romantic that some men have already started developing real feelings for her. But the doll, the manufacturers is quick to add, isn't all about "getting down and dirty". Samantha can also discuss philosophy, science and animals!
She's also got a great sense of humour with more than a thousand jokes in her repertoire. He said: "She likes to be touched. If you go straight for (her breasts) in the beginning, she won't like that so much." When her hand is gently rubbed, Samantha responds: "Lovely, thank you for spending time with me. I enjoy being with you."
With some men mulling the idea of brothels for sex dolls, we asked women their take and some had no kind words.
"Hell no! Sleeping with Samantha at a brothel for married or attached men is as good as cheating," grumbled Stella, calling upon the Kenya Film Classification Board boss aka Kenya's moral police, Dr Ezekiel Mutua to nip such a wayward development - if it were to get its way in Kenya - in the bud.
However, already, some enterprising businessmen in Spain have brothels of the same, and are looking for partners across the world.
"We are currently in the process of expanding and looking for more franchisees in other countries. If anyone is interested in the brand, you can contact us," said a spokesman for Lumidolls Brothel, which ran into opposition from real-life prostitutes, who complained that the sex dolls were stealing their trade.
They had to relocate to a secret location, where they only direct serious clients. The brothel's spokesperson told local press that unlike prostitutes who are at times moody, the dolls can perform any wild, sexual fantasies men can't dare do with a real woman.
Could this be end of men and women relationships?
This new development, together with the existing and growing popularity of sex toys among women has prompted social analysts to question the future of men and women romantic relationships.
This, perhaps, could be the answer to a world where men and women are too busy for each other, with search for money taking up much of their time and the threat of deadly diseases and high cost of marriage.
Also, could the growing popularity of sex toys and dolls be as a result of loneliness - which is reported to be toxic to human health and now ravaging Nairobians and other urbanites in Western capitals - so much so that in countries like Britain, they now have a minister for Loneliness?
Whether or not this development will lead to love or just lust, the jury is out. Nanjero, a leading local cartoonist, joked that the good thing with Samantha is that you can easily cheat on her and get away with it.
"The only problem with this bonk is that she can be stolen," giggled the syndicated satirist.
Samantha could not have come at a better time, especially now that the world is moving so fast that nobody has time for conventional relationships.
Take Japan, for instance. 61 per cent of unmarried men and 49 per cent of unmarried women aged between 18 and 34 are not in a relationship of any kind. What's more, one-third of Japanese under the age of 30 have never had sex!
"There is a big problem of romantic relationships and availability of good sex in Kenya and in many other countries. People are ever running after money. So much so that there is no time for dating or readily available causal sex, even some married types don't live together'. Now, that's the crisis that Samantha is likely to solve," laughs Ngare, adding that: "You take a Sacco loan and invest in her once, no more cash wasted on dinners, evening coffee dates, birthday gifts and crazy valentines demands."
Now, all you girls who have been trashing men, calling them "useless", beat that!
Related Topics