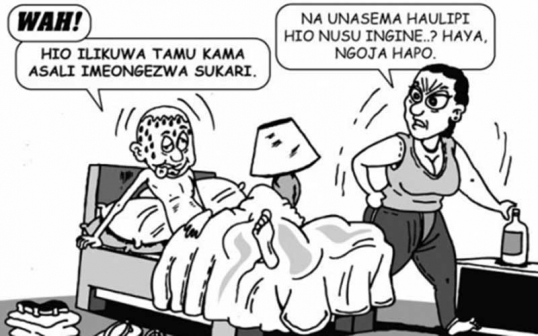 Before the night-long bed marathon, the wheelbarrow operator paid half of the agreed price
After getting the full satisfaction of her services, the man declined to pay up
A woman, 40, could be facing attempted murder charges for stabbing a wheelbarrow operator who declined to pay Sh200 after getting the full satisfaction of her services. The victim, identified as Musungu, is known to ferry water and other goods for various people in the estate.
It is believed that the woman, after having an all-night marathon session with the man demanded for the second instalment but the man, it turned out, didn't have the money. However, the woman of the night maintained that she must be paid her dues.
"The wheelbarrow operator paid her Sh200 as an introductory deposit but didn't have any money for the other extras that were thrown in. Following the man's refusal to pay the remaining balance, a fight ensued and the visibly angry commercial sex worker pounced on him with a broken bottle injuring him on the head, chest and back," a source privy to the happenings revealed.
The incident drew attention in the small town. The crowd was not amused with the woman and tried to exact revenge. When we arrived at the scene, the angry mob was beating up the woman, with some trying to undress her before police officers came to her rescue.
"These members of the sex ring are fond of stealing our husbands. You are a disgrace and should be taught a lesson. In fact this woman should be jailed. How can you abandon your husband and children to come and engage in such a business? Shame on you and stop tainting our image in this area," one woman could be heard screaming.
The man is in critical condition at a Kakamega hospital while the woman is in police custody as investigations are underway. Nancy Alivitsa, a local, told Crazy Monday that cases of disagreements between sex workers and their clients on payment have been on the rise and it was high time something was done.
"This area is very risky, there are so many lodgings and the young generation is endangered as young girls are getting into prostitution. As women we are very worried of losing our husbands to the deadly diseases," Alivitsa explained.
Related Topics