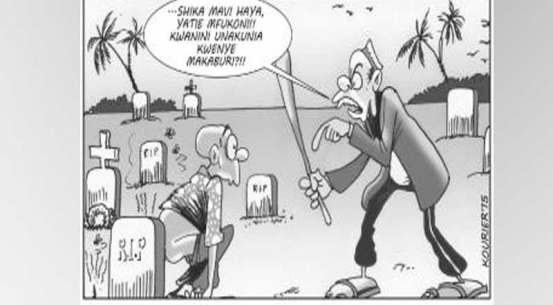 If you are one of the many Kenyans who gets away with defecating in public places, along footpaths, behind bushes, with no dignity or privacy, you will have to think twice before you do so next time, especially after reading this story.
A man with the aforementioned habit in Mombasa County found himself between the hammer and the anvil when he was forced to pocket his own poop and smear his face and head with what remained on his hands, after he was busted relieving himself in a cemetery!
Poop hit the fan when a man, suspected to be a guard at the graveyard, caught the unidentified man in the act.
The man, caught squatting with pants gathered around his knees, had passed a few pellets when he was ambushed and nabbed.
"Shika haya mavi, tia mfukoni. Shindilia kabisa. Chukua hayo mengine na utie kwenye huo mfuko mwingine. Kwanini unakunia kwenye makaburi. Jipake kama mafuta. Kwanini unafanya mambo ya kipuzi; kukunia ovyo ovyo kwenye makaburi (Grab that waste and put it in your pocket. Take what's remaining and put it in your other pocket. Why have you turned this graveyard into a loo? Smear the remaining on your face and head. Why do you do such a silly thing, pooping in a cemetery)?" the supposed guard commanded and yelled at him — as he obeyed — in a menacing voice.
The incident was captured on a video that has since gone viral. However, Crazy Monday could not independently verify its authenticity. In the video, the embattled man is seen and heard begging for forgiveness, explaining how he was pressed and the cemetery was the only option he had.
Sheer bravery
But the supposed guard didn't seem interested; he would hear none of it. In the video, the scared and embarrassed man is seen obeying the orders; filling his pockets with the faeces and smearing some of it on his face and head, like oil.
That he had the cheek to venture into such a dreaded place to answer the long call of nature, beats all forms of logic. If that was not sheer bravery, then what is?
He, however, need not worry because a Japanese company seems to have the perfect solution to save him future embarrassment.
The company has invented a new wearable device that gives the wearer a ten-minute heads-up to look for a toilet! Actually, the gadget would be a godsend many other Kenyans who, in emergencies, are always forced to turn bushes into loos.
The company that came up with the innovative technology says the gadget is attached to one's stomach and connected to an app on a smartphone that predicts bowel movements.
Unpredictable bowels
The sensors in the device detect any swelling in the wearer's intestines and send a notification to their phone 10 minutes in advance.
The makers described it as a way to help people who have somewhat unpredictable bowels, giving them ample time to find a toilet. They said that it's particularly useful for those in wheelchairs or with limited mobility, especially in assisted living facilities or nursing homes.
The Mombasa man's story reminds one of a certain brave American called Carl Higgs who recently, while high on weed, strolled into a police station demanding to talk to his cop friend.
While in the waiting bay, he whipped out a roll of cannabis sativa, lit it and began enjoying himself. Police on duty were not amused. They locked him up. But unsatisfied with the stir he had caused at the station, Higgs, while in his cell, stripped, defecated on the floor and smeared the waste on the walls. He was charged with possession of an illegal drug and disorderly conduct.
Related Topics