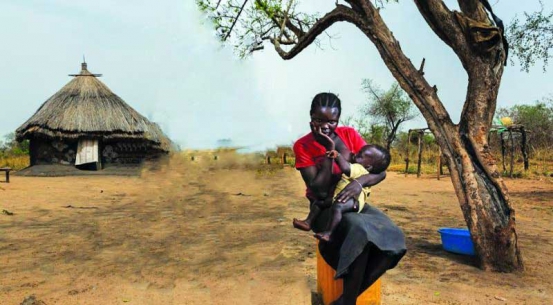 Women have remained an economically disenfranchised lot in Kenya for far too long. The inability of most of them to own property, especially land and housing, has continued to perpetuate their economic dependence on men.
Consequently, women become extremely vulnerable upon a husband's death, with the lives of many being turned into a living hell, not just by their in-laws but also the society in general.
Because theirs is a dog's life, widows see it all. Some are blamed for the demise of their husbands, especially when the deaths are mysterious or as a result of suicide or murder. Others get disowned and chased away by in-laws upon the death of their husbands.
Needless to mention those who get embroiled in nasty court battles over property or those who get forced to participate in backward cultural practices like widow cleansing and wife inheritance. Others have to engage themselves in high-risk work to make ends meet, following abandonment by in-laws.
Need we state that some have to constantly fight stigma from society, especially from their married counterparts who treat them with suspicion that they can steal their husbands?
Just last week, a widow from Malindi in Kilifi County lost Sh14 million property to her step sons. So nasty were wrangles between Munaa Ahmed Salim and her two stepsons — Ahmed Salim Said and Faiz Salim Said — that it ended up in court.
Unfortunately for her, she lost the bid to inherit the property she has been eyeing for over 14 years after Justice Chitembwe ruled in her step sons' favour.
Munaa's step son's line or argument was that the disputed property did not belong to their late father, Salim Said Alamoody, but their late mother, Barke Salim Bawazir.
In his ruling, the justice argued that it was not established that upon the death of Barke Salim Bawazir, the property automatically reverted to her husband, Salim Said Alamoody for her to lay claim on it.
Munaa's case is one in many. The widow of former Internal Security assistant minister Orwa Ojode was locked in a tussle with some of her in-laws over compensation from Parliament after his death in 2012. A three-year feud over property that belonged to former business tycoon Gerishon Kirima — pitting one of his wives against some of his children, is another perfect example that made the headlines.
One of the widows Crazy Monday talked to told us besides the challenges such as the difficulty of getting romantically involved with a new lover without being judged harshly by her in-laws and society, widowhood has strengthened her.
"My husband was key in making decisions affecting the family. I suddenly had to do this alone and I have slowly learnt to take on challenges as they come," says the woman, who after losing her husband to HIV/aids, was chased away from her home by in-laws who blamed her for her husband's death.
She had to go and live with a friendly distant relative with her children. The stressful life, she said, has seen her health rapidly deteriorate.
Never mind, this is happening in a country where, on paper, the laws recognise women's rights to own and inherit property; but in practice, many widows are chased away from their land, and access to justice is hard to obtain.
In the villages, she says, courts are distant whilst ties between blood relatives are very strong, suing them will put one in awkward situations.
Hear her: "Again, most widows can't afford court cases. If anything, they are time-consuming and are culturally frowned upon for family disputes. Going to court worsens relationship between widows and in-laws. How do you go back to such a home after winning a case against them?"
Many others that Crazy Monday had a chat with talked of strained relationships with their in-laws after the death of their husbands. One common prayer and hope they all seemed to have is for government to set up a support programme to protect and look into the welfare of widows.
"Widow's disproportionate exclusion from property ownership is a common feature in this country. It's time government made deliberate efforts to protect us from discriminatory customs enshrined in patriarchy, religious laws, and institutional practices that severely restrict our ability to gain and control such property," said a widow whose husband, a pilot of the Kenya Defence Forces, died when his chopper came down in Lamu County ten years ago.
In Nyanza and Western Kenya, widow cleansing and inheritance is still observed as a cultural aspect. According to traditions among the Luo, for instance, widows are expected to engage in sexual intercourse with a "cleanser," who may be a family member or a 'professional cleanser' who get hired specifically for that purpose.
"This is done in order to rid the widow of impurity ascribed to her after her husband's death," says Kerr Ominde, an elder from the community.
The elder says, seeing as Luo couples — in a tradition whose practice despite being in sharp decline is still actively practiced in rural outposts — are traditionally expected to engage in sex preceding specific activities like planting, building homes and other significant cultural and social events, widows are always expected to be cleansed before taking part in such activities and that is how "professional cleansers" come in.
Anything short of this, he says, they won't be allowed to participate lest they invite the wrath of their ancestors upon their clan and in-laws.
For most of these widows, their life is a delicate balancing act; getting infected with deadly sexually transmitted diseases such as HIV/aids and meeting cultural expectations.
"In rural outposts, sexual abstinence tends to undermine cultural expectations in widowhood. What's more, use of condoms is never allowed when fulfilling culturally prescribed sexual rituals. Never mind, most of these widows are vulnerable and can't negotiate for safer sex," says Hassan Nyawanga, a health worker based in Bondo and a part-time nursing tutor in the area.
"Widow Inheritance is, however, now getting frowned upon because there are enough reports that show it is partly responsible for the high prevalence of HIV in the area," says Kerr, who acknowledges that the region has the highest HIV prevalence in the country.
Related Topics