A newly married woman shocked an elders' baraza in Siongiroi, Bomet County after she reported her husband for not getting her pregnant.
Tired of waiting to be put in the family way in vain, a desperate Hellen Chebet paid village elders a visit with a strange complaint that lit them up, leaving them exchanging knowing looks.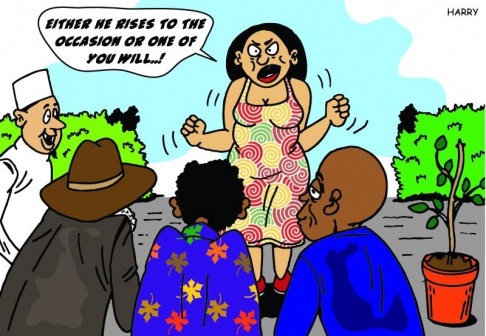 That the 28-year-old has been married for over a year now, yet her 32-year-old husband, Edwin Kirui, is still dilly-dallying to get her pregnant disturbed her so much that she decided to report him to elders.
Attempts to jolt Kirui, whom she says could be suffering from erectile dysfunction, into seeking medical attention by refusing to talk to him bore no fruits.
The long-suffering Chebet told this writer she tried all tricks in the book to prevail upon him to go for treatment but all was in vain.
"I love my husband so much, but I need a baby of my own. I tried everything, but he flatly refused and asked me to be patient. I even threatened to divorce him and get married elsewhere, but he was not shaken," said a seemingly deeply worried Chebet.
Tired of suffering in silence, Chebet said she reported the matter to Kirui's father, who, she said, besides promising to talk to him, did not seem much bothered.
Creative excuses
The going got so tough that Chebet presented the matter before elders, where she laid everything bare in the hope that the elders would prevail upon her husband to get medication.
She said she revealed to them how Kirui even failed to consummate their marriage the night after their wedding. She said he always concocted a creative excuse.
"He, at some point, claimed he was on some medication that would not allow him to get intimate. Interestingly, throughout courtship, we never got romantically involved because he claimed he believes some things can only happen after marriage," said Chebet, who is afraid she is getting late to make babies.
One-minute man
In one instance, she said Kirui blamed his inability to rise to the occasion on a minor accident he had while riding a motorbike years earlier.
"I have tried imploring him to come out and confess if he has any medical problem, but he keeps coming up with excuses.
"He has the habit of complaining to be tired whenever I initiate intimacy. When he gives it a shot, he barely lasts a minute after which he turns over and snores away," said Chebet.
She added that at some point she mulled cheating on him to get pregnant, but changed her mind, hoping things will change for good.
After deliberation, the elders agreed to take Kirui to a local herbalist to cure him condition, much to the delight of Chebet, who is eager to be a mother.
"I am now a bit happy and hoping for the best," she said.
Related Topics