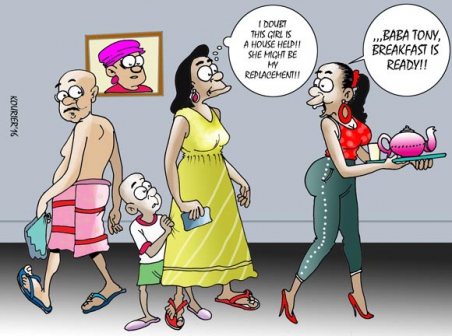 A marriage of nine years in Seasons area in Nairobi's Kasarani Estate came to an abrupt and dramatic end almost a fortnight ago. This was after a conniving mother-in-law got his son a second wife, prompting the first wife, together with her two children, to flee back to her parent's home in Nyahururu, Laikipia County.
The aggrieved woman, only identified as Caro, told this writer on phone she fell out of favour with the mother to her ex-husband, surnamed Juma, from the word go.
"It has been terrible. For all the nine years we have had wrangles with her. She never liked me from the first day we met because of my tribe," said Caro.
The mother-in-law, believed to be very influential to his son seeing as she has been micromanaging his household in Nairobi from her base in Mumias, is said to have brought in the second wife as a house girl.
"My ex-husband's mother is vicious. She has been antagonising our marriage by actively getting involved in our affairs. She always calls to ask about small things that should not even concern her.
"The circumstances under which my house girl was fired to pave way for his second wife, masquerading as her replacement, was suspect. First, she didn't have the characteristics of your average house girl, from her dress code to mannerism," said Caro.
Had it not been Caro's self-confessed nosiness to snoop on her husband's phone, it would have taken her longer to blow the second wife's cover.
"My nosiness made me curious and I checked his phone conversations with his mother. It came as a shocker to me when I discovered the woman was actually being groomed to be his second wife," agonised Caro.
What annoyed Caro even more was the fact that after raising her concerns about the new 'house girl', Juma didn't seem to care.
"After confronting him over the matter, he became wild, warning me against poking my nose in his private affairs. He even had guts to tell me to do what I wanted to do over the incident (sic)," said Caro.
Mama's boy
The unidentified mother-in-law was opposed to the marriage and had been inciting her son against Caro. Each time her son seemed to be doing badly financially, his wife was to blame. The stalled white elephant that is his house back in the village is blamed on her.
"There is a house he began building in 2010 and has since stalled. Each time she goes round telling people how I eat money meant for finishing the house. She has gossiped about me to most relatives. She tells them I have made her son hate his rural home," Caro added.
Caro said, partly why she never managed to get along with her former mother-in-law was because she hails from a different tribe.
"The very first time I was introduced to his parents, his mother didn't like the fact that I am from a different tribe. Being the last born and a mama's boy, she is actively involved in his life. She wanted him to marry a woman from their tribe. The negative publicity women from my community have been receiving did not make matters any better. She believes we are all bad and don't make great wives," said Caro.
Caro said the annoying bit about the whole story is that her husband is not an angel as his mother tries to make him look like. She has caught him cheating on three different occasions, but she stayed put. When she reported the last case to his mother, she dismissed her casually, telling her to sit down with him and solve the matter amicably. She forgave him and they continued living together.
For close to a week, tension has been very high in the home, with Caro waging 'cold war'. But push came to shove and, in a fit of self-righteous rage, scorned Caro packed her belongings and left the house with her children on the advice of her furious father.
"I have been good to him and treated him with respect, but marrying a second wife was the best way to thank me? He had been complaining that I am tough on him, and I am just wondering aren't all erratic husbands nagged by their wives? I could be a housewife, but I am not that desperate to live with my co-wife in the same house. I had to run away with my kids," concluded Caro.
Attempts by Crazy Monday to reach Juma for a word proved futile, he neither picked our calls nor replied text messages.
Related Topics