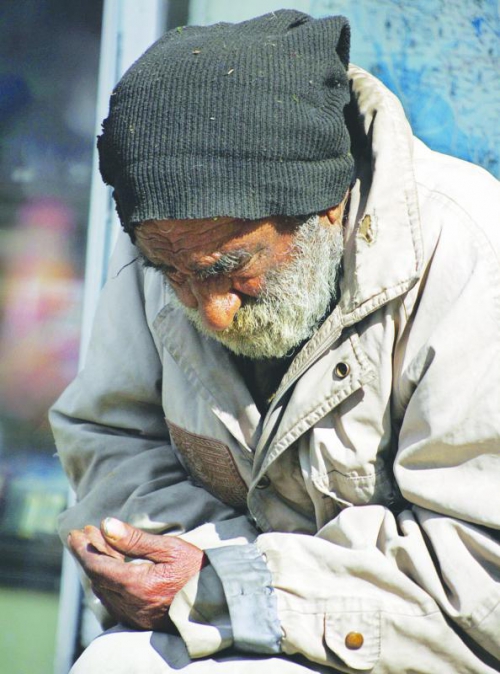 There are genuine street beggars who need help. However, how others use the handouts leaves a lot to be desired. They misuse these proceeds from public sympathy by 'living large'. Also, some are not genuine paupers; they are actually conmen who have used handouts from poor Kenyans to, among other things, buy plots and build houses, but still beg for a living without their benefactors being any wiser, Crazy Monday has discovered.
It is unfortunate that this sad state of affairs has lured more and more crooks, especially in Nairobi, into abusing Kenyans' generosity. They now act up, complete with fake limps, pretending to be disabled to win sympathy, and masquerade as full-time beggars. And they are making a killing out of it.
Pray, why would a crippled beggar, like a certain Muchiri who is normally stationed along Nairobi's Tom Mboya Street, opposite Imenti House, don the latest fashion and chains? Or have the coolest and, of course, expensive haircuts, complete with chemically relaxed hair? Or, better yet, own a smart phone which he, once in a while, whips out of his pocket to check the time or reply to text messages? This is a scandal?
Man eateth where he worketh
Well, it is said 'man eateth where he worketh', but stumbling upon a well-known beggar having a ball, treating himself to an expensive meal and quaffing choice drinks and wines doesn't sit well with many people.
You see that beggar you give handouts to on the streets, he could actually be a proud owner of several parcels of land or plots. In fact, he could be that landlord of yours whom you've never met, and only pays rent through an agent.
What's more, unlike you, poor sod, perhaps only 'covered by the blood of Christ', don't be surprised to learn that some of the 'beggars' with whom you, out of generosity, share your hard-earned money have an insurance cover!
Point is, it might annoy some Kenyans to learn that some of the 'beggars' they help on the streets, daily, actually lead better lives than them. Painful but very true. But folks, as Mario Puzo would put it, it's nothing personal, it's just business.
One Joseph Waweru, a Nairobi-based beggar, cannot do with a simple breakfast like the majority of Kenyans. Courtesy of his unsuspecting benefactors. Waweru boasts to a tipster who worked with this writer on this report that he starts his day with "a heavy breakfast".
Kenyans willing to sympathise
"This job entails talking all day. And if you don't take a good breakfast, my friend you will run out of saliva and do a shoddy job," says Waweru playfully, yet in a boastful manner to our informer. This lifestyle, he says, is not about to end any time soon, so long as Kenyans are still willing to sympathise and bless him with a few shillings every day.
Curious Kenyans must be asking who the hell is this Waweru? Well, Waweru was once a notorious carjacker who terrorised motorists mostly along Thika Road at the beginning of this millennium. During his days as a gangster, together with accomplices, Waweru used to steal cars and sell them in Tanzania.
One day in mid-2006, they were ambushed, trying to break into a stationery car at Ngara and beaten by a mob. In fact, one of his colleagues died, but together with another partner in the crime Waweru escaped.
Waweru was on the verge of being killed had the police on patrol not intervened. They arrested and took him to Central Police Station, and released him later. "I spent one night in the cell and the following day, one of them told me to go and die far away from the police station," Waweru told our tipster.
Beggar Waweru is a landlord
From car-jacking, Waweru had made millions of shillings with which he bought land and even started building rental houses in Nairibi's Pipeline Estate. Seeing as the merciless beating and stoning crippled him, the construction of his houses stalled. Several months later, he met his former accomplices who advised him to "take advantage of his disability and beg for a living and to complete the construction of his rental houses".
Waweru, now in his 50s, has been begging for a living since early 2007 to date. True to form, he managed to raise money to finish building his houses. He, our tipster reveals, makes at least Sh2,000 a day. Hear him brag to our informer: "Beginning this June, l am retiring from streets and you will not see me again. My houses are done, complete with piped water, save for electricity connection."
His 30 block of bed-sitters will each fetch him at least Sh6,000 per month, totalling to a cool Sh180,000. What's more, Waweru is married with three children. His wife drops and picks him from town daily. Our informer reveals Waweru is not needy at all, if the car his wife drives is anything to go by.
Another beggar, Aggrey Oketch, was born with a disability. His legs are too weak for him to stand on his own. He, therefore, moves around on a wheelchair. Surprisingly, Oketch has three well-to-do brothers who support him financially.
"One of them is a manager with a reknown Insurance Company in Upper Hill, Nairobi," explains a watchman who guards an electric shop near a building where he begs from. Oketch also has many acres of land he inherited from his father in Ahero.
Threatened to commit suicide
However, he still wants to make some money of his own. "My brothers support me, but l also want money of my own. The street is the easiest way, you just sit and beg," he says. They once restricted him from begging but he declined, threatening to commit suicide.
The watchman reveals, "They (Oketch's brothers) have hired a taxi that drops him in the morning and picks him from the streets in the evening, although he sometimes begs at night. The same taxi man brings him lunch. Generally, he lives like a King."
Like many Kenyans, Alex Kosgey wonders how genuine some of the beggars are. "Some of these beggars have people who can take care of them. Some are from rich families. I don't understand why they have to bother Kenyans on the streets, begging from them," loudly wonders Kosgey.
Kosgey adds some of the Kenyans they extort money from are very poor and only give out of magnanimity. To him, this is one big scandal that should interest the Inspector General of police.
"Truly, there are people you see and agree are real beggars who need assistance, but others are a no-no. This matter should be brought to the IG's attention. Some of these beggars should be investigated.
Some of the luxuries they indulge in make one wonder," says Kosgey, shaking his head in disbelief, adding: "I know of a beggar who owns a shop courtesy of handouts, yet he still appeals for assistance from Kenyans on the streets.
I have at least heard of yet another one who treats himself to delicacies and beer every evening after 'work' before going home. Something some of his benefactors can't afford. This is unacceptable."
There are many other cases of, for instance, 'crippled' beggars who suddenly 'grow' legs during emergencies like when mean council askaris lob tear-gas canisters to disperse rioters in town.
Some of us have at least heard of these fake beggars who pretend to have this or that disability; one day they approach you as 'deaf', the next they appear as 'crippled' and on a wheelchair, and on another day they come to you as 'blind'.
Run without walking stick
Interestingly, the 'blind' one still expects you to trust and donate to them even after protesting when you give them fake currency! Or, at times, during emergencies, bolt at maximum speed without the aid of their walking sticks!
Agneta Mosi, who runs fashion shop in the city, also used to give beggars money. She says, "There was one near my shop along Biashara Street to whom I not only used to give money but also buy food. One day, l was shocked when a local television exposed fake beggars, and he was among them.
To differentiate fakes from real ones
"In this town, it is hard to differentiate between fake and real beggars," says Mosi.
James Wangalwa, a restaurant cashier in Nairobi says he knows of a beggar called Elijah Makasi who is a family man back in Western. "I have always wondered whether his people know what he does in the city," he explains. Wangalwa says Makasi frequented and begged from the restaurant he works for. One day Wangalwa stopped and spoke to him in Luhya, telling him that he looks familiar.
He denied, and that was the last time he was seen at the restaurant. But Wangalwa sees him in town, begging. He says: "During the December holidays, he is the hero of the village, buying people lots of local brews. Some even think of him so highly that they encourage him to run for political office."
Flies abroad for holiday
Mark you, this is not just a Kenyan problem. One Damien Preston-Booth, who lives in the UK, is probably the smartest beggar in the world. The 37-year-old accepts donations from wealthy tourists via credit card! He actually carries around a card reader to make sure he doesn't miss out on contributions from rich people who don't have cash on them.
Booth has successfully managed to convert what is viewed as a rather ignoble occupation into a full-time profession. And he's struck gold, a former friend claims the man has earned thousands of pounds and even spent five or six holidays abroad in just one year! In fact, his Facebook page has pictures of him in Paris and Ibiza.
Some of these 'beggars' are taking everyone for a ride and make an impressive fortune. Most are multilingual; they have the gift of the gab. Some are unapologetic.
Damien Preston-Booth, for instance, when confronted about his habits, he quickly admitted to everything, saying he has nothing to hide and that, "unlike other smackheads who spend it on drugs and beer" he spends his wisely.
He also confessed to flying abroad, but to only look for work. And yes, we all know what his 'work' is. This Easter, before giving a handout to a beggar, think twice; some are conmen.
Related Topics