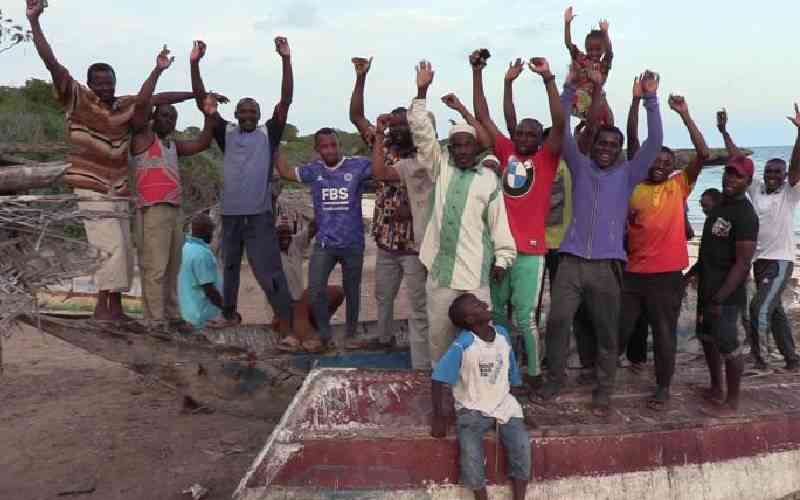 It is a tiny village south of Malindi town but is buzzing with fishing activities. The fishing village of Mayungu is famous for supplying fish consumed in the North Coast. But it is also infamous for the unending mistreatment of the stateless Pemba tribe by State officers.
Few minutes to 6am, about 50 boats are loaded with fishermen preparing to go out to work. Among them is 50-year-old Ali Said Kombo.
Kombo says the fishing expedition will take at least six hours. His boat has six people onboard, and all but Kombo are members of the Pemba community from Tanzania.
Kombo has to accompany the six because they have fishing permits and valid Tanzanian passports to avoid the risk of being arrested by Kenyan authorities.
Mayungu village is considered to have the largest population of people from the Pemba community.
"It is a shameful thing that I must be in the company of people with identification documents to ply my trade. I am not a free man," Kombo says as one of his colleagues fixes the portable engine on the wooden boat.
After a short prayer the fishermen embark on their journey, singing and chanting as they row out into the blue waters. A few hours later, they reach their destination where they find small white containers floating on the water.
They have improvised ways of ensuring that their fishing equipment does not get lost in the ocean and the floaters made of plastic jerry cans tied with ropes help to mark the location of the nets.
The real work now begins and the fishermen start pulling the ropes from beneath the sea. It takes about five minutes for four fishermen to pull one cage out of the water, only to discover that their catch was one fish. They extract the lone fish and drop the cage back into the water.
"This is our life, our business and our only hope for survival," Kombo says as he pulls one more floating container. "The sea is good but sometimes unforgiving," he says.
The second cage comes out with two red snappers, which are extracted and the cage dropped back into the water.
"Today is a good day because we have not seen any Coast Guard boat or marine boats," says Kombo.
The sailor is member of the Pemba community in Kenya who is stateless and has never been to Tanzania where Pemba island is located.
"I was born in 1964 at Kichaka Mkwaju village in Shimoni area, Kwale County and I have never been in Tanzania at any moment," Kombo says.
He adds that his grandfather is a Duruma who married a woman from Pemba in Tanzania.
"I departed Shimoni to look for greener pastures and I settled here in Mayungu village in 1972. It wasn't an easy venture since I feared the authorities because of the harassment we faced as a community," he says.
"Our lives depend on the sea and fishing, but sometimes there is no catch and we count the losses. It is usually this way and only once or twice a month do we get a good catch" he says.
Kombo narrates the harassment they face as a community, stating the lack of an Identification Document as the root cause of their trouble. Some of his community members have even adopted Giryama names to enable them to get IDs.
"We can't get fishing licences and we have to hang on the backs of our fishing colleagues from other tribes to survive," he says.
Kombo says that those who managed to get ID cards had to bribe their way to Kenyan citizenship, with the lowest amount for an ID being Sh10,000. He adds that government opportunities in the Blue Economy have not benefitted them because of their stateless situation.
"There were Blue Economy jobs that came through our Beach Management Unit (BMU) but we didn't get the chance since we don't have identification documents.
"Not all our neighbours are good and some of them expose us to authorities out of greed and jealousy. This has led to harassment, arbitrary arrests with no charges and even deportation to no man's land," he laments.
For Kombo, life has been difficult and efforts by the government to repatriate members of the Pemba community has always been a torturous experience. He says most of them are bundled into police vehicles, abandoned at Lunga Lunga and ordered to cross over to Tanzania.
Kombo's neighbour, Hamisi Ali Kombo, says he arrived in Mayungu in 1989 and found some members of the community already residing there.
"It is the beach that attracted us since we were on a fishing expedition and when we saw it, we decided to get some rest. While resting we got in love with it and that is why we are here today," says Hamisi.
"Our stay has been nasty and we have been harassed so much. Police are always on our neck and we thank President William Ruto for recognising us," he says.
He adds that there was a time police picked his wife and children from Mayungu village and dumped them in Lunga Lunga and he had to follow them. During last year's Jamhuri Day celebrations, President William Ruto said the stateless Pemba people will now be recognised by the government.
"We started this campaign in 2006 so that we could push for recognition but the delays made some of us lose hope. Without fishing we are done and I got my identity using someone else's name," he says.
Mr Katana Mwambire, the village elder at Mayungu says that the Pemba people started Mayungu village in 1972 but they have undergone serious neglect by the government.
"We started the push to help them get recognition and I am very happy about what the President said about them. I feel bad how they are harassed by the authorities," he says.
Mr Samuel Kalume who is the chairman of the Mayungu Beach Management Unit (BMU) agrees that discrimination of the Pemba members was creating an imbalance in the growth of the fishing industry.
"I have 500 members from the Pemba community get harassed as they are not eligible for licenses to venture into the sea, yet they are the most experienced," he says.
"Last year, when we were in Eritrea with President Ruto, I sat him down over the issue of the Pemba people and that is why he made the pronouncement during the Jamhuri day celebration," he adds.
Kalume says life for the Pemba people is not easy, and even getting married is a problem. They do not have identification documents and birth certificates, and they cannot trade legally. He hopes that with the recent recognition of the Pemba community as Kenyans, fortunes will change for them as they receive identification documents, trading permits and licences.
Related Topics