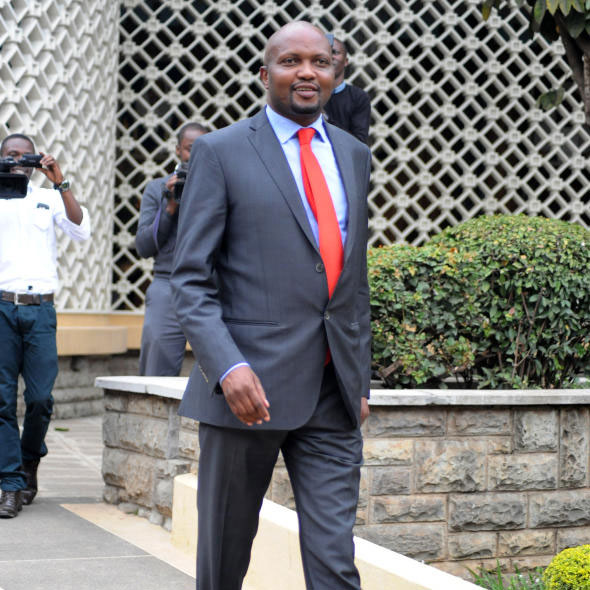 Gatundu South MP Moses Kuria after he was sworn in at Parliament on Thursday 07/08/14.PHOTO:BONIFACE OKENDO
The recent free-for-all shouting match and physical altercation in Parliament during a failed debate on the Security Laws (Amendment) Bill 2014 has been roundly condemned.
While there were many parliamentarians involved in the scuffle, two lawmakers emerged as the leading characters in the dramatic turn of events in the House - Mbita's Millie Odhiambo and Gatundu South's Moses Kuria.
They traded accusations and counter-accusations. Millie has now claimed that Kuria tried to undress her, in addition to punching her in the eye.
"I was boxed in the eye by Moses Kuria, as one permanent drunk pulled down my panty and two others lifted my dress," Millie posted on Facebook.
"But I am not of the 'ayayaya you slapped' me fame. Moses Kuria amejua why I am an elected MP from Mbita, and not appointed... when they tried to undress me I completed the process for them," said Millie.
Besides her claims of being sexually harassed on the floor of the House, the Mbita legislature also alleged that her bodyguard was assaulted as she entered Parliament that morning.
"Today was a day and a half, but I am happy we fought against the tyranny even though we lost partially," she said.
"My security was disarmed, manhandled and thrown in the cells for a while," read part of her Facebook post.
The following morning, she posted on Twitter that he was going for a medical scan and uploaded a photo of her sporting what looked like a black eye.
Responding to the claims through social media, Moses Kuria insisted, albeit sarcastically, that he did not go near Millie during the session.
"I did not get anywhere near Millie Odhiambo. I take Ministry of Health Ebola warnings very seriously," he Twitted. But in an interview with The Standard, the Gatundu South MP admitted he slapped her after she attacked Deputy Speaker Joyce Laboso.
"I slapped her because she wanted to assault the Deputy Speaker. That was great disrespect," Kuria said.
"She just stripped herself. Nobody tried to undress her. She undressed herself. She was undressing there... and even her fellow women were shocked at her actions."
Moses Kuria says he will seek legal redress since the sight of the female legislator stripping traumatised him.
Related Topics