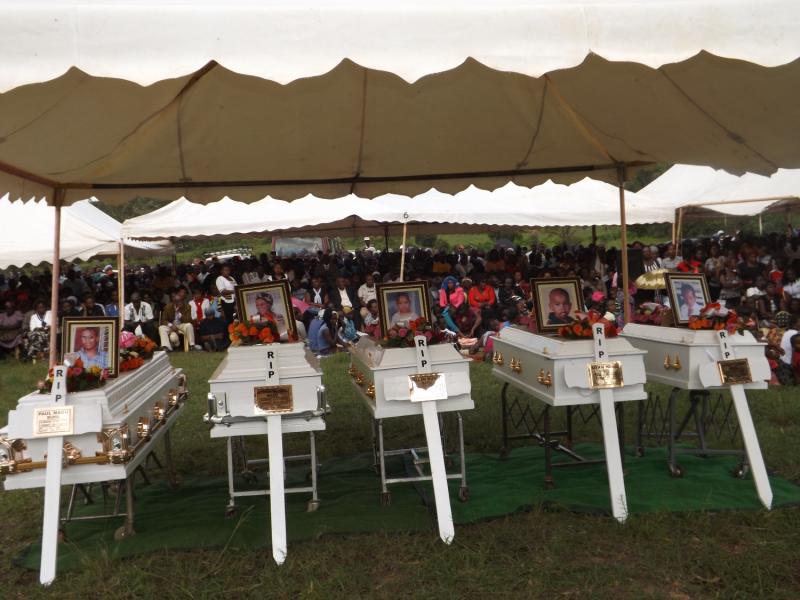 Caskets of the five Magu family members at the grave side.They were all buried in a mass grave. PHOTO: KAMAU MAICHUHIE/ STANDARD.
The late Paul Muhiu Magu, whose mysterious death and that of his family left the country in shock, had apparently transferred 90 per cent of his wealth to pastor Ann Wanyoro, The Nairobian can now reveal.
Andrew Kimani, his brother-in-law, told The Nairobian, "Magu had transferred 90 per cent of his property to Wanyoro, leaving only 10 per cent for family members."
Kimani says the will, which is now in the custody of Magu's father, can be challenged because it appears to have been written in contemplation of death.
"It can be challenged in court, but we have not discussed the matter," said Kimani who was the family's spokesman during funeral preparations for the ill-fated family.
Magu's lawyer and close friend, John Ochola, confirmed that the deceased had approached him before depositing the will and addressed important matters, which is necessary when writing a will.
Magu (35) allegedly killed his wife Lydia Wangui (35) and children Allen Muhiu (9), Ryan Ndau (8), and Tiffany Wambui (5), in November before apparently committing suicide along Thika Road by jumping in front of a Garissa-bound bus. A suicide note stating, "I cannot live a life of ridicule and embarrassment. Let it be," was later found.
Following the deaths, later suspected to be linked to a religious cult, police arrested Anne Wanyoro, whose close relationship with Magu has raised eyebrows.
Magu's life reportedly started changing four years ago when he joined Showers of God Church in Thika where he worked closely with Wanyoro.
Following the tragedy, Wanyoro was arrested and arraigned in court on December 16, but police requested that she be held in remand until January 6, to enable them complete investigations.
The officers are also investigating a mobile phone conversation between Magu and pastor Wanyoro as it is alleged the two communicated regularly from the time of his wife's disappearance until the time of his death.
At his house in Muthaiga Pipeline estate, he had a room that he used as a shrine, and where relatives and the house help said he spent most of his time with Wanyoro. The room had several religious materials that included teachings on curses, misery and wealth, CDs and books.
For four days, between November 16 and November 19, it is said Wanyoro stayed at Magu's home and performed what was described by the house help as 'cultist rituals.'
Magu's passport also revealed that he travelled to Nigeria more than 20 times since 2009.
Related Topics