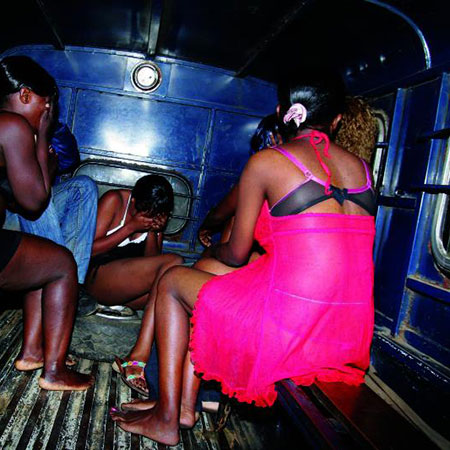 Some police officers claim their colleagues often engage in sex with inmates, which makes both parties vulnerable to sexually transmitted infections.
This practice, one officer claimed, has left more than 10 colleagues dead after succumbing to HIV/AIDS, which they allegedly contracted form bartenders and prostitutes who are not able to post bail.
These suspects are seized during odd hours and accused of operating beyond the stipulated time, dressing indecently or loitering; before being threatened with prosecution. The intimidation, according to one policeman who spoke to The Nairobian, is disguise for soliciting sexual favours from gullible suspects. The unnamed officer claimed that unmarried or colleagues who are living alone are more prone to demanding sexual favours from suspects.
The officer links the spread of HIV/Aids among officers to unprotected sex with female suspects who 'co-operate' under duress in exchange of their freedom. The officer, formerly based at Central Police Station for eight years before being transferred, recounted how on several occasions, he watched as his colleagues demanded sexual favours from vulnerable city women.
He claims that many of his colleagues who patrol the city centre have since passed on, having succumbed to the disease.
"In fact, nearly all my former colleagues - around 10 of them - are now dead," he disclosed.
He claimed that bar attendants and prostitutes are exploited because they are unaware of their rights, don't have money to post bail and are easily intimidated.
"Sexual harassment of these women is rampant. We have heard complaints of police exploiting them, but I don't want to say much about it," said an official representing the interests of women working in the sex and alcohol industries.
In March 2012, a barmaid returning home from work, was sexually abused by an Administration Police officer stationed at the District Officer's office in Kayole. She was allegedly stopped by three officers who demanded to know where she was going.
Before she could explain herself, she was allegedly dragged into the DO's compound where the rogue AP officer led her to a stationary Land Cruiser and raped her as other two cops kept vigil at the gate.
Police spokeswoman Zipporah Mboroki was not in a position to comment on the matter because she had taken a brief break from duty. Her counterpart, Masoud Mwinyi, said that unless the victims make a report, it would be difficult for the service to admit that the practice was taking place. He warned that demanding sexual favours is a serious offence.
"Police officers are the custodians of the law, they are not supposed to break it and have no right to demand for sex in order to set suspects free. They are liable to abuse of office charges," he said.
Mwinyi advised sex workers and barmaids to let the law take its course instead of allowing themselves to be abused and exploited.
"For sex workers, if they are caught on the wrong side of the law, the best thing to do is to defend themselves or report to higher authorities if not satisfied. They should not negotiate for their release through sexual favours. This trivialises the police service," he stated.
Peninah Mwangi, the executive director of Bar Hostess Empowerment Support Programme (BHESP) said some of her members are victims of the sex-for-freedom, which is perpetuated by police and county askaris.
Members, she explained, were vulnerable to exploitation due to their financial positions, adding that it was difficult to seek legal redress since the victims valued their freedom as opposed to being subjected to a lengthy and tedious judicial process.
"It is true police and county askaris harass them and demand sex. The organisation has received several complaints, but you can't pursue the matter because they just want to secure their freedom. Remember they have no money and don't want to go to court and end up in prison," said Penina.
Our source revealed such demands were so rampant that even senior officials were taking advantage of the women. Apparently, competition for some of the women has even led to physical confrontation.
"Whenever we went for night patrols and arrested women, my colleagues would go to the extent of fighting for the most beautiful ones to sleep with," said the officer who is now based outside Nairobi.
And in a further startling revelation, the officer claimed some of the women had confronted him after discovering they had contracted HIV.
"Though my friends have died, some of the women they slept with still confront me tearfully asking why my colleagues failed to use protection," he said.
Related Topics