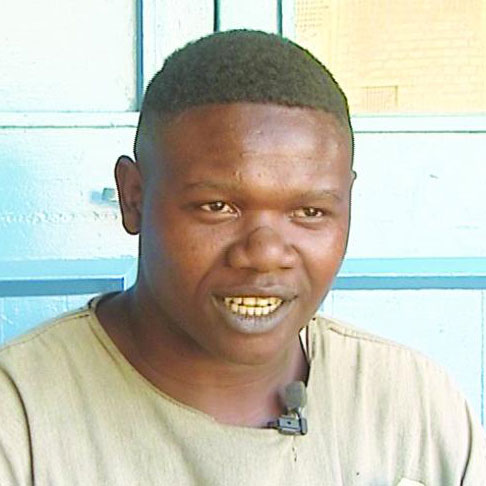 In 2008, two women were rescued from a house in Naivasha's Kihoto slums in deplorable health. The two, Esther Akinyi and Naomi Wanjiru, could barely speak. They claimed they had been kidnapped, raped and drugged by an unknown stranger who drained and drunk their blood as they watched.
After investigating the matter, police in Naivasha arrested 26-year-old Geoffrey Matheri alias Fungo as the key suspect, and exhumed the body of a woman with some parts missing from a shallow grave in his house.
Matheri reportedly told detectives he committed the evil acts as instructed by Bishop Jeremiah Parangyo. He drunk human blood and sold his victims' body parts to members of a religious cult.
Subsequently, police arrested Bishop Parangyo of New Hope for All Nations Church, who told reporters that his detractors were out to malign him.
In 2011, a Naivasha court sentenced Matheri to four years in prison the count of kidnapping after police failed to adduce evidence to prove rape. The self-confessed serial killer and man-eater spoke to KTN investigative series Case Files from Naivasha Maximum Prison.
Why are you in prison? My name is Geoffrey Matheri and I am here because I killed people and drank their blood. But I am now saved. I am a changed man.
Tell us about your victims.
I had kidnapped two women and kept them in my house. I did all that under strict instructions from a pastor. I remember one day after draining two mugs of blood from the ladies, he said I had killed enough for the cause. I used to drain human blood, which I packed in bottles and delivered to the pastor at his church between 7pm and midnight.
How did you get involved in this?
It is the pastor who approached us. We were a group of street kids. He promised us a job that would lead to a better life. So I volunteered and he took me with him. I stayed at his place for a month before he assigned me the role of killing. At first, I refused but later changed my mind when he told me how much he was willing to pay. The money I got helped me build a house. I also own a plot and have two matatus.
What was the first assignment?
I was to kill and deliver blood, female breasts and the penis of every man I killed. I have killed more men than women. I buried the body of the first woman I killed under my bed. Then there are the instances when I just killed for the sake of it. I would dump the bodies in the lake after chopping off their body parts. I fed on the hands of some victims.
You make it sound like what you were doing was normal and very easy.
I was given special powers by the pastor. At first, we were six, but the rest gave up along the way. When the others left, the pastor gave me some drink which looked like 'strong tea' and some red pill.
Then he started casting spells and before long, I lost my senses. For two days, I was lost with no knowledge of what was going on.
On the third day, I woke up with extra powers. I walked to town and greeted a man who followed me back to my house. I first strangled him, then cut off one of the veins around his neck and tapped the oozing blood into a sufuria. After killing him, I chopped off his private parts.
I killed so many people that I hang their body parts in my house like meat in a butchery. I never bought meat as I feasted on human flesh and drank their blood. I took so much blood to the pastor in exchange for money. Whenever I failed to get human flesh, I would eat dogs instead.
How many people did you kill and didn't you find it hard to end someone's life?
I killed about 50 women and over 100 men between Nairobi and Nakuru. At times, I would leave dead bodies across railway lines to be run over by trains. In Nairobi, I operated mostly in the slums of Soweto, Mathare and Kawangware. The woman I killed and buried under my bed was from Mathare. Killing a human being to me was just like swatting an insect.
Any message for those you tortured and harmed? I am in jail. I am now a reformed person. I have since embraced God and I know that God will help me. I shall be set free one day. I am very happy that you came to see me because here, we really value visits. We rarely receive visitors. I am really thankful for your time. God bless you.
Related Topics