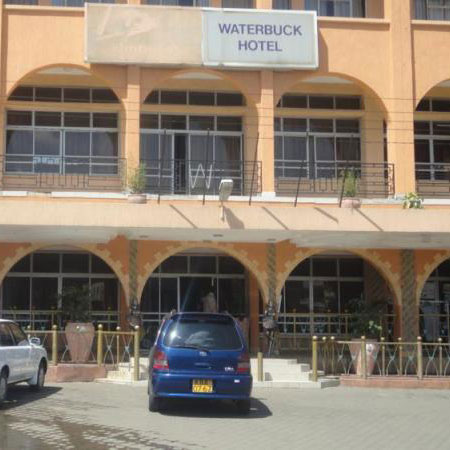 Flamboyant Nakuru political activist-cum-businessman Davies Kinyanjui Nderu has been taken to court over the ownership of Hotel Waterbuck.
Kinyanjui's late brother's wife Jane Muthoni Nderu sued him over the hotel ownership.The court battle over the inheritance of the hotel is long and protracted.
The widow, Jane Muthoni Nderu, was married to Kinyanjui's older brother who passed away in 1994.The mother of three makes various claims in her affidavit.
"My efforts to be involved in the affairs of the company have been met with a lot of resistance. The truth is that my life was made intolerable by the respondent who was hostile to me and disrespected me after my husband died, even accusing me of having affairs with men," reads part of the sworn affidavit.
In her sworn affidavit, the widow further claims she sneaked out of the family home in 1995 during Kinyanjui's wedding because "that was the only opportunity I had to escape the mistreatment and harassment I was being subjected to."
Muthoni accuses his brother-in-law and mother-in-law of trying to block them from inheriting part of the family fortune.
She states that the two, upon the death of her husband, started interfering with the shareholding of Lake Tanners Limited, in which her husband was shareholder.
"The interference is so grave that the deceased's shares have been devalued greatly. I also ask the honourable court to revoke the grant and set aside the order for the sale of Kisumu Municipality Block 12/165 and 6/327. The said two properties are worth more than Sh35 million."
She wants the court to order that her late husband's stake in the family business be given to her and her children.
Davies Kinyanjui, in his replying affidavit, states in part that Muthoni killed her husband through a series of actions which started in 1987 when they started living as man and wife with the deceased; the year she also started working for the company known as Lake Tanners Ltd.
Kinyanjui further states that his family has been kind to his brother's widow and even gave them property in Kisumu Municipality block 7/252.
"My mother's desire was that the applicant gets property to use as collateral to obtain credit for her business. My mother and I were surprised when she decided to sell it and invested the proceeds in two businesses in Nairobi between 2011 and 2012."
Kinyanjui argues that after the businesses collapsed, her sister-in-law instituted a court case to claim her late husband's inheritance.
"I am amazed by the fact that the applicant, who fleeced Lake Tanners Limited, left it in receivership, killed her husband who held one share in trust for my parents, has the temerity to claim to be heir to one share of the deceased after it has been restructured and its debts paid," he says.
Related Topics