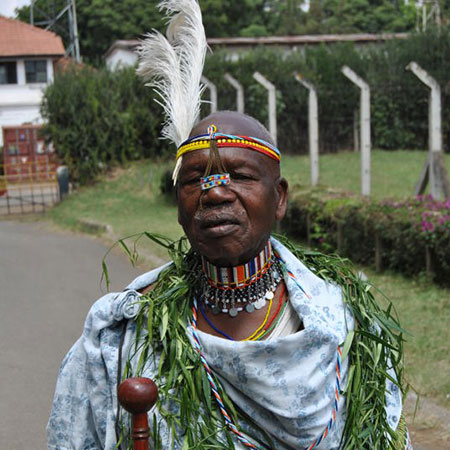 John Arap Koech outside Nakuru law courts on 16th July 2014. He is the Chairman of Sorun Amabet(save before it gets lost)organization which advocates for preservation of Kalenjin traditional culture, among them Female circumcision. PHOTO: KIPSANG JOSEPH
He has sworn to defend the outlawed Female Genital Mutilation through thick and thin, because it is 'holy' biblically and culturally.
He claims the practice is exaggerated as mutilation, yet his community only performs 'Female Genital Operation' (FGO).
John Kiplang'at Arap Koech, a Kalenjin traditionalist, says 'female circumcision' has been practiced by his community before underwear was invented and that it is inextricably tied to their culture.
The 80-year-old man stunned a Nakuru court last year when he asked to be enjoined in a case where a man had been arraigned for inviting eight women to his home at Teret in Njoro for an FGM ceremony.
Kajiado demonstration
And recently, when a group of women from Kajiado staged a demonstration in support of the outlawed act and of their arrest word went round, Arap Koech travelled all the way to 'defend' them.
"I went to Kajiado when I heard that pro-FGM women had been arrested, but since nobody can win a case against culture, the issue was settled with elders. But the case I am enjoined in is set to commence on July 16," Arap Koech adds.
Though he knows pretty well that FGM has been outlawed by both Kenyan and international law, he says the drafters of the laws were 'biased' as they did not engage or consult "stakeholders" before outlawing the practice.
The traditionalist blames British missionaries whom he accuses of colonizing many parts of Africa in 1885 and weakening local communities' cultures through formal education and Christianity.
Arap Koech, who is the Chairman of Sarun Amabet ('save before it gets lost') Welfare Association, argues that circumcision of girls has 'no side effects' as is commonly believed.
"The notion that FGM deprives women of sexual pleasure and creates difficulties during birth is misplaced. Circumcised women can enjoy sex just as much as their uncircumcised counterparts because it is all in the mind.
My organization conducts research based in Kenya, though we have many Kalenjins in Uganda and Tanzania; to eradicate invaluable cultural practices in society and retain those that are beneficial.
We have established that culture does not affect someone's talent, wisdom or looks, but it greatly enhances their character. This promotes peace in the world," says Arap Koech.
Koech has written to the United Nations to petition the abolition of FGM after the UN General Assembly unanimously passed a resolution urging countries to ban the practice.
The General Assembly termed it as 'irreparable' and 'abusive'. The 193 UN members were urged to take necessary measures, including enforcing legislation to prohibit FGM to protect woman and girls from this form of 'violence'.
FGM has been there
He dismisses the resolution, saying that it was passed without taking into account the position of those who support it.
The practice, he says, has been there and the government was aware, adding that those against it should have left the culture to 'die naturally' instead of forcing communities to abandon it.
"The government through Kenya Gazette Supplement No.129/Acts No32 Act, 2011 held in Nairobi October,10, outlawed the practice without involving stakeholders.
Those who drafted the National Plan of Action for elimination of FGM in Kenya (1999-2019) are people whose communities are strangers to the cultural practice," he claims.
He expressed displeasure at the amount of money mobilized by NGOs to fight FGM, money he says should be channeled to more deserving causes like humanitarian activities to assist homeless street families.
In the Bill of Rights, communities are empowered and allowed to practice their traditional rites without fear, as long as they do not infringe on human rights and are not repugnant to justice.
The FGM Act of 2011 article 937 outlaws 'female circumcision' and outlines stiff penalties for offenders, which include imprisonment for a period not less than three years, or a fine of not less than Sh200,000.
Koech, however, says an 'Inter-Parliamentary Union' needs to discuss the matter.
He has so far written to UNICEF-Kenya, the Egyptian, Israeli and Ethiopian embassies and the Law Society of Kenya (LSK) to make his case.
Related Topics