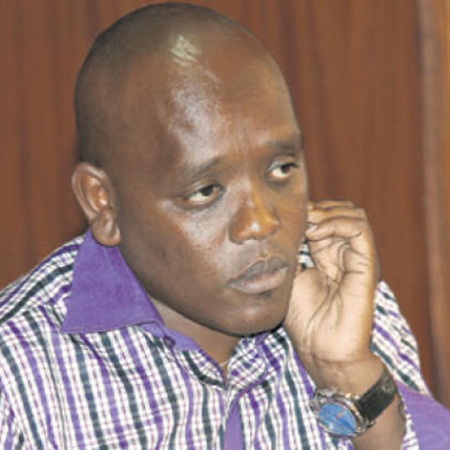 June 10, was a busy day for the Director of Digital, New Media and Diaspora Affairs at State House, Denis Itumbi, whose fate, according to an NIS report still hangs in the balance.
Itumbi spent a better part of the day at the Kenya Institute of Mass Communication, where it is alleged that he and his classmates, forced the management to award them Diplomas instead of Certificates. Itumbi, who has always been a proud alumnus of KIMC, a leading trainer of media practitioners, was a man of few words as he moved from office to office, to put his "house in order."
At one point, Itumbi was seen from the library with a clearance form, where according to sources, he almost engaged in an altercation with the personnel.
The presence of Denis Itumbi at KIMC was felt; for the first time, the Ag Director of the college, Hiram Mucheke, who even some students at the college do not know, surfaced, moving from office to office at the administration block.
This caught the attention of some students and staff at South B-based premier media trainer. At around 4pm, Itumbi left KIMC in a Yellow Toyota Sienta with three other occupants.
Senior lecturers at the college, who taught Itumbi have varying opinions on NIS report, but as things are, there is much to Itumbi's saga than meets the eye, but they agree he was a sharp, bright and talented student.
One lecturer who taught Itumbi says the class in question, did not meet the required standards to be awarded Diplomas.
"They did the certificate and after one year in the field, they came back for another year instead of two years and forced the management to give them Diplomas," says the lecturer.
Another one said, "The certificate class did not go out for one year but proceeded to pursue diploma, without the requisite qualifications."
A lecturer, who was in charge of printing the certificates at that time, admitted that some of the certificates were printed with grammatical errors, like Itumbi's, reading '…Broadcast Journalist" instead of "Broadcast Journalism."
A senior journalist who went to school with Itumbi however defended him saying: "That is pure malice. I was with Itumbi in the same class and I can tell you that someone just wants to frustrate him. I don't even know why no one has attempted to ask him what really happened."
The Nairobian called a number that was said to be of the institutions principal but we were referred to the Ministry of Information.
Efforts to reach him were futile as he did not pick our phone calls or even reply to our messages.
Related Topics