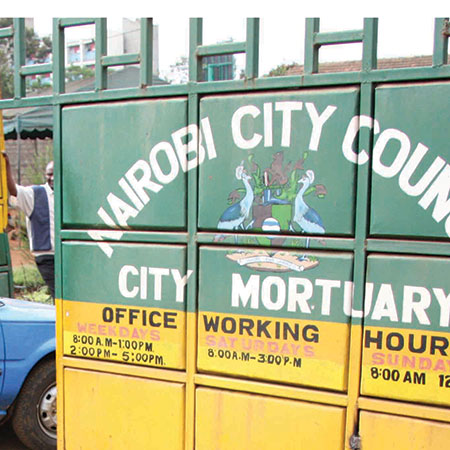 @MwauraSamora
Kenyans are a superstitious lot and it takes a few tongues wagging to cast a fictitious myth in stone. This is the fate that has befallen some buildings across the city, somewhat shunned for their past or present 'history.'
From occult claims, torture, lifts that stall for hours, bad omen, name it, Nairobians have their own fictitious tales about 'feared' buildings; the kind with thin human traffic, to others where few know what happens inside.
The Freemasons Hall
Freemasonry is one of the least understood fraternal societies despite acres of space dedicated to this order dating back to the 16th Century. In Kenya, the earliest Freemasons, were actual masons who came here to construct the All Saint's Cathedral and in the course of construction erected their Freemasons Lodge on the junctions of Nyerere Road and Kenyatta Avenue.
It is from this secretive history that mixes religion and symbolism in which only the rich are invited that excites fear and mystery about the Freemasons Hall. Built in the early 1930s, the hall has always appeared deserted and not just by myths churned throughout the years.
Jewish Synagogue
Few Nairobians can tell a Jew in a crowded street and even fewer are curious about the tiny building next to the University of Nairobi where the city's Jewish community worships. Unlike other prayer centres that perpetually populated, the Jewish Synagogue is always eerily quiet.
Perhaps the apparent lack of traffic to the synagogue is dictated by the fact that to join the Minya (service) for a service, which starts at 8:30 every Saturday, you need to fill an online application form and be cleared by security 24 hours before.
Built in 1912, the Nairobi Jewish Synagogue is one of the oldest and the least visited buildings considering the Nairobi Jewish Congregation is also one of the tiniest here.
Nyati House
Nyati House is one of those buildings where Nairobians walked fast while filing past. That the Libyan Embassy is opposite Nyati House did not make matters easier for Kenyans with appointments there. Shortly after leaving, a Special Branch guy would be huffing and puffing on your neck before being 'picked for questioning' at Nyati House at Loita Street and not necessarily for loitering or littering.
Stories of torture by the dreaded Special Branch who had their headquarters there saw to it that every Nairobian feared 'being taken to Nyati House' where your balls would be squeezed with pliers!
"I avoid not only going anywhere near Nyati House but also seeing it evokes memories of the old terror days when speaking out was a crime," says John Ng'aari, a former activists in the '80s. "Among our prayer items those days was 'may God save us from Nyati House'."
He says walking along Loita Street is enough to give him goose bumps or an urgent urge to visit the loo. Though the Special Branch was scrapped, and National Intelligence officers moved to Kiambu Road, fear of Nyati House lingers, like a bad dream.
Nyayo House
To many young Nairobians, Nyayo House is a place where passports and identity cards are collected, hence walking in and out of the building is no big deal.
But to old folks of the Mwakenya underground movement years, the sight of the brown structure elicits memories of oppression, torture and pain.
"After its completion in 1983 it was popularised as the second tallest building after the Kenyatta International Convention Centre (KICC)," Ng'aari offers. "But opinionated Kenyans were in for a rude shock, for beyond the beautiful brown finishing, lurked dark chambers where dissidents were tortured into submission."
Although the 27-storey building is now frequented by many Kenyans since it hosts the Immigration Department, a timbre of dread still crosses through the veteran activist's spine whenever he visits the building.
A. A Ngotho, the building's chief architect told the media in 2003 (When the basement torture chambers were opened to the public for the first time during the nascent years of the Kibaki administration) that construction plans were regularly interrupted by two senior Special Branch officers and a British national named Parkins.
Original plans in 1973 were to make Nyayo House the Nairobi Province headquarters, but the plans changed when construction started in 1979. After the Ministry of Public Works awarded the Sh218,608,377 contract to a company called Laxmanbhai Construction, a mysterious note is said to have surfaced a year later ordering all doors from the lifts except to the basement, 5th, 10th, 15th and 23rd floors be sealed with concrete.
The contractors later claimed that the torture chambers, each with six-inch soundproof double walls, were designated as safes for secret documents and cash. Alas! Political dissidents like Koigi wa Wamwere were to sing 'hot funk' down there!
Mathari Psychiatric Hospital, Nairobi
A few years ago fear gripped Nairobians when it was reported that over 40 patients fled the Mathari Mental Hospital. Although the situation was swiftly contained after all the mentally unstable patients were rounded up, the incidence brought renewed interest on the country's biggest psychiatry hospital.
Opened in 1910 as the site of a small pox isolation centre and named Nairobi Lunatic Asylum, the facility adopted its current name in 1964. Because of the fact that the hospital handles mental cases, very few Kenyans want "kupelekwa Mathare" besides visiting loved ones, and not necessarily at its notorious Maximum Security Prison for criminals who are mentally deranged.
Kamiti Maximum Security Prison
This is one of the most dreaded jailhouses in the country in what was once called "Kamiti Downs" by colonial settlers.
Few would like to play guests here unless they are visiting jailbirds who are friends or renegade blood relations. Although it is definitely not among the least visited it is one of the most feared not in Nairobi but also across Kenya. "Unataka kuozea Kamiti?" (Do you want to rot in Kamiti?) was one police warning question that got suspected crooks singing like canaries!
State House
Every politician in Kenya is obsessed with State House, making it the most mentioned in political rallies and gatherings.
Built in 1907 (as Government House) as the residence of the colonial Governor-General, this property sits pretty on 30 acres evokes feelings of awe, dread, fears and fantasies from every Kenyan in equal measures.
Loitering around the House on the Hill, is a sure way of attracting the unwanted attention of presidential guards and photography is prohibited. That there was once a rumour of a tunnel from there to the Department of Defense made it even more feared!
City Mortuary
The City Mortuary, besides its stinking interior and perpetually 'high' morgue attendants has fake pastors for hire lurking outside, looking for clients.
Even with a popular roundabout named after it, very few Nairobians pay attention to the city's most famous "lodgings of the dead", probably for their fear of death and lofty stories of dead men waking up at the middle of the night.
Handling a minimum of 50 bodies per day and receiving all the corpses picked from the city streets, the Nairobi City County (NCC) owned facility remains an unwanted mystery to many.
Designed and built in the early '50s to service the 150,000 inhabitants of Nairobi then, the mortuary now contends with a population of more than four million city dwellers…then the workers sometimes go on strike like they did in 2010. The City Mortuary made historical news when JM Kariuki, populist politician was murdered and dumped there in 1975, while 11 years later, SM Otieno, a renowned criminal lawyer was housed there for 87 days as his burial dispute played out in court. The bus stop near it was then nicknamed 'Stage ya SM!'
That the unclaimed dead are later doused in acid does not make the City Mortuary one of Nairobi's friendliest buildings.
Central Bank
Many Kenyans only read or hear about the Central Bank of Kenya (CBK) in the media or parliamentary discussions. The ever grill-locked building along the busy Haile Selassie Avenue remains a mystery to many, save for its workers.
The front of the dull, windowless block of concrete is forever devoid of activities, save for its backyard where truckloads of currency notes exit and enter under escort of heavily armed security personnel.
According to James Smart's 1950s book Nairobi: A Jubilee History 1900-1950, a Freemasons Lodge once stood where Central Bank is today in 1905.
International House
Owned by the International House Limited who bought it in 1985, the building is one of the most guarded and whose access is the most controlled as it even has an in-house police post, the only building with such after KICC.
That is besides tens of CCTV cameras, entering the building is a complete security task of endless questions and body searches. Sitting at the reception for more than five minutes attracts suspicious enquiries from the police.
"Ours is a controlled business environment, where we value client's privacy, serene office environment, protection of our tenants and visitors life and property," explains International House Ltd Chairman and Executive Director Chris Kirubi about Nairobi's most expensive rental property per square foot. No wonder it attracts embassies, foreign missions and international airlines.
Related Topics