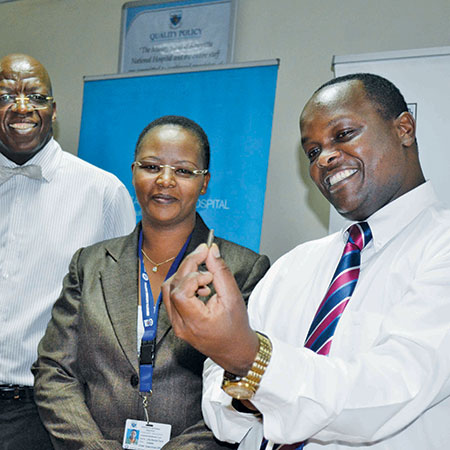 Neurosurgeon Mwangi Peter with his team holding a bullet that they removed from baby Satrin Osinya's head
[email protected]
When a terrorists' bullet was lodged in baby Satrin Osinya's skull in Mombasa days ago, the gunmen did not only expose the challenges facing the country's security but also Kenya's undeveloped and wanting health system.
For several days, there was no specialist to evaluate damages caused by a bullet lodged on the head of the one-and-a-half-year-old boy.
On April 1, Dr Peter Gicheru Mwangi led a team of four neurosurgeons that included Dr Chris Musau, Dr Julius Kiboi, Dr Samwel Njiru, together with five lieutenants (assisting doctors) and one general doctor through a successfully operation to remove the bullet from baby Satrin's head.
"Kenyans should know that Kenya National Hospital (KNH) has a strong neurosurgical team able to treat brain and spinal ailments," Dr Musau said after the surgery.
Although, KNH has a strong neurosurgical team this is not the case in the rest of medical facilities around the country. Various regions do not have a single neurosurgeon.
Neurosurgery is the medical specialty concerned with the prevention, diagnosis, treatment and rehabilitation of disorders that affect the entire nervous system including the brain and the spinal cord.
Those disorders include hydrocephalus, spina bifida, brain tumors, head injuries, spasticity and movement disorders, encephaloceles, tethered spinal cords and spinal cord injuries. The case of baby Satrin highlights the dire shortage of neurosurgeons in Kenya after he had to be flown to Nairobi from Mombasa for specialised treatment.
Severe injury die after 24 hours
Kenya boasts of only 17 qualified practicing neurosurgeons despite the ever-increasing number of stroke cases, casualties with brain and spinal cord injuries that continue to flood hospitals across the country.
There is no practising neurosurgeon in the whole of Nyanza, Western, North Eastern, Coast, Eastern, and Central provinces.
A total of 14 are in public service in the two tertiary referral hospitals, — Kenyatta National Hospital as well as Moi Teaching and Referral Hospital, Eldoret.
There is one at Kijabe Mission Hospital and two are in private practice.
Thus a ratio of one neurosurgeon for every 2.5 million people.
In East Africa, one neurosurgeon serves over 11 million people compared to one neurosurgeon serving 300,000 people in South Africa.
Because of the shortage, 56 per cent of the patients with severe injury die after 24 hours.
The few available neurosurgeons are forced to work both in public and private hospitals, a situation that is overwhelming as they have to work 24/7, 365 days a year.
Penetrating head injuries every week
The World Health Organisation recommends at least one neurosurgeon for every 200,000 people. "Kenya needs at least 200 neurosurgeons to cater for its population of 40 million," Dr Mwangi says. Kenya's premier referral facility, attends to 10 to 15 cases of penetrating head injuries every week. With inadequate neurosurgeons in Africa, the Kenyan specialists attend to patients from various countries including South Sudan, Burundi, Rwanda and Somalia.
"Head and spine traumas as a result of accidents and assault account for 60-70 per cent of the patients we treat on a daily basis," said Dr Mwangi, who is the head of neurosurgery at KNH.
Prof Nimrod Mwang'ombe, head of neurosurgery, School of Medicine at the University of Nairobi, told The Nairobian it makes no sense to have neurosurgeons in most of the regions in Kenya that have no specialised units.
"The equipment needed to train a good neurosurgeon is expensive and invariably they can be found in major teaching hospitals. For example the operating microscope costs about Sh20 million and we need a modern one because the one we have is old," he said.
So far, it is only the University of Nairobi that offers a post-graduate programme in neurosurgery in the East African region.
"We have the ability and the enthusiasm because we perform complex and advanced brain and spinal surgeries done anywhere in the world. We are therefore appealing to the government to support this field so that we can save more lives," said Dr Musau.
Why are there only 17 neurosurgeons serving 40 million Kenyans?
It takes about six years and is very expensive
There are few neurosurgical centers where they can be deployed. At the moment they are two in the Country, KNH and Moi Teaching and referral Hospital.
There is lack of equipment, appropriate environment and poor remuneration.
The first Kenyan neurosurgeon was trained in USA and immigrated to Canada in 1974 because he did not have the equipment to practice in Kenya. That is not all.
There is no female neurosurgeon in Kenya. Dr Shitsama Nyamwea who is expected to complete her training in August will be Kenya's first and only two neurosurgical students can be trained per year.
Related Topics