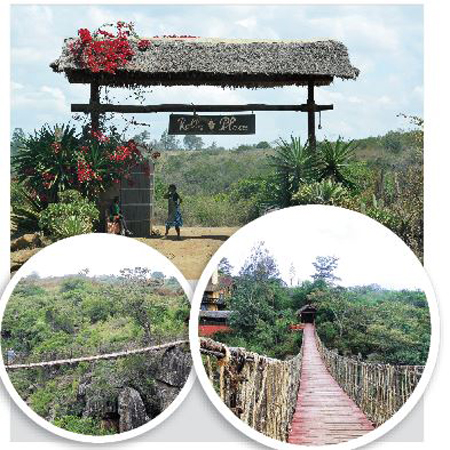 Masai Ostrich Resort
Located 45 kilometers from Nairobi on the Athi River plains, and seven kilometres off Namanga Road, the ranch farm is one of the biggest suppliers of ostrich meat and feathers to Kenyan and overseas market. It has private cottages as well besides its fame for 'ostrich choma.'
The Smith
It's a trendy joint located in Nkoroi, along Magadi Road around 25 kilometers from Nairobi, and one of the 'cool' places for an out-of-town experience without being far from town. The Smith is ideal for dates, groups and kid's day out. Very tasty, self-salting choma too.
Kamaki's
Is a series of a corrugated iron sheet sheebens off the Thika superhighway and along the Ruiru-Utawala bypass. Ideal for quick ready-made choma and one swallow for the road. You go there when you find Kitengela, Athi River and Rongai 'too far' for a 'meating' session with the boys. Taste as many small pieces as possible before bargaining for the mguu or mkono 'choma.
Masai Lodge
Built in a narrow river gorge in Silole Sanctuary next to Nairobi National Park in Rongai, the place is ideal for a weekend far from the madding crowd. The lodge has 35 self-contained modern cottages fashioned in traditional Masai manyatta.
Leisure Beach
Located just a kilometer or so from the Ruiru flyover, and two kilometres off the Thika Superhighway, this place is among the very few in Nairobi with a dam offering that 'beachy' feeling 500 kilometres away from Mombasa. The service is slow and meat even more pathetic. But if you're a sucker for water sports, you will definitely enjoy kayaking here.
Rainbow Ruiru Resort
Located in Ruiru, it has a helipad for chopper owners. No dough was spared in building this place where you will enjoy five-star treatment on a two-star budget. Erected on land earmarked for a quarry, the 11 floors cost Sh2 billion and 15 years to actualize Julius Kamau's dream hotel.Enjoy the sauna and steam bath and jacuzzi for Sh600.
Fahari Hotel
Is surrounded by elegant green gardens in Utawala, Embakasi for those looking for a classy joint not far from the hood.
Rolf's Place
This cliff mansion borders the Nairobi National Park 25 minutes from Nairobi on your way to Africa Nazarine University. It is accessible through an adventurous suspension bridge. Service might be slow, and you might not get everything you order, but the experience compensates for that.
Scenic View Resort
Is located in Karibaribi, off Thika Superhighway, six kilometres along the Gatukuyu-Mangu road from the left turn just before the Thika town flyover. This 'country home' concept is a spread of mango gardens on four acres overlooking the Karemenu river valley, providing a panoramic view of coffee plantations around Thika. Meat is not weighed on a ratili. You buy chunks that are very well done. There are Mau Mau caves for those passionate about history. There is sometimes loud music, yet all one wants is quietude.
The Koma Rock Shrine
Ten places to visit are not restricted to drinkers and gout seekers. This shrine along Kangundo Road has no barriers, balustrade or blockades. There is a huge rock statue of Mary and Jesus. Kneel and pray for your countless sins.
Related Topics