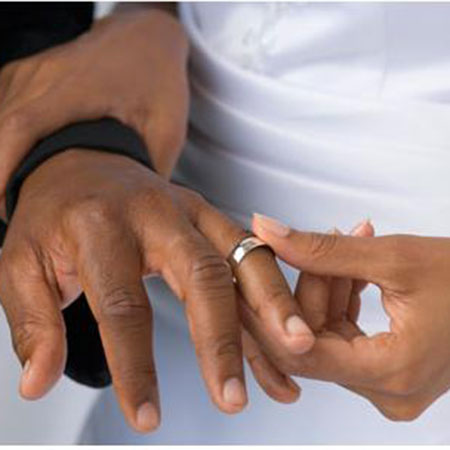 Many women dream of weddings hatched in heaven. You know, in an elaborate garden, remote Island, in a cruise ship or in the highest ranking church in the land.
Giggly bridesmaid sashaying and fooling around with simpering groomsmen in dresses and suits tailored for the occasion. No expense spared. A wedding is as good as its pomp and pageantry to the envy of invited singles. Being chauffeured in a limousine is a must.
All these may be televised on a wedding show or end up in a glossy magazine, just to show those who damped you drew a gold mine in the marital lottery.
However, few men want nerve-wrecking weddings. Were it not for the pressure from the nagger most men would gladly skip financially ruinous nuptials.
Eloping and cohabiting
However, the cost of a good wedding is scandalously extravagant for the majority of Kenyans. Many take loans or worse subject their kith and kin to endless fund raisers. The budget invariably invites frowns from helpless friends and family invited. And where would the world be without options?
Presently, eloping and cohabiting are as popular as ever. But the clamour to formalise marriages quickly for a myriad of reasons is driving the young and old to civil marriages at the Attorney General's chambers in Nairobi.
Civil marriages are increasingly becoming popular, more so, among city adults.
Data from the Nairobi Office of the Attorney General that sanctions civil marriages indicate an upward trend. The AG's chambers conduct an average of 15 weddings on Tuesdays, Wednesdays and Fridays and during the peak season — April, August and December — the number can be as high as 20 couples saying 'I do'.
In 2013, more than 2,500 weddings were conducted in the Nairobi office alone. Add to these, those who get their certificates after wedding in other provincial headquarters and DCs offices countrywide and the number goes up considerably.
"Civil weddings have grown in popularity since 2008, when we expanded the office and became more efficient to cater for the increasing demand," Joseph Ondari, an official at the office of the Attorney General says.
Mary Ngaruma, the assistant director of public relations in the AG's office, says moving the Registrar of Marriage office to the ground floor and expanding it spurred the popularity and efficiency in the department.
Today, the entire ground floor of Sheria House facing Harambee Avenue is dedicated to civil marriages. There is a room where weddings are conducted that can sit up to a dozen guests. There are decorated seats for the photo session as well, which can also be taken outside the AG's office.
Wife in less than 10 minutes
Here is how civil marriages work. For starters, you pay Sh200 to book and 21 days' notice to get a wedding date. On the material day you pay a statutory Sh1,750 and you will be made husband and wife in less than 10 minutes upon approval!
It is the artificiality of the ceremony that gives it some sheen of the surreal: No Bible reading about how a man should leave his father and mother, no throwing of rice or advice from a wizened aunty saying stuff like 'mke ni nguo,' no traditional charms.
Just a recital of vows presided by the state counsel and a perfunctory confirmation of the vows by government official. Full stop. Game short. You are a man and wife; to hold and to cherish, in sickness and health, especially a healthy bank account.
Loyce Bett, a state counsel at the Office of the Attorney General says couples who turn up are after convenient marriages.
"Some don't even want to recite vows. If they could be given a certificate without reciting the vows, they would prefer that," she says.
And why are the young in such a rush in such life changing decisions like marriage?
"These marriages are popular in urban centres where the youth want to do away with cultural and societal ties that are time-consuming and economically draining," according to Bernard Omari, a developmental analyst who doubles as an anthropologist.
"Marriages are now individualistic and the young are using civil marriages to skip paying dowry or postpone to a later date when they can afford." Surprisingly, those who show up for civil weddings hardly turn up with their parents or family members. A telling sign, right?
Don't want to involve the family
"They mostly show up with their respective best friends or confidantes," says Bett.
They don't want to involve the family who might complicate the marriage with objections with the very demands they want to skip.
Civil marriages favour those travelling abruptly more so in cases of interracial unions.
December holidays especially see more foreigners, mostly White, marrying and immigrating abroad with local women, the future mothers of their children. And a good number of local women sees civil marriages as an easy ticket to Easy Street, especially if that street is in uptown New Jersey, US of A.
"Some come here and issue terse warnings that we only communicate in Swahili, since they don't want their 'lovers' to hear what is being transacted as they confess that they just want to move out of the country," an official told The Nairobian.
The military are another group who have discovered redemption in the simplicity and convenience of the AG's chambers. Going for external missions-like 'Operation Linda Nchi'- most are uncertain if they will escape enemy fire and return in one piece. And so they tie the knot here to ensure their wives are rightful beneficiaries of the life insurance, terminal dues, properties and all movables including military boots as mementos.
"When they are going for a mission abroad, given the uncertain nature of their job, many come for a quick wedding, so that in the event of any eventuality, their spouses and family can be entitled to the benefits," the state counsel says.
A gay wedding abroad
Besides, soldiers are sometimes constrained in time for elaborate marriages. Curiously, every so often homosexuals have written from abroad seeking a letter of 'No Impediment' to have a gay wedding abroad. "We cannot grant them because our laws do not allow gay marriages," according to an official who presides over the weddings, and has observed that couples show a marked lack of any demonstrable love or commitment. Men are mostly dressed casually, even though women do attempt to dress up for their 'big day'.
Occasionally, the first wife gets wind of the civil marriage to a second wife and treats officials to a side show, objecting. For others it is genuine, as they show up with the affidavit. But mostly, some are troublesome and jilted girlfriends out to revenge or just rock the boat.
Armstrong Marube (not his real name) opted for a civil wedding with Naomi Githinji (not her real name) after cohabiting for four years.
The couple who are in the real estate sector wanted to take their relationship to the next level. "The main reason was the cost, but even so, we are doing certain investments together that require valid documents and we thought it was just about time," the couple confesses. Dowry was going to be a problem had they gone the traditional way, given their respective cultures demand dowry to be paid before their marriage can be customarily sanctioned something they will do in the far future.
An 'accidental pregnancy'
For Alex Kipkorir, an 'accidental pregnancy' made him lead her down the aisle at the Attorney General chamber.
"I didn't want to abandon my responsibilities as the father by running away. I just decided to marry and that was the easiest and convenient option given our present circumstances," says the 25-year-old urban constructor.
It was also a convenient way for tying her down, given she was not the committing type.
Related Topics