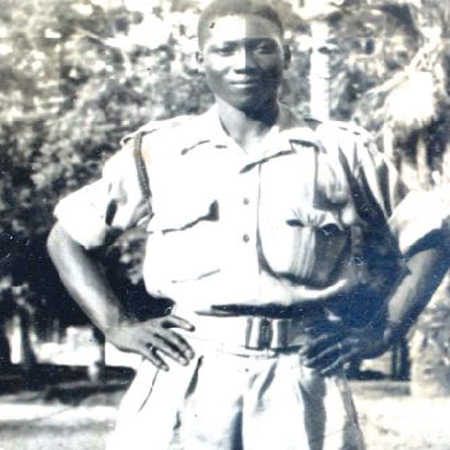 General Mathenge back in the day
Photo: Courtesy
A peasant farmer from Ethiopia came to Kenya as the long 'lost' Mau Mau hero- who never was.
That was in May 30, 2003 when Kenyans were treated to the spectacle of Ato Lemma Ayanu being paraded at the Jomo Kenyatta International Airport as General Stanley Mathenge, a guest of the state during the June 1 Madaraka Day celebrations.
The real General Mathenge was said to have crossed to Ethiopia at the height of the Mau Mau insurgency in 1955.
But Lemma Ayanu could not utter a word of Kikuyu, Kiswahili or English, raising doubts about his identity.
When Ato Lemma Ayanu died in 2010 General Mathenge's wife, Miriam Muthoni, was quoted in the media seeking permission to bury Ayanu.
Ayanu not my father
The Nairobian recently paid the Mathenge's a courtesy call.
The Mau Mau hero's son, Mirugi Mathenge, was adamant Ato Lemma Ayanu was not his father adding "I am getting increasingly concerned that my mother still insists that the man was my father in spite of the fact that even DNA tests ordered by the government revealed that the man is not related to us," Mirugi told us at their Mweiga home, Nyeri County.
Never mind Ato Lemma Ayanu confessed in 2003 that he was not General Mathenge, but not before running a Sh3 million bill in the seven days he and his Ethiopian family were holed up at the Sarova Pan Afric Hotel - at taxpayers' expense.
When matters came to the head, the government spirited 'General Mathenge' on a one-way ticket back to Ethiopia at the crack of dawn.
DNA tests
The then Security minister Chris Murungaru told the media that the government had been duped into believing Lemma Ayanu was General Mathenge.
In 2007, four years after the debacle, security assistant minister Joseph Kingi told Parliament that DNA tests carried out on Ayanu revealed that he was not related to the Mathenges.
While Kenyans had put the matter to rest the man responsible for bringing Ayanu to Kenya, veteran journalist Joseph Karimi, is still at it.
He recently released a book titled Dedan Kimathi: The Whole Story, where he has revealed that he is working on another book supporting his side of the General Mathenge story.
Mirugi Mathenge recalls: "I had accompanied journalist Karimi to Ethiopia to see the man (Lemma Ayanu), even before my mother went there, and I left without a doubt that the man was not my father," he explains. "When I expressed my doubts to Karimi, he did not seem happy."
That trip had been sponsored by The Standard Group at the instigation of Karimi.
Not to be deterred, Karimi went ahead and convinced editors at the Nation Media Group, who sponsored the second trip to Ethiopia and in tow were Karimi, Mathenge's wife, Mathenge's brother and two Mau Mau veterans who were to 'identify' Mathenge.
"The rationale for the second trip was that, I was young when my father disappeared and, therefore, not competent enough to identify Mathenge," said Mirugi.
Reclusive and evasive
All this time Mirugi's 91-year-old mother was seated next to him patiently listening to her son.
When her chance to speak came she said that she saw General Mathenge in Ethiopia and that he spoke to her in Kikuyu. "Mathenge said that we would not leave Ethiopia without him," said Muthoni.
Her claim that Mathenge addressed them in Kikuyu contradicts what Karimi wrote in Daily Nation on the same visit to Ethiopia. "The meeting did not last long enough to enable her to chat with her husband. The man was also reclusive and evasive. He did not concentrate on her as she would have expected," wrote Karimi in November 2002.
No hand shake
Muthoni also told us that she did not greet 'Mathenge' by hand. She explained that Mathenge's younger brother, who had accompanied her to Addis, told her that the two of them would have to undergo traditional cleansing before they greeted each other because Mathenge had killed a lot of people while in combat. However, Karimi's piece in Daily Nation said something else. He wrote: "On why she had declined to shake his hand, she explains: "I could not gather enough courage to shake his hand; if I did, I would have screamed too loudly for you people to control me. I did not want to shed tears in his presence because we met a long time ago, and it would be unbecoming.'"
After their trip Karimi, writing in Daily Nation quoted Muthoni as saying: "You know there is an Ethiopian woman married in this location…who has been telling me about my husband but I didn't believe her."
The 'Ethiopian woman'
When we asked Mirugi about the 'Ethiopian woman' he laughed it off saying there is no such woman in Mweiga. "If there was one I would have known about her."
Mirugi added that the whole time they were in Ethiopia they only visited Ayanu once.
"Karimi spent the rest of the time visiting different places in Addis Ababa," he explains. "I however would sneak out and go to do more research on the old man as I was convinced that the man was not my father."
Power of the pen
"I fell out with Karimi after I told him what he did not want to hear; that the man was not Mathenge," says Mirugi. "I have tried to fight off the falsehoods peddled by Karimi to the best of my ability but you know he wields the power of the pen, and that is where I always lose out."
Ethiopian chang'aa
About George Milimo, the man who supposedly 'discovered' General Mathenge, Mirugi said he has a 'house husband'; "the man was jobless he used to scour the outskirts of Addis Ababa drinking the equivalent of Ethiopian chang'aa," he says. "It is his wife who used to work at the Kenyan High Commission. He tried to get me to join him in his drinking sprees but I refused."
The following day The Nairobian went to Naro Moru, about 40 kilometers from Nyeri town where we found Joseph Macharia Mwangi, or General Kihithuki during the Mau Mau struggle. Kihithuki, whose name refers to the act of "catching by surprise" in Kikuyu, said that he was in the Aberdares with General Mathenge and he knew Mathenge to be a tall man. "The man who was brought to Kenya was quite short and nothing like the Mathenge I knew," he said.
We asked him if he knew Karimi and whether the journalist sought his views on Mathenge. "I know Karimi very well as he comes from around this place; despite the man knowing my history he has never sought my opinion. He actually avoids me," he said.
Contacted Karimi said, "I am actually writing a book on the same to make people understand. You know you journalists never get things clear until they are explained in detail. But don't quote me on this because I am not going to give you an interview on this. Content yourself with the book and quote the book. I know what you people have been trying to do."
A fuming Karimi then threatened, "If you quote me, which I have insisted you don't, I will take action against you. You can't educate me on these things. I have been in journalism long enough."
Related Topics