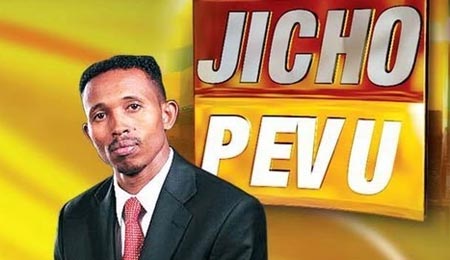 By Sheila Kimani (@sheilakimm)
Tenacious and aggressive in his art, KTN's Chief Investigative reporter Mohammed Ali a.k.a Moha Jicho Pevu has mastered the art of exposing the stark truth to Kenyan and the world at large.
Fearlessly, he does his investigations in-depth to ensure that the viewers receive a complete package and perhaps, get "revelations" from his programs.
While many people will witness, dismiss the wrongs in the society, and shy off from telling it as it is, Mohammed has transformed the News by bringing to light the wrongs happening in our country, and naming perpetrators involved.
But his life was never quite about the triumphs and the fame as many would think. Mohammed has been through the ups and downs of life just like many other youths, but it was his resilience and hard work that led to his breakthroughs.
Raised in Thika, Mohammed attended the Thika Primary school and went to Nakuru for his O levels. For his professional studies, he got a Diploma in Journalism Television and Radio production, later joining Moi University for his Bachelors of Science and Communications.
With such vast knowledge he was set on finding an attachment and job in media, but his quest saw him undertake full internships, undertake a radio job for which he was not paid up until he gave up, till he left for Saudi Arabia.
But his resilience and patience saw him come back to Kenya and apply for jobs in the media. Fast forward to date, and he scored a job which led him to become one of Kenya's finest Investigative journalists alongside John Allan Namu with whom he has forged an impeccable working relationship.
With such job that exposes one to risks and threats, Mohammed has been able to balance it off thanks family. With a beautiful wife Rukiya Noordin with whom they have a baby girl, he is doing quite well.
His recent expose "Makri ya Injili" on Pastor Kanyari has been the talk of town and for that we applaud his efforts.
Related Topics