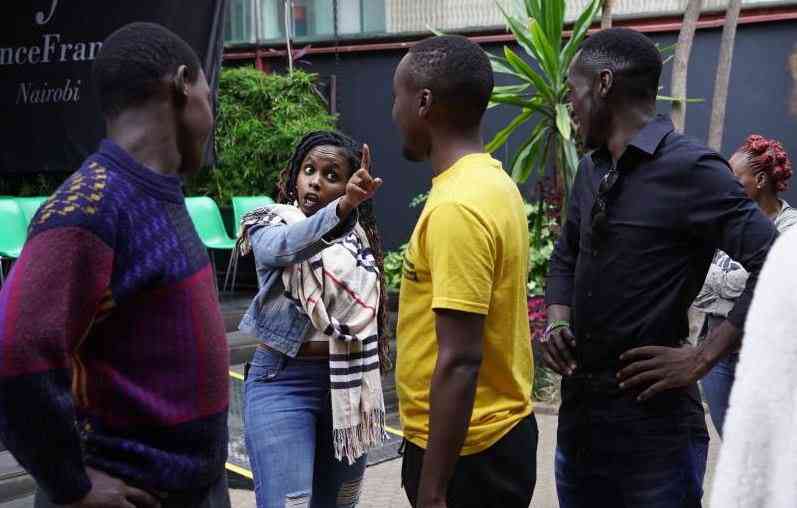 Heartstrings Kenya show Bridegroom for Sale ends a two-day run today at the Alliance Francaise.
Bridegroom for Sale is a story about how Kenyans solve problems. Timothy, a single father of three is at the centre of this gut-splitting play.
The play starts with him having raised all his children alone: a 20-year-old son, a 22-year-old daughter and a 24-year-old son. The daughter comes home and tells her father that Delamere Kamaki has proposed and she is now engaged to him. One would think this is good news until the father realises that his soon-to-be son-in-law, Delamere comes from a prominent family, which is well-connected politically, socially and economically.
Timothy knows that the Kamaki's cannot agree to have their son marry a girl who has been raised by a single parent because that would be 'improper'.
So, Timothy has to find himself a 'wife' to play that crucial motherly role because the Kamakis have planned to visit. His children advise him to find their mother, who left them 20 years ago.
Put on the spot, Timothy has to reveal to his children that they are actually from three different mothers.
He is under more pressure when the children demand that he recalls all their mothers so that they can pick who will represent them when the Kamaki's visit.
It is endless laughter when the three women come and they have to go through auditioning and vetting. It is even shocking when we get to know who ends up being the chosen 'wife'
Related Topics