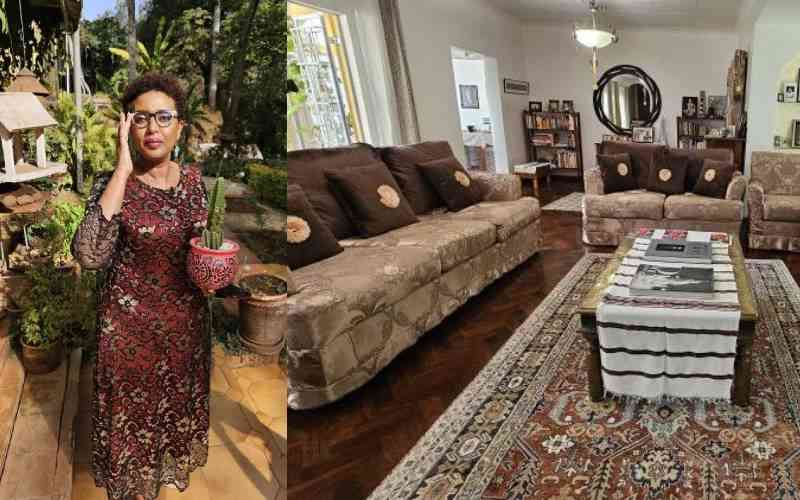 The first thing that strikes you when you enter Koki's compound is the serenity and the fresh air. One gets to experience a soothing, peaceful feeling on a sensory level by connecting to nature.
Her quaint home, painted in yellow, is tucked in a forest. The front garden with a lawn is full of tall trees. It stretches like a carpet down to the river.
Monkeys and birds are regular visitors. She keeps kienyeji chicken and geese. Her beautiful house plants displayed on her balcony are captivating.
Born in Addis Ababa, Ethiopia, Kokeb Zemed Pinard, also known as Koki, is a self-taught designer with a Bachelor's Degree in Botany, Zoology and Chemistry from India.
She founded Koki Designs (KD) in 2009, and trained in embroidery silk painting, sketching and stitching classes. Koki is a genius as an artiste and scientist – a rare combination to find in one person.
Covered with transparent iron sheets, her balcony is comfortable and relaxing. Plant creepers envelop it.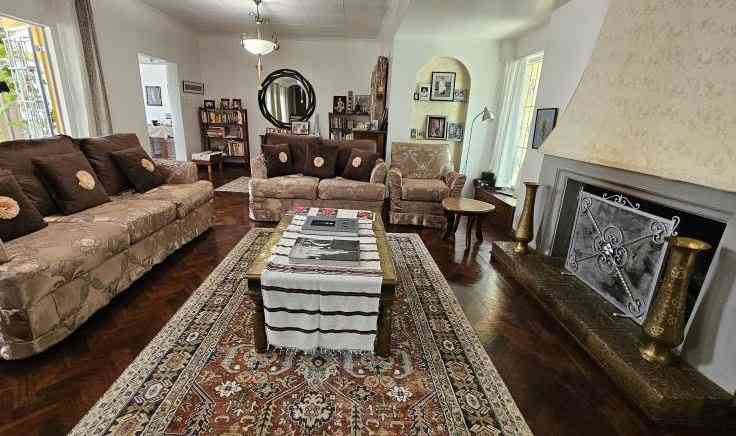 The outdoor furniture painted in silver is eclectic. She bought each piece from different places, and it looks artistic and playful.
The neutrals of the interiors in her living room create a fantastic canvas. Immaculately detailed brown oriental velvet cushions, velvet sofa covers, and curtains create a sense of cosiness, luxury and continuity.
"My housekeeper made the cushion covers, curtains and the sofa seat covers. She is creative and proactive. She surprised me when I was away. I came home and found she had designed and done a makeover," said Koki.
Weaving a sense of Ethiopian heritage throughout the house, reverence for luxury and comfort shines through.
Ethiopian design, accessories and fabrics permeate her home and chime beautifully with the architecture. A scholar, her home has several bookshelves – it is hard to imagine she delved into the fashion world.
She shares with me some historical books written in Amharic. "These are to be treasured because our Ethiopian and African history is preserved in these books," Koki said, adding, "It is fascinating our ancestors were superiorly intelligent, and I believe the Ethiopian annual calendar is the correct calendar."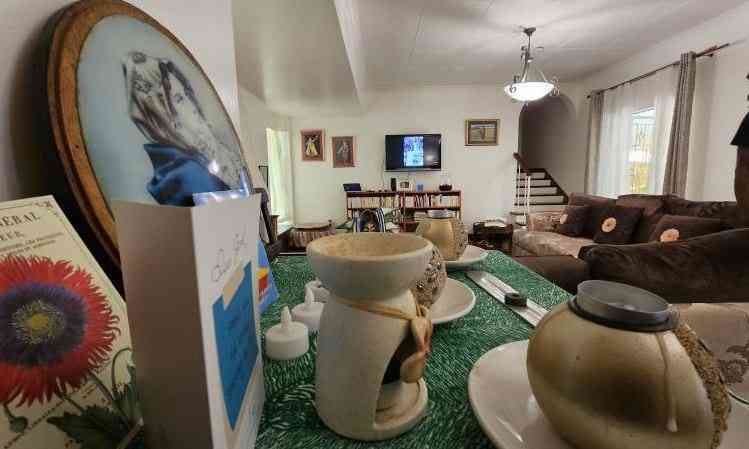 Her altar is adorned with cute authentic candle holders, an essence burner and a treasured antique woven art piece gifted to her by her sister, passed on from their ancestors. Wall-hanging Ethiopian baskets and family pictures adorn the walls.
Her daughter is a professional dancer, and her son loves athletics if the displayed gold medals are anything to go by.A huge, glamorous wooden mirror displayed on the focal wall is a showstopper. Persian sink-in carpet decorates the wooden floor and gives it a warm and classy feel.
Her traditional fireplace is painted white, and it is in harmony with the décor in the house.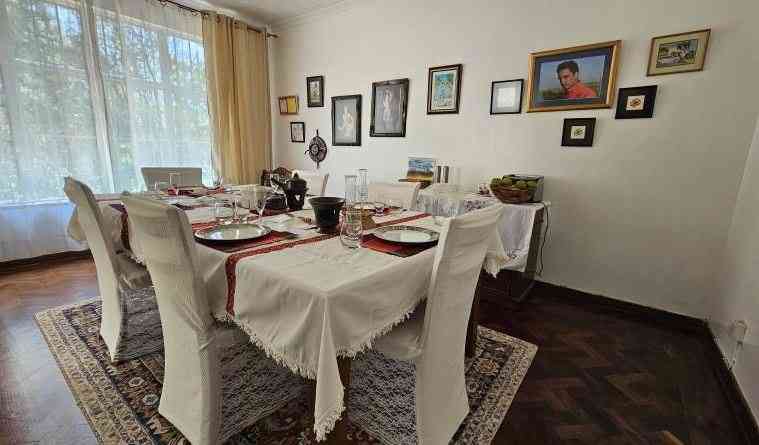 One arch doorway leads to the bedrooms and another to her dining room. Her dining table is decorated with Ethiopian accent décor. The chairs are covered with lace and are pretty and authentic.
Koki's artful touch is apparent in every part of the house. The gorgeous art pieces that she painted give her space warmth and character. Her space is timeless, homely and nostalgic.
Later in the day, coffee is made, and everyone in the neighbourhood is invited for a cup and to share stories about their day.
Her highlight in the fashion business was when she designed gowns for the Supreme Court judges during the swearing-in of H.E Uhuru Kenyatta. She has also designed for Chief of Registrar Gladys Shollei and Chief Justice Willy Mutunga.
"I designed the logo and showcased different shades of green to the judges to select their preferred fabric. It was a tedious process but fulfilling," she said.
Beautiful, intelligent, light-hearted and fun, Koki is a master at fostering moments of joy if her hosting skills are anything to go by.
-Watch this Art of Living episode on KTN HOME on Sunday at 6.30 pm.
Related Topics