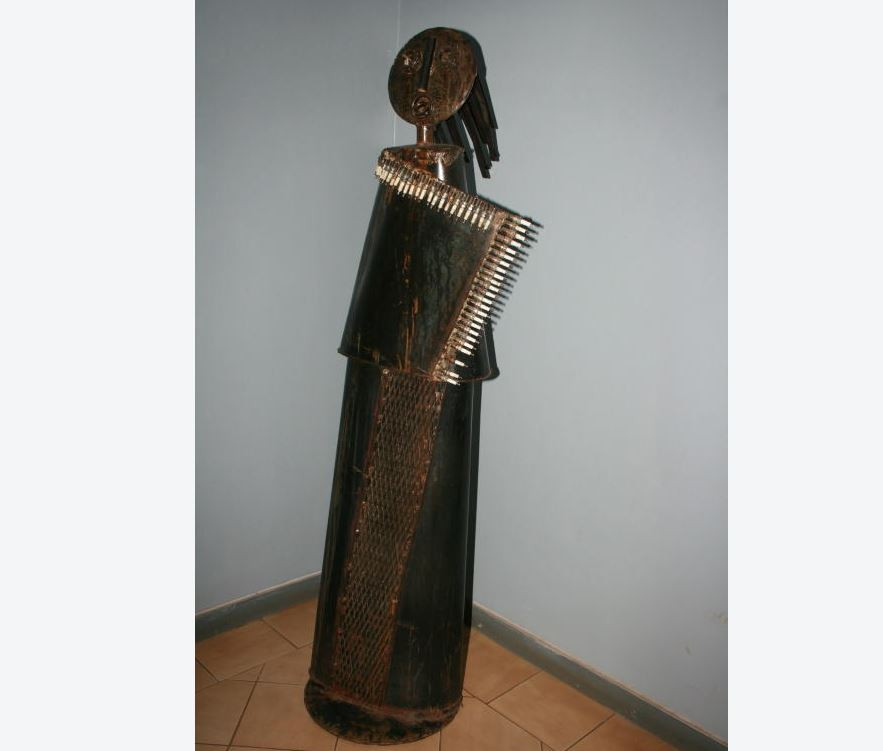 A pioneer sculptor and visual artist, Kioko Mwitiki operates his own gallery in Lavington next to the Lavington Mall. Kioko's work is a well-known and he can be considered one of the founding fathers of metal sculpture in the country.
His career has spanned more than two decades, and has taken him across the globe. In his own words, his work is primarily "making giraffes and elephants and funny animals". But Kioko has also made history in founding Kenya's first locally owned and operated gallery.
Despite having travelled the world exhibiting his sculptures, Kioko is known for innovating the local art market. He said in an interview he founded the gallery as a platform for 'young artists who want to launch themselves' and their career as professionals.
The gallery features the work of many young up and coming artists at the beginning of their careers. He said "the gallery is here to navigate the space for young creatives, and people who have a desire to exhibit art in a space that is dynamic". It is a dynamic space, featuring an art shop, a teaching hall and the main gallery, and showcases an eclectic variety of art in countless different genres and styles, all made by young local artists.
Kioko's career is both surprising and encouraging. He began the 1980s as a welder in what is usually termed as 'Jua Kali' sector. He went on to make sculptures out of every variety scrap metal imaginable. Kioko welds, solders, and bends these metals into both realist and abstract forms. He is, however, mostly known for sculpting wildlife.
Where did Kioko's preoccupation with wildlife came from? Kioko says he was commissioned by Frankfurt Zoological society between 1993 and 1994 to create sculptures of wildlife for a nature walk they were building in the Serengeti National park.
"I was taken to Serengeti for about six months…and I got exposed to the animals at close quarters. That kind of fuelled my closeness with animals'," he says.
After his time his Serengeti he returned to Nairobi where he found his animal sculptures were quite popular. He was soon taken up by different zoos across the globe to make sculptures of their animals. From the Bronx zoo, Calgary zoo and San Diego zoos, Kioko was eventually commissioned to travel to America to make art full time in the states for about four years. Kioko's work was so successful overseas that he soon found his pieces being auctioned at global wildlife charity events for considerable sums of money.
"I found myself now trailing the Seattle art fair, donating a piece to the auction for Jane Goodall, and I became that artist who donates a piece to make money."
Even today, 20 years after his sojourn in the West, Kioko's pieces still fetch up to Sh500,000. About his gallery he says: "We want to change the game of art in Kenya. We want young people to own their art, and we want them to make money."
"The economic empowerment is also important for an artist," he says, "because you improve your studio. You get machines that can contort metal, can do this or do that. But I've never lost my Jua Kali touch of it because in the beginning I worked with a lot of Gikomba jua kali people."
Jua Kali is a somewhat patronizing term, historically. But not so to Kioko. He sees himself not so much as an individual artist but a member of a community of creatives and artisans.
"What that did to my art it made my art very unique because if I was making things like nails or eyes for a sculpture, I'd go to Kariobangi and give the prototype of the eye to a guy in Kariobangi, and for him for the rest of his life he will always supply me with eyes."
Despite his success, which has taken him from Gikomba to art fairs in Seattle, Kioko remains community minded.
"You're part of a community as an artist, you're not a guy perched on a pedestal," he says.
"And that way your art will have more vibe, will have more strength, will be entwined with the community. There're guys from Gikomba who really like my art because they say they know they make the tail of that sculpture.
Related Topics