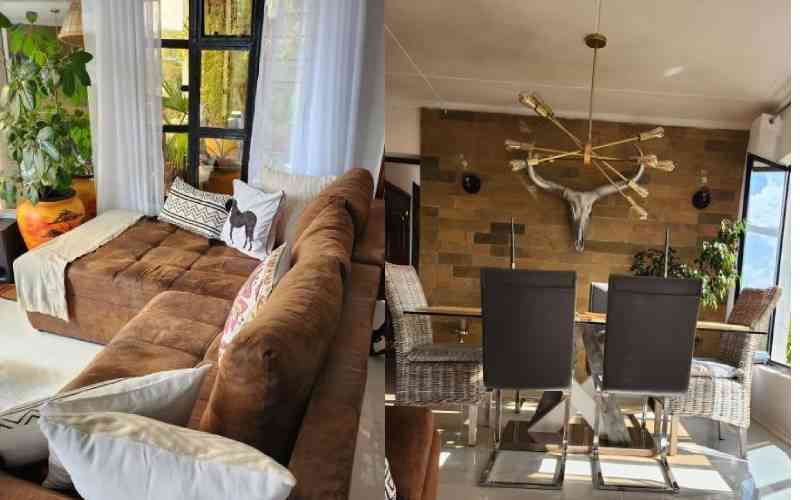 Martha Wanjiru's story is inspiring. A land lady, she waived January rent for her tenants.
When we meet, she is as pleasant as I had expected. A mother of one, Martha is an investor, a land lady and former customer service supervisor with an international airline.
Her two-bedroom house in Ongata Rongai is stylish, modern and retro. Martha is kind, warm and inviting, just like her home.
The huge windows, the airy and bright living room took my breath away. The living room, which doubles up as an open kitchen, is functional and picturesque.
She enjoys the jaw-dropping magnificence of the Ngong Hills and the occasional train as it chugs along the Suswa railway line.
She resides in Germany but saved up and bought land six years ago, and built 15 rental units.
After investing in the rental houses, she built her own home two years ago. It was expensive and she overspent to get what she wanted. "Working with local artisans can be hectic sometimes," she says.
The living room walls are decorated in olive green paint. Her intention was to bring the outside into her home. She loves nature, thus the green theme colour. Her objective was to embrace nature and reflect the surroundings. She passionate about gardening and plants.
She built an open kitchen with the granite top, and floating shelves with cute pantry display shelves. Her wooden cabinets design was quite unique. She used wood placards to create a simple yet stylish pattern, which looks amazing.
Some interesting hack about her cabinets is that she used sack cloth material to make them, and they look rustic and quite interesting.
The brass glass globe pendant light fixtures in the kitchen area, an industrial black soft light dining chandelier gave the room and her ceiling a magical feel.
Her brown velvet luxurious sofa bed cost her over Sh100,000 - she says it was worth it as it's durable, cute and functional.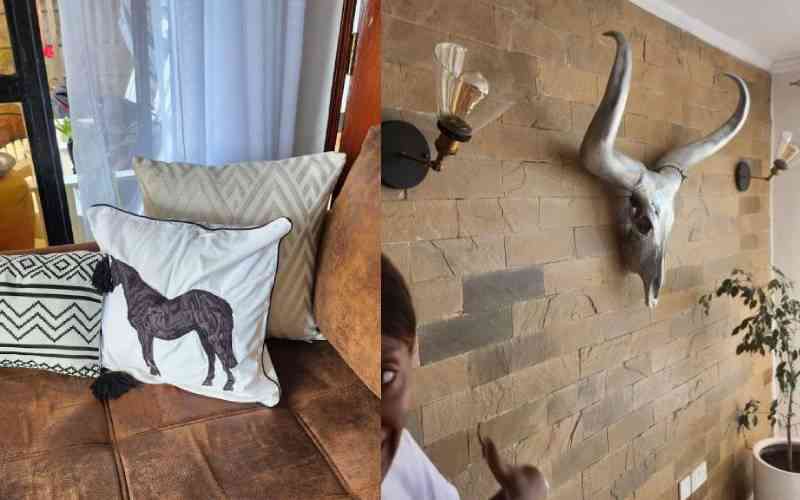 Her dining area has the perfect views of Ngong Hills. Her accent wall, which depicted a brick wall felt authentic. A DIY enthusiast Martha bought big horns along Ngong Road and spray painted them silver - a clever idea, I thought.
She also accentuated her corridor with floor lights - walking along the corridor felt like being on a runaway, and well, having worked in the aviation industry seemed to have rubbed off on her.
Her toilet and bathroom decorations were glamorous and rustic - she has a bathtub where she soaks and enjoys herself after a long day.
The next stop was her daughter's room, which is modern and retro. The room has fantastic views. Spectacular huge mirrors give the impression of space and glam.
Artistic art pieces on the black wall looked splendid. Meticulously displayed shoes on the wall on the other side of the room look beautiful.
A huge bed with lavish bedding for her daughter who lives in Germany look welcoming.
Her master bedroom is rustic and chic, with beautiful views of the Ngong Hills. "I wanted to take advantage of these views, hence I plan to buy the next plot next to us so that we can continue to enjoy these views before we go back to Germany," she explains.
The carpet in the room stands out. It was heavy but gave an effect of wooden floor which is super cool - go for this if you want to have a wooden feel in your home but you don't want to install the wooden floor which tends to be expensive and tedious.
Her glamorous cabinet with mirror finish was fantastic. The little, charming accessories adorning her black walls created a glam retro feel. Again, in this room stylish mirrors were beautifully displayed. "I'm intentional when I buy mirrors. They make my space open and more spacious," she says.
Her walk-in closet is amazing with stylish side tables and red lighting.
Her home gives one a sense of escape and being on vacation.
- Watch Art of Living show every Sunday at 6:30 pm, and this episode on the YouTube channel. Social media: @missnailantei.
Related Topics