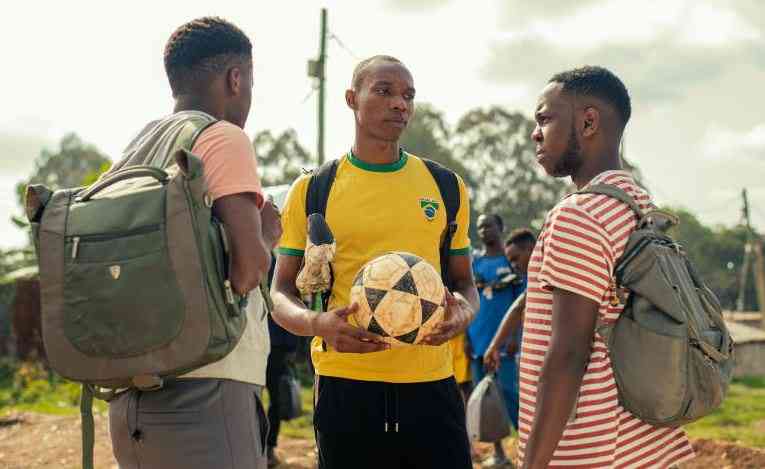 The good news dropped on a night when Kenya celebrated the best of the best in TV and film.
"We have doubled cash rewards for winners in all 39 categories this year as the first step in ensuring pesa mfukoni for artistes," said Ababu Namwamba, the CS for Youth Affairs, Sports and the Arts at the 2022 Kalasha International Film and TV Awards.
"We must unleash the full potential of the creative industry," Namwamba said.
Up from 35 categories in 20129, Kalasha has become a hallmark of an industry that is relentless in its pursuit of the next film, the next big star, and the next series to grace our local TV stations or to get a greenlight on streaming platforms.
Kalasha, besides the prestigious PMVA, has become the most consistent and respectable award ceremony, ever since the Kenya Film Commission (KFC) first awarded it in 2010.
According to KFC Chief Executive Officer Timothy Owase, the award ceremony has been growing in leaps and bounds, an indication of how expansive the opportunities have become.
"The submissions we received this year have shown how much commitment and effort industry players are putting to ensure it remains steadfast. The number of submitted films for the 12th Edition of Kalasha Awards went up to 217 compared to 149 that were submitted in 2021," he said, in a ceremony that saw the likes of Raymond Ofula, Lucy Mwangi, Phil Karanja, Foi Wambui, Joe Kinyua and others get recognized among peers.
Interestingly, the fourth quarter of the year has seen immense media coverage of the film industry, as two more local productions made it into the cinema and into Showmax, highlighting a strong showing by local storytellers.
I spoke to Mwangi Rurengo, who recently directed a TV ad I was part of, just as the trailer of the crime drama Pepeta, which he is a part of, was making the rounds on social media pages.
"Pepeta was inspired by true events that happened and are still happening to football players in Kenya," he tells me, of the series that captures the real-life drama of a real person, former criminal Harun 'Rio' Wathari.
Pepeta, set in Kibera, and shot in different parts of Nairobi, went a step further by giving prominence to upcoming actors, matching them with seasoned stars like Avril, Malik Lemuel, and Dedan Juma, to create an authentic story about life in Nairobi's ghettos, and the ambitions, hopes, fears and threats that come with it.
"The reception has been amazing. Guys are asking about it. Audiences already have their favourite characters, industry guys are impressed and there is a buzz most definitely," he adds, of the series that has been years in the making, going through a rigorous process to get flighted on Showmax. At around the same time that Pepeta was making noise, Andrew Kaggia's animated film TeraStorm had premiered in cinemas.
Graced by, among others, his siblings, which includes Banjuka hitmaker DNA, the film is a bold step into the CGI genre, a space that Africa has been keeping away from.
Selected for the forthcoming Oscars, the film, with an IMDb rating of 8.9, TeraStorm is the first African animated film to be selected to compete for the Best International Film category.
"The characters on TeraStorm, were conceptualized about five years ago, and then they just stayed there," Andrew is quoted, saying it was only in 2021 that he made them come alive.
2022 has been an interesting year, the first time since the explosion of streaming, that we are having more original stories getting shot and pushed into our consciousness.
In recent years, we have had headline grabbing TV series that were basically adaptations of existing productions from elsewhere, including Single-ish, which is a drama series adapted from the hit South African series Unmarried
Mwangi says adaptations are a very patronizing way that streaming giants, mostly foreign-based or owned, view the Kenyan film industry.
"Adaptations come from the idea that we don't have stories of our own or what we have is not good enough. So broadcasters choose to play safe by recreating something that has done well in another part of the world. This is just misinformation in most cases and outright ignorance."
Like Owase, he explains that the growth is inevitable, optimistic of what comes next.
"I think things are changing and slowly broadcasters are seeing the potential in local stories hence having Kenyan originals series like Pepeta on Showmax."
Throw in Country Queen, which is Kenya's first original Netflix series, and the future can only be cinematic
Related Topics