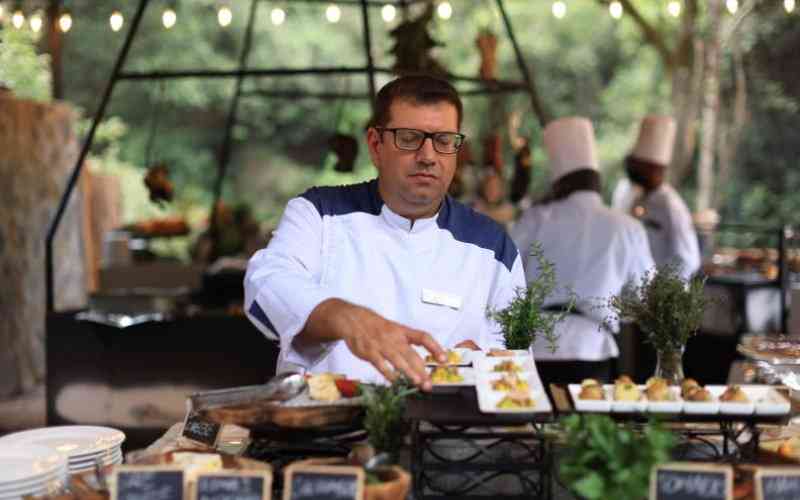 Many years ago, a seven-year-old boy's curiosity burnt half of his parents' kitchen.
Today, that boy - Aris Athanasiou - is the executive chef of Fairmont Hotels, Kenya. He followed his childhood dream and has been a professional cook for the last 30 years.
The passion for food, he says came from his mother, who cooked for them daily. "It is my hobby and passion to cook for people and see happy faces around me," he tells CityBiz of the job that has seen him travel across the globe visiting over 40 countries.
Interestingly, Aris studied electronics and information technology (IT) but ditched the course for culinary arts instead.
"I can't even fix a light bulb despite studying technology. The only thing I know is to cook," he chuckles.
Find a good training ground
Aris defends going to school to learn a trade explaining that he studied in one of the best colleges in Cyprus before proceeding to Switzerland for further studies.
"It was not easy, I needed to sacrifice many things and worked for many hours. However, this far I've come, I don't regret a single moment," he notes.
However, being a proper chef, he says, doesn't require one to go to school.
"I am not saying that you can't be a chef if you don't go to school, but there are techniques that you need to learn from someone. You need a good school to give you the skill and the tool to make your career easier."
Start early
Professionally, Aris started working at the age of 18. He worked at various small restaurants in Greece and used the earnings to pay his bills and also school fees. He recalls how he burned part of his parent's kitchen.
"My parents used to work a lot, so I would prepare some meals for myself sometimes. I was trying something I saw on TV but ended up burning the kitchen. Thereafter, I was banned from the kitchen, and for three years I kept away."
He traces his roots back to Greece which has a vibrant food tradition. "For us in Greece, everything revolves around the food, from the weddings and even funerals. On Sundays, it is tradition for us to sit at one table and eat as a family. Food is part of our DNA," he says.
At the age of 27, Aris got his first appointment as a chef in a small restaurant in Greece where he worked under great chefs.
Six years ago, Aris got appointed the executive chef in Fairmont Hotels and Resorts, Kenya. Shortly after this, Covid-19 hit and he had to pack up and return home.
"I stayed for 10 months without a job. It was one of the most difficult times in my life," he recalls.
Mentor others
"As the executive chef my job is to teach, coach and train people around me. I love it here because the people I work with are thirsty for knowledge," he says.
As an executive chef, he works for six to eight hours a day. "It's not only about being a leader, it is the team you create. You have to lead by example."
Finesse your palate
"How do you satisfy the needs of all these people with different tastes?" CityBiz asks Aris.
"People have different cultures, mentalities and childhood memories about food. So the most important thing I try to do is have good taste. Taste is international. If something is tasteful, everybody likes it, we come up with concepts that can satisfy everyone."
For Aris, being a chef means that one must be an artist and also love all people and their cultures. It also means adventure for him.
"It's not easy, you have to sacrifice a lot of moments from family. But happiness is when people taste your food and enjoy it."
Pride in experience
Aris loves Asian, Italian cuisines though his favourite is Greek cuisine. "I cook at home, I love cooking pasta at home with seafood and some herbs."
Aris who has also served as a culinary teacher says it has been easy working with the chefs at the Fairmont owing to his vast experience. "Food for me is a matter of psychology, how you feel, your mood. When you cook with your heart, the food tastes better," he observes.
He loves fishing, reading and watching movies when he is not cooking.
The chef enjoys eating mukimo, a local delicacy. He advises anyone looking to venture into the culinary field to be passionate, love people, be patient and be ready to sacrifice.
Related Topics