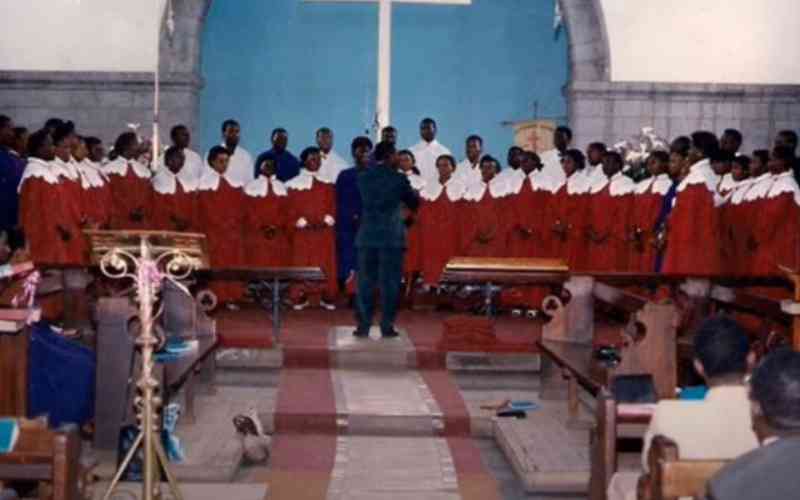 Over the years, Kenya has produced great church choirs under the directorship of impassioned choir directors.
There are various church choirs, but a few stand out for singing their hearts out.
Six prominent church choirs have stood out in the hands of veteran and experienced tutors.
In their musical journey, they have produced sweet gospel melodies that have survived the test of time.
Over time, they competed against each other in composing and releasing songs that later came to shape the destiny of gospel music in Kenya and the East African region.
As the Anglican Church of Kenya (ACK) Cathedral Church of the Good Shepherd, Nakuru ruled the former Rift Valley Province, St Joseph's Catholic Church Choir, Migori, did it in the Western Kenya region with stiff competition from Itierio Lutheran Choir in Kisii and Kisii Cathedral.
Itierio Lutheran Church Choir's most popular hit was Ewe Ndugu.
ACK Cathedral Church Choir was managed by Aggrey Lugalia, who is now the Director of Music at the church, while St Joseph's Catholic Church Choir was and is still managed by Alfred Osonga.
In Nairobi, the battle was between ACK churches led by St Stephen's Church Jogoo Road against St Barnaba's Church Choir, Otiende, in Lang'ata.
In the coastal region, it was ACK St Luke Church in Mombasa under Canon Samuel Blasto Ooko.
St Stephen's Church choir was under the stewardship of former Roads Minister, the late Darius Mbela assisted by Chris Shikuku. This was before it was inherited by assistant tutor Dan Madalanga after the demise of the duo. St Barnabas' Church Choir was at one time under Walter Ominde.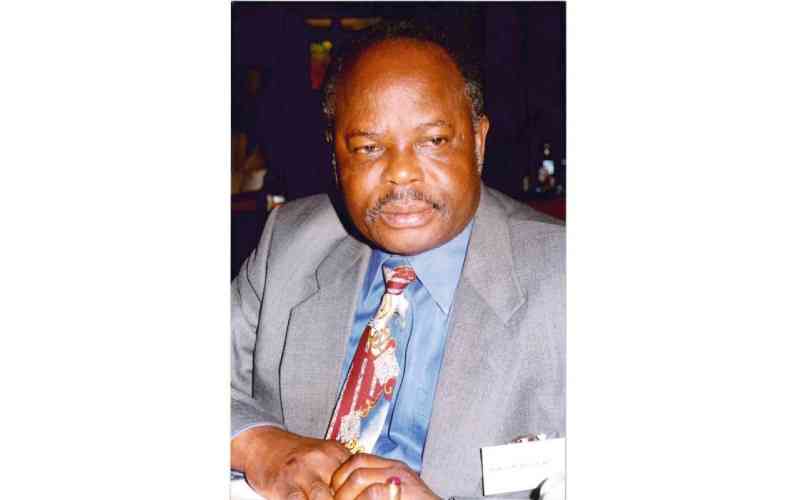 St Stephen's Church Choir (formed in 1954) set the pace for ACK churches, with some of its first choir members being retired Court of Appeal Judge Justice Emmanuel O'Kubasu, Court of Appeal Justice Aggrey Muchelule and Graham Hyslop.
"We set the pace for our constituent churches through Mbela and Shikuku for others to follow and it is our pride. I am happy we excelled," said Madalanga.
Besides, popular gospel compositions like Pokea Moyo Wangu composed and produced by Mbela and Heri Wao by Shikuku, and the duo also did patriotic songs. Natazama Kilele was done after the death of Kenya's first President Mzee Jomo Kenyatta on August 22, 1978.
"That was a song composed and produced within 48 hours owing to the urgency at the time, which is a composition and production record in Kenya's music history after the death of Mzee Kenyatta," said Madalanga.
The choir's fame catapulted most of her members to regional and global tours in professional groups, with the likes of Erick Wasonga, Stanley Ouma and John Ouma joining Kayamba Africa under the leadership of director Juma Odemba.
"Some of our members have even performed in the UK, the US and Canada on special tours while locally, the number is huge as we cannot name everybody," said Madalanga.
St Joseph's Church Catholic choir was the only one that rivalled the dominance of the ACK churches, with popular gospel hits sung in Dholuo and Kiswahili languages.
Choir director Alfred Osonga said they were rich in talent after traversing the region while rehearsing and singing with different groups as they trained young talent before he settled in Migori.
"If you listen to sweet Catholic melodies in Kenya, it must have come from Migori and out of it we have trained many young people to play keyboards, read and write music and compose new songs," said Osonga, who ventured into music in 1988 before joining the (Migori) church choir four years later.
He has produced 81 albums, with 16 choirs before settling at St Joseph's Church Choir.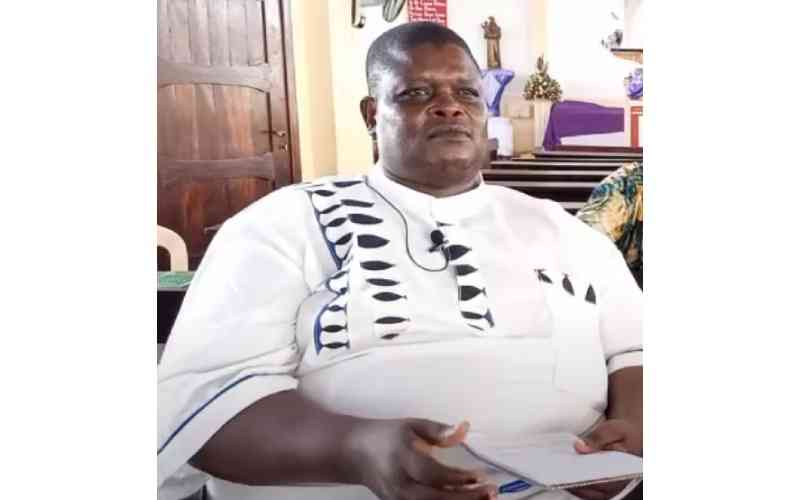 The performance of St Joseph's Choir inspired other Catholic Church choirs that saw the emergence of Our Lady of Fatima Kongowea Catholic Choir with its popular hit Uninyunyizie Maji.
The competition among the churches was derived from passion by their choirmasters as those from the Anglican churches dominated the scene since they adhered to the structured ACK traditions, according to ACK St Luke Church choir director Canon Samuel Blasto Ooko.
"Our excellence in gospel music should be attributed to our strict adherence to structured ACK traditions," said Canon Ooko.
ACK churches dominated the scene owing to their regular competition at the Kenya Anglican Youth Organisation (KAYO) choir festivals.
The KAYO music festival was an annual event that rotated from one ACK diocese to the other.
"It was a forum that shaped us and gave our members great exposure as compared to other churches," said ACK Nakuru Cathedral Director of Music Aggrey Lugalia.
St Barnabas' Church Choir released their top hit Ndani Ya Moyo Wangu Naona Jerusalem, which was followed by another top hit Injili Mar Hera, two songs that recorded good sales in the 70s.
"We had a passion for music and commitment to the profession as Anglican churches in promoting church music that has over time produced many professional gospel and secular singers," said Lugalia.
He said many of their choir members were later recruited by Muungano National Choir under the directorship of the late Boniface Mganga. Mganga's speciality was in patriotic songs during the era of the late President Daniel arap Moi.
One of the most popular songs by the Muungano Choir was Naenda Huko Jericho.
Mganga's exploits in the field of patriotic songs touched the heart of President Moi, who appointed him a District Officer before he was promoted to Permanent Secretary in the Ministry of Culture and Social Services.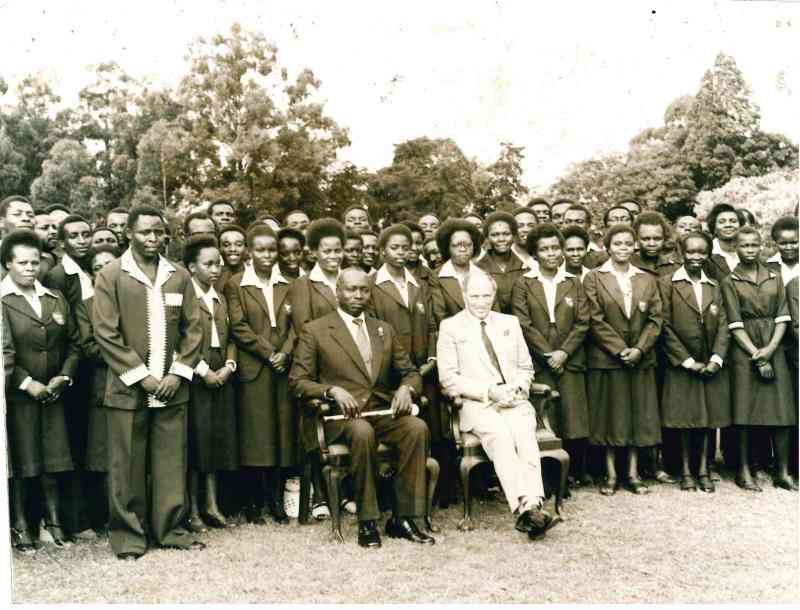 Some ACK Nakuru choir members who joined made careers out of singing including Faith Mbote, who moved to Muungano National Choir and Joseph Odhiambo who formed the Friends of Lake Nakuru Singers.
"Singing is my lifeline and I am happy to be in the profession," said Odhiambo.
Mbote cherished the prowess of the late Mganga as the Muungano choir director, where she served for 28 years before joining Safari Voices International, a professional group that also performs in public and private functions.
"Differences between singers and lack of succession structures at Muungano Choir after Mganga's death made us quit to form the new outfit," said Mbote, a teacher at State House Primary School in Nairobi.
Safari Voices International's last public performance was at Bomas of Kenya on August 22 during the announcement of the August 9 presidential election.
And the domination by the six churches opened doors to evangelical churches that followed suit by first poaching some of the experienced tutors from ACK churches by offering them stipends.
"That is how some experienced choirmasters found their way into Evangelical Churches from us (ACK churches) when they were offered good stipends and employment opportunities to develop similar programmes in their churches," said Canon Ooko.
It offered total transformation that ushered in the commercialisation of the gospel music industry that has churned out numerous professional singers who to date have flooded the market.
"It resulted in the birth of many commercial singers but that has not deterred our resolve to promote music in this sector," he added.
Ooko said passion is what drove their ambition to produce some of the most popular Christian melodies that will not easily be phased out in the gospel market.
"Some of the music we composed and produced is there to stay in the gospel music industry," he said.
Ooko has recorded 50 songs, some of which are on YouTube, with the latest being Mungu Baba Nimesikia Habari Zako.
Some of his compositions found their way into the National Music Festivals as set pieces.
Related Topics