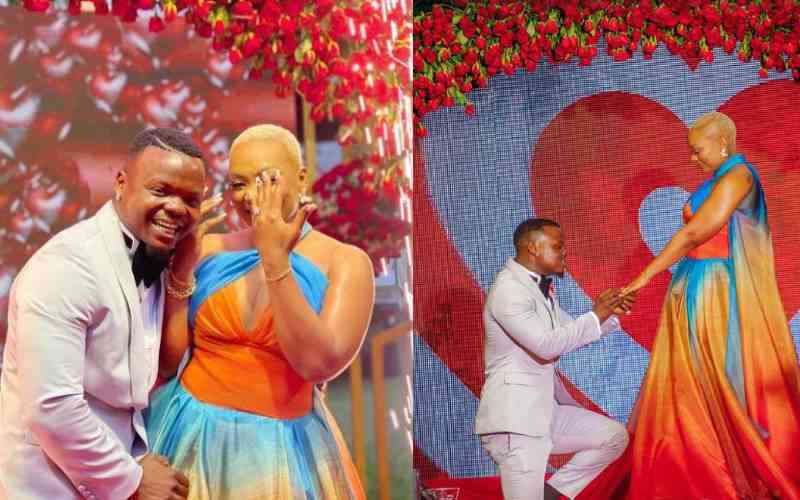 Tanzanian singer Rajab Abdul Kahali aka Harmonize has proposed to his girlfriend, actress Frida Kajala. Harmonize went down on one knee at an event he had organized and invited a few of their close friends. While giving a speech about his love for Kajala, the Matatatizo hitmaker said that the two have been friends for over seven years.
"We've been friends for almost seven years, sidhani kama kuna mtu anajua hilo [I don't think any of you know this]. Tulianza kama marafiki, watu ambao wanafahamiana..." Harmonize stated.
In his emotional speech, Harmonize narrated how Kajala took him in when he was going through a very difficult phase of his life. He revealed that he did not have a house to stay in, but Kajala covered his shame and kept it a secret.
View this post on Instagram
"You've been there for me in a lot of things that I cannot explain right now - ni siri kati yangu na wewe na hata mara zingine umeniambia 'don't say it in public'. There was a time I was experiencing a hard time and you even took me in, to live in your house and it's recent. I didn't have a house or even a place to sleep in... na hiyo imekuwa siri between you and I and you kept it private, hujai kuizungumzia mtu yeyote," he added.
According to him, Kajala's selfless love towards him is what has drawn him closer to her. He promised never to get tired of expressing his love for her.
"It's something that I cannot forget in my life... It's so emotional to me to explain and the only thing I can tell you is 'Nakupenda' everyday na wewe ni shahidi wa hilo," he said.
View this post on Instagram
Accepting the proposal, Kajala acknowledged that their relationship had not been a bed roses, saying it's the nature of human beings. Kajala deeply expressed her love towards him, promising a forever together.
"The worst of them is known and everyone makes mistakes, I myself am not perfect so I reasoned that if indeed I love Harmonize then I should forgive him. And all that is in the past, let's look forward into our future. I love you today, I'll love you tomorrow and forever," she said while balancing tears.
Related Topics